Close
Foods to go under microscope at UHV workshop in Sugar Land
Editor's Note: The Genetically Modified Foods Workshop has been canceled.
SUGAR LAND – When visiting the grocery store, shoppers typically consider price, brand and appearance while making product selections.
Though not physically obvious, another important factor to some shoppers is whether the food is genetically modified. Under the guidance of a University of Houston-Victoria professor, high school students will have the opportunity to find out what foods are modified and what implications technology could have on the future of food.
The Genetically Modified Foods Workshop will be July 16 and 17 at the University of Houston Sugar Land, where UHV offers many of the degree programs. The workshop is open to students in ninth through 12th grades.
Participants have a choice of attending a morning session from 8:30 to 11:30 or an afternoon session from 1 to 4. Both sessions will take place in the biology lab at Brazos Hall, 14004 University Blvd.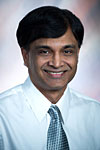 Siva Somasundaram
Siva Somasundaram, UHV director of undergraduate biology studies, said the idea behind the workshop is to shed light on what people are eating. He said many people love to eat, but they aren't aware of how food is altered. This could have an impact on people trying to lose weight as they sometimes can't tell what products will help or hurt their cause.
"Examining what foods are modified and how it's done will provide answers for high school students when it comes to choosing food throughout their lives," Somasundaram said. "This is valuable information to have."
While the workshop is targeted to students interested in scientific research, the lessons are broad enough to be of interest to any students wanting to learn more about what they eat. Participants will use molecular biology techniques to test grocery store food such as chips, soy beans and corn syrup. Students will learn about DNA isolation, amplification and analysis.
After the testing is complete, Somasundaram will discuss how the addition or modification of genes can produce healthier eating options.
"That's the future," he said. "Can we create a banana or apple that is better for our health? As we develop new technology, there are endless possibilities in the future."
One example of a practical use is for people with food allergies. Allergies typically prevent consumption of certain types of foods or ingredients. But with modified genetics, it is possible allergy-free grains or proteins can be developed, Somasundaram said.
Registration for the workshop is $50. The deadline to sign up has been extended to July 5. To register, contact Nancy Penry at 361-570-4366 or penryn@uhv.edu. An application and medical release is required and can be found at http://tinyurl.com/6pd43ay.
Somasundaram said students participating in the workshop are welcome to come back to the biology lab to work on projects for science fairs during the school year. He said they also can write about their findings in a high school science journal.
For more information about the workshop, contact Somasundaram at 281-275-8808 or somasundarams@uhv.edu.
The University of Houston-Victoria, located in the heart of the Coastal Bend region since 1973 in Victoria, Texas, offers courses leading to more than 80 academic programs in the schools of Arts & Sciences; Business Administration; and Education, Health Professions & Human Development. UHV provides face-to-face classes at its Victoria campus, as well as an instructional site in Katy, Texas, and online classes that students can take from anywhere. UHV supports the American Association of State Colleges and Universities Opportunities for All initiative to increase awareness about state colleges and universities and the important role they have in providing a high-quality and accessible education to an increasingly diverse student population, as well as contributing to regional and state economic development.