Close
UHV professor nets top workshop award at international conference
A UHV associate professor's workshop about how to motivate students to learn math recently was judged as the best presentation at a Canadian conference attended by educators from 92 counties.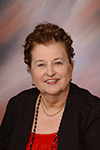 Barba Patton
Barba Patton, an associate professor of mathematics education, presented a paper and workshop at the Canada International Conference on Education. The conference was held at the University of Guelph in Ontario.
She received a crystal trophy for having the top workshop at the conference. The overall lesson during "Motivations: A Fun and Meaningful Way to Teach Math" was how to motivate students by making math more exciting.
"The big thing I emphasized is to tell stories that are interesting to help them tie the math lessons into real life," Patton said. "How many times do teachers hear students ask, 'When are we going to ever use this stuff?' This is a chance to explain how it's used."
The session was full of interactive activities designed to give teachers something for their students to learn and remember. Examples of activities they could try were a Red Rover game involving place values and using patterns in a lesson with the daily growth of caterpillars before they turn into butterflies.
"The major focus of the activities was to motivate the participants who, in turn, will motivate students in their mathematics classes," Patton said.
She cautioned educators to not pick out an activity that has gender bias or is geared toward the wrong age group.
"At times, the activity may be a little more boy-focused or girl-focused, but you need to make sure you have a good balance," she said.
The conference provided an opportunity for academics and professionals from various educational fields with cross-disciplinary interests to bridge the knowledge gap, promote research and discuss the evolution of teaching. Patton served as chairwoman of the Math Education Session at the conference.
With educators from so many countries participating in the conference, Patton didn't know what to expect. She was surprised attendees had so many things in common.
The conference received 2,104 proposals of which 511 papers, 15 posters and seven workshops were accepted.
In Patton's paper "Should we encourage students to draw in math class?", she analyzed the work of fifth-grade students on eight nonroutine problems. That produced 539 entries for Patton to examine.
She found there's not much difference among drawings for children of different races or genders. Patton called it a great finding because it means teachers can prepare every student to take standardize tests the same way from an illustrating aspect.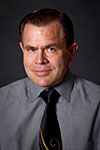 Jeffrey Cass
"I was worried that African American or Hispanic children were not being taught to their needs," Patton said. "That turned out not to be the case. I did not find a lot of differences based on race. It was a wonderful finding because teachers already have so much stress trying to get students ready for the state tests."
Jeffrey Cass, UHV provost and vice president for academic affairs, said getting invited to present a paper and workshop at a conference of this magnitude was an accomplishment in its own right.
"Of course, Dr. Patton took it up an extra notch by winning the best workshop award," he said. "It is a tremendous accomplishment, and we are proud she represented our university so well at this important conference. I have a feeling a lot of the math activities she suggested will be carried out in classrooms around the world."
The University of Houston-Victoria, located in the heart of the Coastal Bend region since 1973 in Victoria, Texas, offers courses leading to more than 80 academic programs in the schools of Arts & Sciences; Business Administration; and Education, Health Professions & Human Development. UHV provides face-to-face classes at its Victoria campus, as well as an instructional site in Katy, Texas, and online classes that students can take from anywhere. UHV supports the American Association of State Colleges and Universities Opportunities for All initiative to increase awareness about state colleges and universities and the important role they have in providing a high-quality and accessible education to an increasingly diverse student population, as well as contributing to regional and state economic development.