Close
Associate dean helps drive growth of UHV business school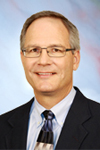 Jeff Blodgett
From inventory issues to advertising campaigns, a lot goes in to running a successful business. Having hands-on experience beforehand can make a real difference.
And that's exactly what Jeff Blodgett brings to the table.
The associate dean of the University of Houston-Victoria''s School of Business Administration incorporates business simulations into his courses. The simulations expose students to real-life business scenarios without the risks. Students don't mind straying from traditional lectures.
"My students really enjoy it and I do, too," he said of the simulations, in which student must develop and price products, determine distribution channels and advertising budgets, and more. ''It's more enjoyable teaching your students when they're engaged and having fun.''
The Illinois native earned his bachelor's degree in finance from the University of Illinois at Urbana-Champaign and a Master of Business Administration from Illinois State University, located in Normal, Ill.
Blodgett later moved one state over, to Indiana University in Bloomington, Ind., where he earned his doctorate in marketing.
It was 2011 when he ventured to the Lone Star State, after teaching at The University of Mississippi and North Carolina A&T State University. He said it was UHV's continued growth that drew his eye to Texas.
At the time he interviewed with UHV, many states were cutting back funding for education, he explained, which limited what schools could do. UHV, however, had gone the opposite route.
The business school alone saw the faculty grow from 27 to 42 people in recent years and there are now more than 1,000 MBA students attending UHV, he said. Increasing enrollment also means expanded course offerings.
"I like building things," Blodgett said. "And when I heard about everything going on in Texas – and particularly Houston – I thought it sounded like a great opportunity. I joined on to help grow the school.''
The educator said he enjoys his work in the classroom at UH Sugar Land, where UHV offers many degree programs, but he makes time for other hobbies, too. He said he enjoys watching sports on TV – Hoosiers basketball games are a particular favorite – and working out.
He and his wife, Aysen Bakir, also travel whenever they get the chance.
"I wish that was a bigger hobby," he said with a laugh. "My wife is from Turkey, so we go over there and sometimes go to another country for a week before coming back. We just enjoy seeing different places."
Blodgett said he is proud of the business school, and hopes to see growth and innovation continue down the road.
"The School of Business Administration has gotten much well-deserved recognition, but to keep up and stay in the forefront we have to innovate and take advantage of new technologies," he said.
Blodgett has been pleased to see other business faculty members using stock market, supply chain, and strategic management simulations, taking advantage of tools such as Adobe Connect so that online students can make oral presentations and videotape mini-lectures.
"We have some outstanding faculty and students, and together we are going to grow and improve our programs even more," he said.
The Faculty Feature is an online feature highlighting faculty members from each of the University of Houston-Victoria's four schools. To nominate a faculty member, contact Paula Cobler, UHV interim director of marketing and communications, or call 361-570-4350.
The University of Houston-Victoria, located in the heart of the Coastal Bend region since 1973 in Victoria, Texas, offers courses leading to more than 80 academic programs in the schools of Arts & Sciences; Business Administration; and Education, Health Professions & Human Development. UHV provides face-to-face classes at its Victoria campus, as well as an instructional site in Katy, Texas, and online classes that students can take from anywhere. UHV supports the American Association of State Colleges and Universities Opportunities for All initiative to increase awareness about state colleges and universities and the important role they have in providing a high-quality and accessible education to an increasingly diverse student population, as well as contributing to regional and state economic development.