Close
UHV awards $24,000 in research grants to professors
| | | | |
| --- | --- | --- | --- |
| | | | |
| Dmitri Sobolev | Alireza Tavakkoli | Qi Zhu | Shainy Varghese |
To provide a financial boost for research in computer science, biology and nursing, four University of Houston-Victoria faculty members recently received the 2012-2013 Research Grant Awards.
This is the second year UHV has awarded internal research grants to selected faculty members. Each grant is for $6,000.
The faculty members and titles of their research projects are:
Dmitri Sobolev, assistant professor of biology, "A Search for Nitrous Oxide Consuming Organisms:Seeking Limits on Greenhouse Gas Emissions"
Alireza Tavakkoli, assistant professor of computer science, "Detection of Useful Patterns for Threat Avoidance with Multiple Robotic Agents - A Unified Framework"
Qi Zhu, associate professor of computer science, "What Computer Skills Do Employers Want?"
Shainy Varghese, assistant professor of nursing, "Integrating the Virtual World of Second Life into Pediatric Nursing Curriculum"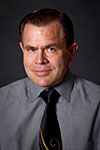 Jeffrey Cass
"We are always striving to contribute to ongoing professional development and advance the knowledge and visibility of the university," said Jeffrey Cass, UHV provost and vice president of academic affairs. "This grant money will help get these important research projects off the ground and allow faculty members to develop proposals to external agencies for additional grant funding."
Tavakkoli said demonstrating that there is ongoing research is a huge help when applying for larger grants, especially from federal and state sources.
"Whatever information and knowledge we gain from use of the internal grants we will apply toward external sources for funding," he said. "It helps to show we have established research and have active participation from our institution and from our students."
Tavakkoli and Sobolev plan to use the grant funding for equipment, developing preliminary data and supporting student research collaboration.
"I'm going to use this money to come up with a fundamental set of ideas and data that I can take to the funding agencies," Sobolev said. "Here's what we can do for $6,000. Imagine what we can do with a lot more."
Sobolev's research involves global climate changes. While carbon dioxide is what many people blame for the changes, trade gasses, such as methane and nitrous oxide, play a major role, he said.
"There are a whole bunch of microbes sitting out there producing those gasses as part of their normal metabolism," he said. "What I'm trying to find out is what would be the controls that regulate the admission of nitrous oxide from a particular system. There are microbes producing nitrous oxide. Are there microbes that consume nitrous oxide? That is the question I'm trying to answer."
Tavakkoli will study the use of robotics to provide safety assistance at road intersections.
"At an intersection with heavy traffic, it would be helpful to have an automated process," he said. "If there is a need for directing traffic or a need to call emergency officials because of an accident, the robotics system could detect that and call for help."
Tavakkoli said he plans to purchase a number of robots with different capabilities.
"One would have a capability to map an environment, while another would have visual capabilities, such as a high resolution camera," he said. "Then we put them together collaboratively to try to create an environment that is secure and convenient for human operators."
The overriding idea behind the research is looking at how robotics can increase human safety.
"We will see what patterns emerge on daily interactions that might contribute to a hazard," Tavakkoli said. "If we can identify the patterns before they occur, then we could actually get extra time, which in the case of a traffic accident could mean the difference between life and death."
Zhu is conducting research to identify the specific computer technologies and application skills employers want in an employee. By determining the latest techniques and skills, it could help universities develop a curriculum for students that is more in touch with current needs.
"Educational institutions desire their curricula to be as pertinent as possible," Zhu said. "The ultimate goal of all educators is to encourage students to become productive members of society and help them prepare for successful, meaningful careers."
Varghese has teamed up with Yun Wan, a UHV associate professor of computer science, to conduct research on integrating a virtual environment into pediatric nursing course curriculum.Varghese and Wan will develop six pediatric nursing scenarios for teaching pediatric growth and development concepts to second degree nursing students.
"Using interactive simulation gives nursing students the closest thing to a real clinical setting," Varghese said. "The virtual environment allows the use of simulation, experiential learning and construction of knowledge in a safe environment."
The University of Houston-Victoria, located in the heart of the Coastal Bend region since 1973 in Victoria, Texas, offers courses leading to more than 80 academic programs in the schools of Arts & Sciences; Business Administration; and Education, Health Professions & Human Development. UHV provides face-to-face classes at its Victoria campus, as well as an instructional site in Katy, Texas, and online classes that students can take from anywhere. UHV supports the American Association of State Colleges and Universities Opportunities for All initiative to increase awareness about state colleges and universities and the important role they have in providing a high-quality and accessible education to an increasingly diverse student population, as well as contributing to regional and state economic development.