Close
UHV employees contribute nearly $100,000 to university programs, scholarships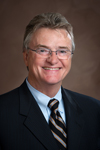 Phil Castille
University of Houston-Victoria faculty, staff and administrators have donated more than $93,000 in the past year to an internal employee fundraising campaign.
The $93,951 donated by UHV employees to various programs and scholarships is an all-time record and will be matched dollar for dollar by the university, making the total contribution $187,902.
"The All for One – One for All campaign has been a huge success this past year," UHV President Phil Castille said. "For an institution with only about 400 employees to make donations totaling nearly $100,000 is truly remarkable. This level of generosity speaks to the kindness and civic-mindedness of UHV's faculty and staff."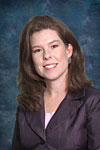 Amy Mundy
Amy Mundy, UHV director of corporate and foundation relations, said the contributions show that the employees are invested in the university and its communities.
"It demonstrates that this is a place they like to work," she said. "You don't invest in something unless you believe in it and support the cause. It also speaks to the character of our faculty and staff. They are the type of people I would want to teach and serve my children."
A total of 90 different gifts in the amount of $37,264 were made by UHV employees to 24 different accounts. When making the donation, employees designated which accounts they wanted the money distributed to.
Accounts receiving more than $1,000 in donations were the American Book Review, Campaign Victoria, the Roy and Ileen Foley Scholarship, Wayne and Cheryl Beran Endowment Fund, Nursing Program Support, the Library Excellence Fund and the School of Business Administration Excellence Fund.
The All for One – One for All campaign began in 2006. The name was chosen because employees banded together to support UHV and because many faculty and staff members over the past six years have donated one percent of their annual wages to the campaign.
Department excellence funds were started so employees could give back to their divisions for scholarships and other beneficial purposes. Other accounts to which money was donated include Jaguar Athletics, Centro Victoria and several scholarship funds.
Topping the fundraising charts this year was the School of Business Administration. Employees gave more than $21,000 to the school's excellence fund. In addition, UHV employees contributed more than $56,000 to an endowed professorship in memory of a longtime professor and faculty leader.
Vassudeo "Ron" Sardessai, a management professor at UHV for 25 years, died in 2011. Sardessai served as chair of the UHV Division of Business, and at the time of his death he was interim associate dean of the School of Business Administration and Faculty Senate president-elect. He taught courses in contemporary issues in management as well as organizational behavior.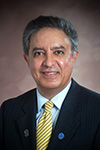 Farhang Niroomand
The Ron Sardessai Endowed Professorship was initiated by Farhang Niroomand, dean of the UHV School of Business Administration, as a memorial to a gifted professional, respected colleague and valued friend.
Through a $50,000 donation by the Sardessai family, and the support of the UHV business faculty and staff, funding for the professorship has exceeded the target of $250,000 by more than $13,000. The professorship will be the first such position in the business school. It will be held by a faculty member who displays the highest standards of teaching, research and service to the school and community.
"Dr. Sardessai's memory lives on through the tremendous generosity displayed by our employees, the Sardessai family, friends and community members," Niroomand said. "We are humbled by this outpouring of support for this endowment. It is a fitting tribute to Dr. Sardessai because he contributed in so many ways to the school's growth and success."
For information about contributions to UHV or to the Sardessai Professorship, contact Mundy at 361-570-4354 or makeagift@uhv.edu.
The University of Houston-Victoria, located in the heart of the Coastal Bend region since 1973 in Victoria, Texas, offers courses leading to more than 80 academic programs in the schools of Arts & Sciences; Business Administration; and Education, Health Professions & Human Development. UHV provides face-to-face classes at its Victoria campus, as well as an instructional site in Katy, Texas, and online classes that students can take from anywhere. UHV supports the American Association of State Colleges and Universities Opportunities for All initiative to increase awareness about state colleges and universities and the important role they have in providing a high-quality and accessible education to an increasingly diverse student population, as well as contributing to regional and state economic development.