Close
UHV graduate student's international experiences attract her to health care career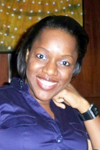 Marietou Ngaide
Family travels vary greatly, depending on the people. Some families opt for Disney World, for instance, while others prefer beaches.
For University of Houston-Victoria nursing graduate student Marietou Ngaide, her travels took on a different feel altogether.
Ngaide was born in Mauritania, a country in western Africa. The daughter of a diplomat with the World Health Organization, she and her family often accompanied him on his work.
"I got involved at a young age, helping Doctors Without Borders and working with the medical staff," she said, explaining that excursions took the family to Congo, Zimbabwe and beyond. "Those experiences made me realize I wanted to work in health care. I wanted to make a difference."
Civil wars and that on-the-go lifestyle led Ngaide's parents to enroll her in a French boarding school around age 13 so she could complete her high school education. In 1999, after graduation, it was on to the U.S. because her parents wanted English to be among the languages in which she was fluent.
The moves took some adjustment.
European life differed greatly from her time in Africa, while life in the U.S. differed from Europe. Language was her biggest challenge – especially considering she wore braces at the time – but food was another adjustment.
Ngaide enrolled at the University of Texas at Austin, where she obtained her bachelor's degree in nursing, before moving on to UHV's Master of Science in Nursing with a concentration in nursing administration.
Looking forward, Ngaide plans on graduating in December and looks forward to completing the program. She also hopes to expand her medical work abroad.
Living in the U.S., she said it's easy to forget the suffering others experience.
"There are so many people in so many places suffering from lack of basic things like clean water," she said. "When we take showers here, we just turn it on. But there are people in villages from my country who still have to walk long distances to fetch it."
Ngaide said her experiences through the years forced her to put herself out there, but also offered lessons along the way. She encouraged others to stay open minded, ask questions and never take "no" for an answer.
"Life has a lot of obstacles and challenges, but you can do it if you keep your head up," she said. "Don't be scared. I did it with support from my dad and family."
And, while she's not sure exactly where her journey might take her, she will always remember where she came from.
"When I talk with people, I know the language, and I know how to communicate," she said. "But I know my accent is also still there. And I want it to be there. When people ask where I'm from, that's my way of telling them about my continent and country. It's who I am."
I am a Jaguar is an online feature highlighting the exceptional students who attend the University of Houston-Victoria. To nominate a student, contact Paula Cobler, UHV interim director of marketing and communications, or call 361-570-4350.
The University of Houston-Victoria, located in the heart of the Coastal Bend region since 1973 in Victoria, Texas, offers courses leading to more than 80 academic programs in the schools of Arts & Sciences; Business Administration; and Education, Health Professions & Human Development. UHV provides face-to-face classes at its Victoria campus, as well as an instructional site in Katy, Texas, and online classes that students can take from anywhere. UHV supports the American Association of State Colleges and Universities Opportunities for All initiative to increase awareness about state colleges and universities and the important role they have in providing a high-quality and accessible education to an increasingly diverse student population, as well as contributing to regional and state economic development.