Close
UHV business professors honored with Citation of Excellence Award
While more than 461 million people in China had mobile phones in 2006, it wasn't common at the time to use phones for data services, such as browsing the Internet.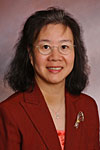 June Lu
To gain knowledge about what Chinese people want from their phones, June Lu, a University of Houston-Victoria management professor, and Chun-Sheng Yu, a UHV associate professor of management, teamed up with two colleagues from Illinois and China to publish a paper about the value of mobile data services. Published in 2008 as one of the first papers about the subject, the authors have been frequently cited in further research.
The paper, "Determinants of Accepting Wireless Mobile Data Services in China," now has won a 2012 Emerald Management Reviews Citation of Excellence Award. The annual awards recognize the 50 most outstanding articles published by the top 300 management journals in the world. This paper is ranked No. 11 on the list.
The paper was published by the journal Information & Management. The awards are given out four years later to allow time for citation impact to be measured.
"This is a great honor," Lu said. "China has the largest number of mobile device users in the world, so mobile technology remains a hot topic there. Because our paper came out in 2008, it was one of the earlier articles on the subject."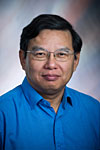 Chun-Sheng Yu
Yu said he was excited when he found out they had won the prestigious honor.
"I am glad to have served as a co-author of this article," he said. "Being one of the top 50 articles from the top 300 management journals in the world shows that the research quality from the UHV business school faculty members can be favorably compared with work done by professors from research-oriented universities worldwide."
The other authors of the paper were Chang Liu, a business professor at Northern Illinois University; and Kanliang Wang, a professor at Xi'an Jiaotong University, in Xi'an, China. All four authors will receive an official certificate and badge.
The authors started the project in 2005 and concluded the study in 2007.
"We all thought the article had potential value for people who were carrying out research in mobile technology in China, so we submitted it to Information & Management," Lu said. "After two reviews, it was accepted and published."
The paper explored factors influencing the adoption of wireless mobile data services. The authors analyzed the growth in mobile devices from three time periods: 1987-1993, 1994-2000 and 2001-2006. After surveying 1,432 participants in five cities across China, they concluded that consumers' perceived usefulness and perceived ease of use were major determinants of why people adopted data services on their phones.
After serving as a business faculty member at Dakota State University, Lu joined the UHV School of Business Administration in 2000. She has taught management information systems as a core Master of Business Administration course and seminars in electronic commerce and health care information systems management.
Yu has been a faculty member at UHV since 2000. Prior to his arrival in the U.S., he was an associate professor and vice chairman of the Economics Department at Hangzhou University in China. He has taught comparative management, management and organizational behavior and international management.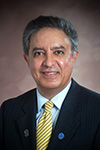 Farhang Niroomand
Emerald Group Publishing, headquartered in the United Kingdom, is a publisher of the largest collection of international business and management journals.
In selecting the winners of the Citation of Excellence Awards, a list of articles frequently cited is compiled and sent to an editorial judging panel. It chooses the final 50 best papers based on research impact.
"The Citation of Excellence is a really impressive accomplishment given the large number of articles published yearly and the thorough review process," said Farhang Niroomand, dean of the UHV School of Business Administration. "Dr. Lu, Dr. Yu and their colleagues clearly published an impactful paper that has provided insight into a high-demand research area. We are proud they won this award."
The University of Houston-Victoria, located in the heart of the Coastal Bend region since 1973 in Victoria, Texas, offers courses leading to more than 80 academic programs in the schools of Arts & Sciences; Business Administration; and Education, Health Professions & Human Development. UHV provides face-to-face classes at its Victoria campus, as well as an instructional site in Katy, Texas, and online classes that students can take from anywhere. UHV supports the American Association of State Colleges and Universities Opportunities for All initiative to increase awareness about state colleges and universities and the important role they have in providing a high-quality and accessible education to an increasingly diverse student population, as well as contributing to regional and state economic development.