Close
New UHV Staff Council chair to focus on open communication, camaraderie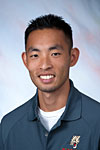 Billy Lagal
For Billy Lagal, senior coordinator of the University of Houston-Victoria Letting Education Achieve Dreams initiative, the university has been a part of who he is for nearly a decade.
Now Lagal will have the opportunity to represent UHV staff as chair of the 2012-2013 Staff Council, an organization that represents staff in university matters. Among his duties, he will represent the staff on the UHV President's Cabinet and sit on the University System Staff Executive Council.
Lagal earned his bachelor's degree in communication from UHV in 2006 and is enrolled in UHV's Master of Education in adult and higher education program.
Lagal was a LEAD recruiter for UHV at the UH System at Cinco Ranch before relocating to the Victoria campus. Having worked at multiple UHV teaching sites, he understands this unique dynamic and is attuned with the concerns and successes of each site.
"As a LEAD coordinator, it's my job to assist freshmen through the early stages of their college career, but that is only one part of the university," Lagal said. "I'm ready to contribute more and am happy to be working with this great group of staff members."
Joining Lagal on the 2012-2013 Staff Council will be the following staff members:
Vice Chair – Harry Bashaw, multimedia specialist, School of Education & Human Development
Secretary – Mary Field, senior secretary, School of Business Administration
Exempt Staff Member at Large (representing salaried employees) – Mindi Gill, grants and contracts coordinator, Provost's Office
Non-Exempt Staff Member at Large (representing hourly employees) – Pam Solomon, human resources assistant, Human Resources Department
Representative at Large (Sugar Land) – Tamara Lair, advising specialist, School of Arts & Sciences
Representative at Large (Cinco Ranch) – Melissa Jersild, student recruitment coordinator, School of Business Administration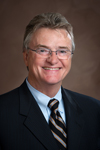 Phil Castille
"We have a strong group representing the UHV staff this year," UHV President Phil Castille said. "I look forward to working with the Staff Council to make sure the needs of our staff are met and that they feel like their contributions to the success of the university are recognized.We will work together to ensure that the lines of communication between administration and staff are always open."
The first Staff Council meeting of the new school year will be at the end of the month. Lagal encourages all UHV staff members to attend the meeting and participate in improving the work environment. Staff at the UH System at Cinco Ranch and UH Sugar Land teaching centers can participate through Interactive Television.
On the agenda for the first meeting are updates from the President's Cabinet, freshman life, health awareness, upcoming department plans and a staff moral survey.
The staff moral survey is a University of Houston System wide survey that will be distributed in the fall semester. It will include general questions, as well as UHV-specific questions, to gauge staff members' overall work experience. Once the survey is complete and its results are discussed with UHV administrators, the University System Staff Executive Council will present the findings to the UH System Board of Regents.
"I encourage staff members to participate in the survey," Lagel said. "It will be an opportunity to voice concerns and possibly provide change on a UH Systemwide level."
Lagal's main goal for the year is fostering good communication through shared governance. Transparency between staff and other parts of the university is important to Lagal. He also would like to increase staff members' camaraderie through participation in campus events and the Corporate Cup citywide event.
"I'm excited to serve as the chair this year," Lagal said. "I want my co-workers to be passionate about their jobs and coming to work each day. I know that making their work environment easier will affect them in a good way, and I hope to provide that for them."
The University of Houston-Victoria, located in the heart of the Coastal Bend region since 1973 in Victoria, Texas, offers courses leading to more than 80 academic programs in the schools of Arts & Sciences; Business Administration; and Education, Health Professions & Human Development. UHV provides face-to-face classes at its Victoria campus, as well as an instructional site in Katy, Texas, and online classes that students can take from anywhere. UHV supports the American Association of State Colleges and Universities Opportunities for All initiative to increase awareness about state colleges and universities and the important role they have in providing a high-quality and accessible education to an increasingly diverse student population, as well as contributing to regional and state economic development.