Close
Nursing professor prepares to lead UHV Faculty Senate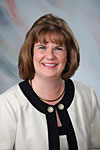 Denise Neill
Denise Neill, a faculty member in the University of Houston-Victoria School of Nursing with extensive experience serving on committees, will take over Monday as president of the university's 2012-2013 Faculty Senate.
Neill has served on the Senate for four years and was vice president this past academic year. A coordinator of two UHV nursing programs, she also will be promoted to associate professor on Sept. 1.
Neill said her No. 1 priority for the year ahead is to get the faculty ready for reaccreditation. UHV is preparing for a spring 2014 accreditation review by the Southern Association of Colleges and Schools Commission on Colleges, headquartered in Atlanta. Although UHV already is accredited by SACS, member institutions must go through periodic reviews that show the university is continuing to provide quality education consistent with SACS guidelines. SACS is the accreditor for all universities and colleges in an 11-state region that includes Texas.
"We will need the faculty's help to identify any areas we need to strengthen," she said. "Then we will discuss ways to make improvements where necessary."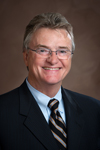 Phil Castille
UHV President Phil Castille said the Senate is in good hands under Neill's leadership   "Despite having a full plate with her teaching and research, Dr. Neill has always lent a hand to serve the university its community," he said. "She is deeply knowledgeable about the university as a whole, the reaccreditation process and is in touch with the desires of the faculty. I look forward to working with her and the entire Faculty Senate to ensure that the lines of communication between the administration and faculty are always open."
Neill said most of the 2011-2012 Senate projects are done, so the faculty has a clean slate for the new school year.
"We will be maintaining what we've done in the past and looking to grow," Neill said. "One thing I want to emphasize to our younger faculty this year is how the Senate works with the administration to get things accomplished through shared governance."
The Faculty Senate is an elected body that listens to the collective voice of faculty members and provides a forum for discussion about academic and curricular matters. Senators are elected by faculty from their respective schools, while members of the Executive Committee are elected by the entire UHV faculty.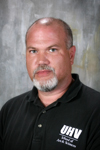 J. Keith Akins
J. Keith Akins, an assistant professor of criminal justice, served as Senate president for the past school year. He said the position taught him several valuable lessons.
"I understand much better now how a university operates and why things happen the way they do," he said. "It was a real learning experience for me."
During the past year, the Senate completed the process of updating a faculty manual and built relationships with the university's new administrators.
"I think, overall, we had a very good year," he said.
Neill said Akins did an outstanding job as a leader.
"Keith was a force that kept us moving in a positive direction all year," Neill said. "He left some big shoes to fill."
Neill is UHV's coordinator of the Registered Nurse to Bachelor of Science in Nursing and Master of Science in Nursing programs. She recently relocated to the Lone Star College University Center at Montgomery to oversee the expansion of the RN to BSN program in The Woodlands. She plans to travel back to Victoria for meetings and Faculty Senate duties.
She is no stranger to serving in a presidential role. Neill was president of the District 20 Texas Nurses Association. She also has served as a member of a number of other boards at UHV and in the community.
In fact, Neill narrowed down her service commitments to make sure she'll have time to focus on the Faculty Senate. Her board terms recently ended with the Texas Nurses Association and UHV School of Nursing Faculty Council. Kathleen Reeve will take over as MSN coordinator this fall. Neill found replacements from UHV for her on the DeTar Healthcare System Ethics Committee and Healthy Women Advisory Board. She will stay on as a HOSTS mentor for one more year to advise a Victoria West High School senior.
The South Arkansas native grew up in the Houston area and began her nursing career as an associate degree nurse at Southern Arkansas University. She moved on to the University of Central Arkansas, where she earned both bachelor's and master's degrees. She later completed her doctoral studies at Texas Woman's University in Denton.
She has been a faculty member at UHV for six years. Neill researches nurse workload and quality of care.
Other members of the Senate Executive Council will be:
Ron Salazar – vice president ·
J. Keith Akins – past president
Kathleen Reeve – secretary
Andrea Young ­– School of Education & Human Development
Senators and their representative schools will be:
Arts & Sciences – Justin Bell, Mark Ward and Qi Zhu
Business Administration – Stephanie Solansky, Joseph Ben-Ur and Jun Yang
Education & Human Development – Amy Barnhill, Barba Patton and Diane Prince
Nursing – Lisette Barton, Ginger Blomstrom and Linda Dune
The Senate will hold its first meeting of the school year on Sept. 7.
The University of Houston-Victoria, located in the heart of the Coastal Bend region since 1973 in Victoria, Texas, offers courses leading to more than 80 academic programs in the schools of Arts & Sciences; Business Administration; and Education, Health Professions & Human Development. UHV provides face-to-face classes at its Victoria campus, as well as an instructional site in Katy, Texas, and online classes that students can take from anywhere. UHV supports the American Association of State Colleges and Universities Opportunities for All initiative to increase awareness about state colleges and universities and the important role they have in providing a high-quality and accessible education to an increasingly diverse student population, as well as contributing to regional and state economic development.