Close
UHV Humanities Division chair promoted to associate provost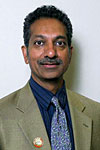 Uppinder Mehan
A sense of curiosity, along with an excitement about university growth, inspired Uppinder Mehan to apply for the University of Houston-Victoria associate provost job.
After 15 years of full-time teaching, Mehan had accepted a leadership role in 2011 in the UHV College of Arts & Sciences as chair of the Humanities Division. He enjoyed taking on an administrative role and was wondering if he could do more to help the university as a whole.
"As chair, I ended up liking what I was doing because I liked looking at big-picture issues," Mehan said. "When the opportunity came along to apply for the associate provost position, I was curious as to what this would entail. I'm approaching this in a spirit of exploration and discovery."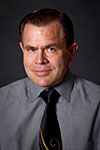 Jeffrey Cass
Mehan was named associate provost by Jeffrey Cass, UHV provost and vice president for academic affairs, after an internal search in consultation with UHV President Phil Castille. Mehan began the new job Aug. 1.
Cass said Mehan brings to the position a broad array of experiences as a teacher, scholar and administrator.
"Dr. Mehan has an impressive track record as an educator," he said. "With his experience and knowledge of the university on many levels, he will be a great addition in our Academic Affairs Office. He will assist with the day-to-day running of the office, and he will play an important role in many projects that are of great magnitude to the UHV faculty."
The Provost's Office coordinates academic operations for the university, including formulating policies; appointing, hiring and evaluating faculty members; leading program development and delivery; and overseeing enrollment and student services.
"Dr. Mehan will be a terrific ambassador for UHV both on- and off-campus," UHV President Phil Castille said. "He will be great at both friend-making and friend-building for UHV. I am highly impressed by his years of effective service on our Faculty Senate."
Mehan already is working on several projects, including the university's Quality Enhancement Plan. The plan describes a course of action for enhancing educational quality. It is part of the ongoing preparation for the spring 2014 accreditation review by the Southern Association of Colleges and Schools Commission on Colleges in Atlanta.SACS is the accreditor for all universities and colleges in an 11-state region that includes Texas.
Mehan recently attended a QEP conference in Atlanta.
"There were dozens of institutions represented there," he said. "It was a really good opportunity to hear what others are experiencing with their plans. I learned about some pitfalls and some good directions and best practices to explore."
In his new position, Mehan will manage several academic support units, including research development, the Center for Teaching Innovation and institutional research. He also will review university policies in conjunction with the Faculty Senate and other shared governance entities, and coordinate with various state and federal agencies.
Additionally, Mehan still will do some teaching. He will teach a literature class this fall. He said his past teaching experience will come in handy with his new job.
"I think one of the most important things about teaching is that you are always interacting with others," Mehan said. "I've had such a great variety of teaching experiences that I think I have a good sense of how to communicate. What I'm looking forward to in this position is getting to know all of our faculty and staff members."
Mehan is originally from India but spent about half of his childhood in Canada.
"I have discovered a parallel between here and up north," he said. "Here we also have two months where no one goes outside. Those months just happen to be July and August instead of December and January."
In 1983, Mehan earned a Bachelor of Arts in English and psychology from the University of Windsor in Windsor, Ontario. He earned a Bachelor of Education two years later in English and dramatic arts from the University of Toronto. He went on to obtain a Master of Arts in English from York University in Toronto. He later returned to the University of Toronto, where he earned a doctorate in English in 1996 focusing on post-Colonial literature and literary theory.
After serving as a lecturer at several colleges, Mehan taught in the Writing, Literature and Publishing Department at Emerson College in Boston. He developed classes in contemporary world literature and took a lead role in establishing Emerson's Post-Colonial studies minor. In 2004, he co-edited a new writing anthology, "So Long Been Dreaming: Post-Colonial Visions of the Future," with Caribbean writer Nalo Hopkinson.
Mehan arrived at UHV in 2008. He worked as an instructor for two years before being promoted to assistant professor. While at UHV, Mehan has served as the associate director for the Society for Critical Exchange, a scholarly society devoted to theory; and worked with Jeffrey Di Leo, dean of the School of Arts & Sciences, to host the annual SCE Winter Theory Institute. He also has served on the Faculty Senate and other committees.
Mehan said the most exciting aspect about being named associate provost is the opportunity to play a larger role in the growth of the university.
"We have new groups of students and opportunities to create more programs," he said of UHV's downward expansion. "It's exciting to be involved in a university growing as rapidly as we are. We are discovering so many aspects to being a four-year school. I feel we are helping the students and the community."
The University of Houston-Victoria, located in the heart of the Coastal Bend region since 1973 in Victoria, Texas, offers courses leading to more than 80 academic programs in the schools of Arts & Sciences; Business Administration; and Education, Health Professions & Human Development. UHV provides face-to-face classes at its Victoria campus, as well as an instructional site in Katy, Texas, and online classes that students can take from anywhere. UHV supports the American Association of State Colleges and Universities Opportunities for All initiative to increase awareness about state colleges and universities and the important role they have in providing a high-quality and accessible education to an increasingly diverse student population, as well as contributing to regional and state economic development.