Close
UHV Part-Time Job Fair brings students, local businesses together
University of Houston-Victoria students looking to earn supplemental income and gain real world experience can attend the university's Part-Time Job Fair on Aug. 29 to meet regional employers needing part-time workers.
The job fair will be from 1 to 3 p.m. in the Multi-Purpose Room of University Center, 3007 N. Ben Wilson St. The event, organized by UHV Career Services, is free for both students and employers.
"Many of UHV's new students are just moving to Victoria and are not familiar with the area," said Amy Hatmaker, UHV Career Services specialist. "They are interested in a part-time job to help pay for college and housing but may not know where to look. The Part-Time Job Fair gives them an opportunity to meet with interested businesses all in one location."
Representatives from area retail, food service and media businesses; nonprofit organizations; and governmental agencies, including UHV, will be at the fair looking for potential employees. Students are encouraged to dress appropriately and bring resumes.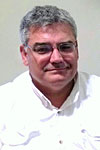 Kenneth Butschek
Job fair participant Kenneth Butschek, owner of Liberty Tax Service, said he and other employers will be understanding of students' school schedules and will work around them.
"As a parent, I think grades are very important," he said. "Our student workers have flexible hours based on their schedules. When finals' week comes, we make sure they don't work so they can focus on their studies."
The job fair was started in 2010 in conjunction with the first UHV freshman class. With so many new students needing supplemental income and not enough jobs on campus for them, UHV started the job fair to bring together students and community business owners.
In addition to supplemental income, a part-time job gives students real-world experience, Hatmaker said.
"When students graduate and begin their careers, having work experience during college shows potential employers that they know how to multitask, are responsible and are well-rounded individuals," she said.
Butschek agrees that real-world experience is important for students to have on their resume before they graduate.
"I'm looking for students in accounting, business or marketing who want to learn how to prepare income taxes," he said. "I want to work with students who are starting on the ground floor and give them their first shot at learning the business. UHV students I've hired in the past were outstanding, and I am hoping to find comparable replacements."
With more than 14 companies already signed up and more expected, this year's businesses offer a large variety for students. Some of the businesses scheduled to attend include AT&T, Boys & Girls Club of Victoria, H-E-B, Texas Department of Criminal Justice, Ventura's Tamales, Victoria Advocate, Victoria Television Group, YMCA and Wal-Mart.
Businesses must register by Aug. 27 to reserve a spot. Tables, electricity and Wi-Fi will be provided for each business. Registration may be completed online at https://myinterfase.com/uhv/employer/home.aspx or by contacting Hatmaker at 361-570-4378 or hatmakera@uhv.edu.
The University of Houston-Victoria, located in the heart of the Coastal Bend region since 1973 in Victoria, Texas, offers courses leading to more than 80 academic programs in the schools of Arts & Sciences; Business Administration; and Education, Health Professions & Human Development. UHV provides face-to-face classes at its Victoria campus, as well as an instructional site in Katy, Texas, and online classes that students can take from anywhere. UHV supports the American Association of State Colleges and Universities Opportunities for All initiative to increase awareness about state colleges and universities and the important role they have in providing a high-quality and accessible education to an increasingly diverse student population, as well as contributing to regional and state economic development.