Close
UHV alumnus works his way into medical school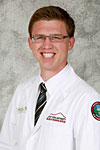 Brian Russ
It wasn't unusual during the past few years for Brian Russ to spend his nights patching up patients as an emergency medical technician and his days pouring over biology and chemistry books.
The dedication to his school and work, along with some unexpected generosity, helped the University of Houston-Victoria graduate achieve his goal of attending medical school.
Russ, 22, began taking classes this month at Rocky Vista University College of Osteopathic Medicine in Parker, Colo. He is studying to become an emergency room physician.
Russ said the classes in biology and chemistry he took at UHV helped prepare him for medical school. He appreciated the convenience of online classes and having faculty and resources nearby at UH Sugar Land, where UHV offers many of the programs.
"I don't think I could have worked as much as I did if I attended any other university," Russ said. "UHV did a great job preparing me for this. As a result, I think I may be ahead of some of my classmates."
Russ is already familiar with hospitals and emergency rooms. He started out as a hospital volunteer when he was 16, and later worked as an emergency medical technician for four years at Memorial Hermann in Houston.
Russ is a Colorado native who lived in Katy during his college years. He initially took classes at Houston Community College. Russ later went to nursing school in Houston but decided it wasn't for him. He enrolled at UHV to study biology and graduated with a bachelor's degree in May.
"Sometimes I worked 70 hours a week at the hospital to help put me through college," Russ said. "I worked the night shifts and then attended school during the day. I was tired, but I loved every minute of it. It was an awesome job. It was definitely not one of those watch-the-clock-till-it's-time-to-go-home jobs. I had no problem with staying past the end of my shift."
Despite a heavy work load during the first two weeks of medical school, Russ said having knowledge of biology principles already is paying dividends.
"The first six weeks are basically all about cell biology," Russ said. "I've already learned a lot about what we cover through my biology classes. It's a huge help to have that background."
Russ said Richard Gunasekera, a UHV professor of biology and director of graduate biology programs, not only helped him in the classroom, but also wrote a recommendation letter for medical school for him.
"A number of UHV faculty members assisted me in getting here," Russ said.
Russ picked Rocky Vista University of Osteopathic Medicine in order to return home and because he liked the osteopathic approach to learning medicine.
"It's a more holistic approach where doctors use their hands," he said. "It's a fairly new school, having started in 2006, so there are a lot of opportunities to blaze my own trail."
Because the school is only six years old, Rocky Vista students aren't eligible to receive financial aid until 2013. That left securing a private loan as the only way Russ could afford the $43,000 it takes for a year of medical school.
As a college student with a limited credit history, Russ didn't have a sufficient credit score to qualify for a loan of that size. He attempted to bolster his score by working more and was prepared to delay his plans of attending Rocky Vista for a year. That turned out to not be necessary because an ER physician at Memorial Hermann agreed to co-sign the loan.
Jeffrey Di Leo
"For the physician to step in and help me was tremendous," Russ said. "I know that is not something that happens every day. That's a lot to ask someone. I'm glad he got to know me in the ER and had faith in me."
Jeffrey Di Leo, dean of the UHV School of Arts & Science, said he's glad Russ was able to get started with medical school right away.
"Brian clearly has a bright future ahead of him," Di Leo said. "It didn't take long for us to see Brian was an extremely dedicated and hard-working student. It's wonderful to see a graduate of our program on his way to achieving his goal of becoming a physician. We are proud of what he has accomplished and are excited to follow his career."
The University of Houston-Victoria, located in the heart of the Coastal Bend region since 1973 in Victoria, Texas, offers courses leading to more than 80 academic programs in the schools of Arts & Sciences; Business Administration; and Education, Health Professions & Human Development. UHV provides face-to-face classes at its Victoria campus, as well as an instructional site in Katy, Texas, and online classes that students can take from anywhere. UHV supports the American Association of State Colleges and Universities Opportunities for All initiative to increase awareness about state colleges and universities and the important role they have in providing a high-quality and accessible education to an increasingly diverse student population, as well as contributing to regional and state economic development.