Close
UHV literary professor works to make Latino voice more prominent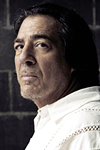 Dagoberto Gilb
Stereotypes survive and thrive when people live in the dark about a culture, said Dagoberto Gilb, a professor at the University of Houston-Victoria.
But through his writings and work on campus, he's doing his part to shed light on what it means to be Mexican-American.
Gilb is executive director ofCentroVictoria, a literary center focused on making the Latino voice more prominent.
In the three years since the center got off the ground, Gilb said the program has made major strides.
"Made in Texas," a guidebook the center hopes to make available for sale as a textbook this year, includes Latino literature English teachers can incorporate into lesson plans statewide.
Huizache, CentroVictoria's new Latino literary magazine, also highlights works by such writers. It's a segment of the writing population that many often overlook, he said.
"We do not get much attention paid to us," said Gilb, noting that while he remains one of the better-published Chicanowriters, his own name remains relatively unknown. "A lot of times in a magazine, you'll see 25 to 40 writers, and that magazine might only include one Latino. Huizache magazine is the alternative to that.It is absolutely a huge project, but it's a labor of love."
The writer's work extends far beyond the center, however.
Gilb has published seven books and had stories published in The New Yorker, The Los Angeles Times, Harper's Magazine and more. His most recent book, "Before the End, After the Beginning," is slated for paperback publication within the next few months.
His work has garnered recognition through the years, national awards including a PEN/Hemingway Award and a Guggenheim, induction into the El Paso Writers' Hall of Fame and a Texas Book Festival Bookend Award.
Gilb was born and raised in Los Angeles, Calif., then raised his own family in El Paso. He has always called the Southwest home.
He earned a bachelor's degree in philosophy and religious studies from the University of California, Santa Barbara and went on to earn his master's degree in religious studies from the same school.
While he admits his passion for Mexican-American culture and the rich literature surrounding it, Gilb said it's more than that. It's who he is.
He knows how some view the Latino population. Growing up, he said it was common to hear racial labels – "beaner" and the like – in everyday speech.
But furthering better understanding and teaching others about a heritage can make a difference.
"The fact is, Texas's history is rooted in Mexican and Mexican-American culture," he said. "And Latinos are going to be 50 percent of the state soon. It's a good idea to recognize that and be proud of it. It's a good thing."
Looking forward, he wants to see CentroVictoria continue making the strides it has and hopefully grow to include annual events, textbooks that reach beyond Texas, an expanded magazine and more.
Whatever happens, he said he looks forward to seeing what the future holds, especially with UHV here to make it better.
"It's a good thing for everybody to know where people come from," he said, explaining that includes not only Latino culture but those of other descent. "It's all healthy. And that's what we're trying to do. We're trying to lead the charge."
The Faculty Feature is an online feature highlighting faculty members from each of the University of Houston-Victoria's four schools. To nominate a faculty member, contact Paula Cobler, UHV interim director of marketing and communications, or call 361-570-4350.
The University of Houston-Victoria, located in the heart of the Coastal Bend region since 1973 in Victoria, Texas, offers courses leading to more than 80 academic programs in the schools of Arts & Sciences; Business Administration; and Education, Health Professions & Human Development. UHV provides face-to-face classes at its Victoria campus, as well as an instructional site in Katy, Texas, and online classes that students can take from anywhere. UHV supports the American Association of State Colleges and Universities Opportunities for All initiative to increase awareness about state colleges and universities and the important role they have in providing a high-quality and accessible education to an increasingly diverse student population, as well as contributing to regional and state economic development.