Close
Jaguar Hall food director brings new ideas, cuisine to UHV dining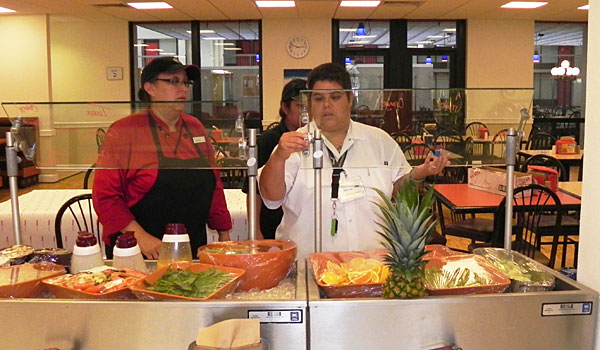 Christina Barrera, right, Jaguar Hall Dining food service director, examines the sneeze guard on top of the residence hall's salad bar with Kitchen Services Manager Frances Franklin Menchaca.
An unforgettable moment with her then-2-week-old son led Christina Barrera down a path that eventually landed her as executive chef and food service director at the University of Houston-Victoria's Jaguar Hall Dining.
While Barrera was holding her son and telling him how he could be anything he wanted when he grew up, she looked up and saw a Le Cordon Bleu culinary school commercial on television. As someone with a deep passion for cooking, it struck Barrera that she should listen to her own advice.
"I said to myself, 'How do I expect my son to follow this advice, if I haven't done it myself?' The next day, I went to Le Cordon Bleu and enrolled."
A couple years later, the 34-year-old Dallas native is prepared to enter her first full semester directing UHV dining operations. Located inside the Jaguar Hall residence hall at 2705 Houston Highway, the dining facility is open to UHV students, faculty and staff, as well as the general public.
All meals are buffet-style, all-you-can-eat. Breakfast is $6; lunch is $7; and dinner is $8. Breakfast is served from 7:30 to 9:30 a.m. Monday through Friday. Lunch, or brunch on the weekends, is 11 a.m. to 2 p.m. seven days a week, and dinner is 5 to 8 p.m. Sunday through Friday and 5 to 7 p.m. on Saturday.
Barrera said the $5 lunches on Thursday for UHV faculty and staff have been a hit.
"We will have it every Thursday this fall," she said. "The faculty and staff have embraced it. I think one of the reasons is because of the fresh food. I'm huge on fresh. We have fresh vegetables, and we are making a number of items from scratch, such as marinara sauce."
Diners this fall will notice several new additions to the menu. Pizza now will be a regular option, with cheese, pepperoni and a rotating specialty pizza offered daily. A new portable steam table will allow for daily grill items, such as hamburgers and cheese sandwiches, in addition to the other hot food selections.
Signature hamburgers, such as the banzai burger and the A-1 bleu cheeseburger, were new culinary additions this summer and will be offered again in the fall. In addition, Barrera said they plan to introduce new types of cuisine, although they will simplify it.
"Take basil ravioli, for example," she said. "We will deconstruct it so students can see the items individually and choose how they want it. They can choose not to have the basil if they want and just eat cheese ravioli."
When the meal is over, there's even a new way to return the dishes.
"We cut a hole in one of our walls, and now we have a nice dish return," Barrera said. "It looks a whole lot better than what it did before when we just had bins."
Barrera knows about all the jobs in the kitchen, including dishwashing. She started at age 15 washing dishes at Taco Bell and later served as a dishwasher for other restaurants. She got out of food service later on to work at a teen counseling center, though she gave up that job to enroll at Le Cordon Bleu in Dallas.
Barrera said Le Cordon Bleu instructors not only taught her how French cuisine should be made, they prepared her for every element of food preparation.
"They teach you what herbs should smell like or when vegetables are ripe," she said. "They made us dig into the root of everything. We studied meat trays and took an ice sculpting class. We took classes on how to make food look pretty. We did tons of food art."
Barrera said she is using the principles learned at Le Cordon Bleu to prepare meals at Jaguar Hall.
"I learned from the chefs that people eat with their nose first, so smell is important," she said. "Looks are just as important to some diners. If you make it look 3-D, tall and beautiful, then that can add to the enjoyment of the dish."
It took only two years for Barrera to be promoted from a part-time cook to food service director. She started working in 2010 for Southern Methodist University. Both SMU and UHV contract with Aramark, a national food services provider, for dining services.
With her inquisitive nature, Barrera started asking her bosses at SMU many questions about how the dining facility was operated. Barrera eventually was promoted to supervisor at SMU and started a program where gourmet sandwiches, wraps and salads were offered at various locations on the Dallas campus.
She took the next step in her new career in April when she moved to Victoria to take over operations at Jaguar Hall. Barrera said the dining staff, UHV employees and the community have given her a warm welcome. Her favorite part of the job is sharing her knowledge with the dining staff.
"I have a lot of eager staff members," she said. "They love to pick my brain about French cuisine and other dishes."
For more information about Jaguar Hall Dining meal plans or to view weekly menus, visit www.uhv.campusdish.com.
The University of Houston-Victoria, located in the heart of the Coastal Bend region since 1973 in Victoria, Texas, offers courses leading to more than 80 academic programs in the schools of Arts & Sciences; Business Administration; and Education, Health Professions & Human Development. UHV provides face-to-face classes at its Victoria campus, as well as an instructional site in Katy, Texas, and online classes that students can take from anywhere. UHV supports the American Association of State Colleges and Universities Opportunities for All initiative to increase awareness about state colleges and universities and the important role they have in providing a high-quality and accessible education to an increasingly diverse student population, as well as contributing to regional and state economic development.