Close
UHV education dean reviews grants for U.S. Department of Education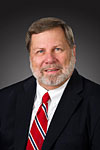 Fred Litton
When Fred Litton took over as dean of the University of Houston-Victoria School of Education & Human Development this summer, he brought a wealth of experience in teaching, research and leadership to the university.
He also brought with him an out-of-the-ordinary side venture – reviewing federal special education grants and evaluating how they are used. For the past two decades, Litton has served as a grant reviewer for the U.S. Department of Education Office of Special Education.
Because of his expertise in special education, Litton is asked to evaluate the quality of grant applications from universities across the country.
"Performing the reviews helps me keep current with what's going on nationally in special education," Litton said. "It can be a bit time-consuming, but it has helped me stay connected with the Department of Education and national trends."
Because of a potential conflict of interest, Litton is not allowed to review grants applied for by UHV or any other nearby university. But there are some advantages to knowing how universities in New York, California and other places write grants and train personnel, Litton said. He has gained insight into best practices which, in turn, has strengthened his own grant writing.
"It's valuable to see what other universities are doing," he said.
Litton took over as dean on July 1, replacing interim Dean Diane Prince, a professor in the School of Education & Human Development.
Prior to arriving at UHV, Litton had worked at Louisiana State University at Alexandria since 2004, first as founding dean of the College of Professional Studies and then as a professor of special education. Before that, he served as dean of the Texas A&M University-Kingsville College of Education and interim dean of the University of Central Arkansas College of Education. He earlier rose through the academic ranks at the University of New Orleans, serving as chair of the Department of Special Education and associate dean of the Graduate School.
In his first six weeks at UHV, Litton has met with all of the education faculty members to learn more about their interests and thoughts about the future of the school.
"We have to look at expansion of programs to fit the geographic need," Litton said. "We need to continue to partner with school systems and grow our number of students. It's exciting because there's a lot of talent on the faculty, and we have great opportunities in Victoria and with the two UH System teaching centers in Greater Houston."
Although providing leadership for the School of Education & Human Development will keep him plenty busy, Litton plans to continue to review grants when time allows. He started his career as a special education teacher and has published numerous books and articles on the subject during the last four decades. To be chosen as a grant reviewer, educators must first be nominated and then selected by officials in the U.S. Department of Education. Reviewers must successfully receive a grant for their university before they can be nominated.
"You have to have some experience in higher education, and you have to be professionally relevant with what their needs are," Litton said. "They are pretty selective about who they employ."
Once they receive the grant packets, Litton and other reviewers evaluate the documents independently. They then discuss them during a conference call.
"We used to do the reviews on site in Washington until about five years ago," he said. "Now we have the technology to do it in other ways and save the government some travel money."
Litton is regarded as one of the highest rated reviewers. The Office of Special Education assembles a team of experts annually to review syllabi of university courses from institutions that received grant funding. Litton was chosen in 2010 to be part of the team.
"We are asked to review the quality of the courses," Litton said. "The highest rated reviewers get to come in and do something different, something extra."
Litton also has served as a special panel member. He was asked by the American Institute of Research to review a grant relative to Family Centers on Technology and Disability.
"Once the grant is funded and the institution gets the money, sometimes we are asked to evaluate how well the money is put to use," he said.
Litton's knowledge about how to effectively get the most bang for the buck out of grants could be an asset into future UHV funding endeavors and grant applications.
Although Litton said he's impressed with what the university has done in the past, he's more excited about the future.
"UHV has a tremendous upside, and I am pleased to be here," he said.
The University of Houston-Victoria, located in the heart of the Coastal Bend region since 1973 in Victoria, Texas, offers courses leading to more than 80 academic programs in the schools of Arts & Sciences; Business Administration; and Education, Health Professions & Human Development. UHV provides face-to-face classes at its Victoria campus, as well as an instructional site in Katy, Texas, and online classes that students can take from anywhere. UHV supports the American Association of State Colleges and Universities Opportunities for All initiative to increase awareness about state colleges and universities and the important role they have in providing a high-quality and accessible education to an increasingly diverse student population, as well as contributing to regional and state economic development.