Close
Construction begins on new UHV sophomore residence hall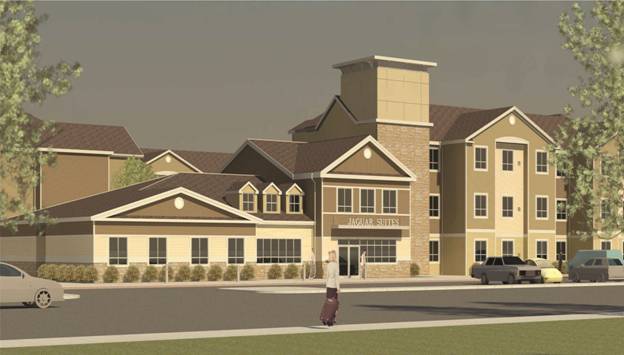 Jaguar Suites
University of Houston-Victoria leaders and local dignitaries broke ground Thursday on a new apartment-style residence hall that will be home to 216 sophomores in the fall of 2013.
When it's completed next year, Jaguar Suites will become the first newly constructed UHV residence hall. The $11.5-million, 82,000-square-foot dormitory will have 54 suites, a fitness center, swimming pool, computer labs and a large commons area that can be divided into classrooms.
Combined with the existing residence halls – Jaguar Hall and Jaguar Court – there will be nearly 640 beds for students. The new dorm will be located at 2703 Houston Highway, between the university's two existing residence halls.
"This is a landmark day for the University of Houston-Victoria," UHV President Phil Castille said. "We are excited to start construction on our first all-new dorm. Our enrollment data from the last two years show that UHV is drawing a substantial number of freshmen from the wide population belt around Victoria, including from Houston, San Antonio, Corpus Christi and the Valley region. As our residential population grows, we need to increase our student housing accordingly."
Wayne Beran, UHV vice president for administration and finance, said the new residence hall will be a step forward in the university's continuing efforts toward building a destination campus.
"We think Jaguar Suites will be a big hit and generate excitement from current and prospective students," he said. "We are well on our way to being a great residential campus."
At a groundbreaking ceremony Thursday, Renu Khator, chancellor of the University of Houston System and president of UH, Castille and other dignitaries dug shovels into the ground to ceremoniously to get the project underway.
Echoing design cues from UHV's University Center building, Jaguar Suites will be three stories tall with a clock tower, the interior of which will be a staircase connecting the three floors. There will be an open courtyard in the middle of the building that will have a swimming pool and sand volleyball court.
Inside Jaguar Suites will be a large fitness center and sizable commons area that can be used for meetings, events, study groups or classrooms. Computer labs and student lounges will be located on each floor.
Each of the suites will house four students and will have four bedrooms, two bathrooms, and a shared living area and kitchen. The suites are furnished, including a flat screen TV with free cable and free Wi-Fi.
Beran said Jaguar Suites will be one of the nicest residence halls in Texas.
"It was designed to bring more students to the university," Beran said. "We think it will help meet that objective as well as encourage freshmen to return for their sophomore year at Jaguar Suites."
Freshmen and sophomores are required to live in the UHV residence halls unless they have been granted a waiver. Juniors and seniors also are eligible to live at Jaguar Suites but aren't required to do so.
"We have a record number of freshmen this school year who will get to be the first class of sophomores to enjoy this beautiful, new facility," Castille said.
Jaguar Hall will remain the freshman dorm. Jaguar Court will provide a lower-cost option for freshmen and sophomores. Both of those residence halls were formerly motels that were extensively renovated into dormitories. Jaguar Hall opened in 2010 and Jaguar Court started housing students this fall.
The new residence hall is being funded in two different ways. The project received $800,000 from state funding for the area of the building being used for academic purposes. The remaining $10.7 million is coming from state revenue bonds that will be paid off with student lease payments.
The project was approved last year by the UH System Board of Regents and the Texas Higher Education Coordinating Board.
The UH Facilities Planning and Construction Department will oversee the project. Vaughn Construction will be the general contractor with Smith & Co. Architects serving as the building architects. Construction will begin immediately, and the dorm is projected to take about 10 months to complete.
The University of Houston-Victoria, located in the heart of the Coastal Bend region since 1973 in Victoria, Texas, offers courses leading to more than 80 academic programs in the schools of Arts & Sciences; Business Administration; and Education, Health Professions & Human Development. UHV provides face-to-face classes at its Victoria campus, as well as an instructional site in Katy, Texas, and online classes that students can take from anywhere. UHV supports the American Association of State Colleges and Universities Opportunities for All initiative to increase awareness about state colleges and universities and the important role they have in providing a high-quality and accessible education to an increasingly diverse student population, as well as contributing to regional and state economic development.