Close
Author brings experimental approach to UHV/ABR Fall Reading Series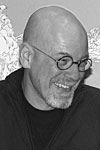 Steve Tomasula
Steve Tomasula, the first author in the University of Houston-Victoria/American Book Review Fall Reading Series, has always strived to make his books part of the story.
In his novel "Vas: An Opera in Flatland," Tomasula wrote about the brave new world of biotechnology, where bodies can be edited or rewritten in ways that are becoming more extreme even as they become more commonplace.
"I was really interested in having the book serve as a metaphor for the body, while the body served as a metaphor for the book," he said. "The book is written this way, with some pieces of text coming together, forming ideas, the way the four nucleic acid bases of DNA come together to form cells; some evolve, others break apart. This idea of using the materials of the book as one of the elements of the story is something that runs through all my novels."
Known for pushing the envelope with his various styles, Tomasula's writing crosses visual and written genres. Tomasula will give a reading at noon Sept. 13 in the Alcorn Auditorium of UHV University West, 3007 N. Ben Wilson St. The event is free and open to the public. Light refreshments will be served.
An associate professor of English at the University of Notre Dame, Tomasula also has written the novels "The Book of Portraiture," "IN & OZ" and "TOC: A New Media Novel." His short fiction has appeared in a number of publications. His recent criticism and essays were published in The Routledge Companion to Experimental Literature, The Review of Contemporary Fiction and Flusser Studies: A Multilingual Journal for Cultural and Media Theory.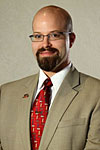 Jeffrey Sartain
Tomasula also is known for taking older stories and making them more modern.
"Because of that, we classify his work as experimental," said Jeffrey Sartain, ABR managing editor and a lecturer in the UHV School of Arts & Sciences. "It's not just your standard murder mystery. The story of his work interacts with the way it's told. It blends subject matter and form in interesting ways."
Sartain said having Tomasula visit is a great way to kick off the reading series.
"We are a journal devoted to the new, the experimental and the avant garde, so his work fits right within our area of knowledge and specific interest," he said.
Sartain said Tomasula is known for experimenting with the form of a narrative by using new media, jamming media together and testing out new ways of telling stories. "TOC: A New Media Novel" also was produced as a DVD for personal computers. The 2009 novel is a story of humans connecting through time to each other and to the world.
"The novel tries to use all of these multimedia tools to tell its story and to evoke a different sense of time as we have when we're excited, versus bored, or the differences between personal, historical, geological or cosmic time scales," Tomasula said. "The novel might have been a little ahead of its time in terms of where it fits in literary culture. Stores didn't know whether to shelf 'TOC' with print books since it's a novel or put it in with movies since it's on DVD. This is all changing now, of course, what with the iPad and the sudden blurring of print and electronic literature becoming more common, more familiar."
Tomasula said all forms of cultural expression are affected by changes in technology. He said it helps shape the way people think and therefore write.
"Wikis and blogs are obvious examples, but even print books reflect changes in culture in terms of the way they're written," he said. "Language was different for James Joyce than it was for Shakespeare, and it was different for Shakespeare than it was for Homer. Part of this difference is driven by the technologies each of their ages had to tell their stories."
During his visit to UHV, Tomasula said he probably will read from "IN & OZ," which is described as a story of art, love, auto mechanics and two places – the here and now and the somewhere better.
Jeffrey Di Leo
"I really like being able to engage with other people who are interested enough about some aspect of the reading to come together," Tomasula said. "Novels are probably a lot better at raising questions than answering them, so writing the book, in a way, seems to be an excuse for having these conversations. Someone once said that the whole purpose of art is to bring people together to talk, and I think there's a lot of truth in this."
Those attending Tomasula's reading will leave with a feeling of wanting to explore more, said Jeffrey Di Leo, ABR editor and publisher and dean of the UHV School of Arts & Sciences.
"I think attendees will encounter someone who is fun and lively and tells interesting stories in interesting ways," he said. "We are honored to have Dr. Tomasula pay us a visit to begin the ABR Fall Reading Series."
Other writers scheduled for the Fall Reading Series are:
Paisley Rekdal, Sept. 27 – Rekdal is an award-winning author of poetry and essays who often explores the topic of biracialism.
Mat Johnson, Oct. 10 – Johnson is author of the novels "Pym," "Drop" and "Hunting in Harlem;" the nonfiction novella "The Great Negro Plot;" and the comic books "Incognegro" and "Dark Rain." He frequently writes about race and culture issues.
Norma Cantú, Nov. 8 – Cantú publishes pieces about a number of academic subjects as well as poetry and fiction. She specializes in Latina and Latino literatures, Chicana and Chicano literatures, border studies, folklore, women's studies and creative writing.
Jake Adam York, Nov. 29 – York is the author of three books of poems: "Murder Ballads," winner of the 2005 Elixir Press Prize in Poetry; "A Murmuration of Starlings," winner of the 2009 Colorado Book Award in Poetry; and "Persons Unknown."
Authors who are part of the UHV/ABR Reading Series attend roundtable discussions with university faculty and students, make classroom visits to area schools, give lectures open to the community and go to receptions hosted by Friends of ABR patrons while they are in Victoria.
ABR, which started in 1977, is a nonprofit, internationally distributed literary journal that is published six times a year. The journal specializes in reviews of works published by small presses.
For more information about the UHV/ABR Reading Series, call Sartain at 361-570-4254, or go to www.americanbookreview.org.
The University of Houston-Victoria, located in the heart of the Coastal Bend region since 1973 in Victoria, Texas, offers courses leading to more than 80 academic programs in the schools of Arts & Sciences; Business Administration; and Education, Health Professions & Human Development. UHV provides face-to-face classes at its Victoria campus, as well as an instructional site in Katy, Texas, and online classes that students can take from anywhere. UHV supports the American Association of State Colleges and Universities Opportunities for All initiative to increase awareness about state colleges and universities and the important role they have in providing a high-quality and accessible education to an increasingly diverse student population, as well as contributing to regional and state economic development.