Close
UHV student finds entrepreneurial success, gives back to others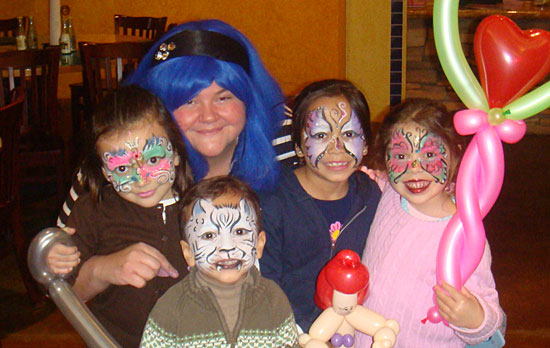 UHV student Dori Fostok's business provides face painting and activities for children.
The saying goes that anything worth having is worth working for. If that's true, University of Houston-Victoria senior Dori Fostok deserves every bit of success she's experienced through the years.
After countless hours of work and many overcome obstacles, she's established herself in the entrepreneurial world and found ways to give back.
Fostok's first business endeavor came during her time attending community college. While working toward a Montessori teaching certification, she got real-life experience operating a home daycare.
"I looked after close to 25 children, all on my own," she said with a laugh. "It was crazy, but fun. And I was able to help out a lot of single mothers."
Several years later, opportunity came in the form of a community contest.
A Houston-area organization offered prizes to aspiring entrepreneurs who presented the best-laid business plans. The lifelong lover of all things art brought in friends and family to develop a plan for the perfect party business, and that hard work paid off.
She earned first prize – $12,000 – to put toward her dream.
The money went far, Fostok said. She gave a percentage back to those who helped her, and used some to develop Katy Visual Performing Arts, a traveling art program that made its way to Texas Children's Hospital and MD Anderson Cancer Center.
"We had face painting and activities to bring smiles to the kids there," she said. "At the same time, it gave the parents a chance to go out and buy groceries or get their hair done. It was a break for them to do the little things they couldn't usually do."
The remainder of that money went to fund Party Business, a full-fledged party company that provides face painting, elaborate full-body painting, magicians and more. Her endeavor grew to include other parts of Texas, Virginia, New York, New Jersey and Delaware.
Fostok's journey, while rewarding, hasn't come without its hurdles.
Thyroid cancer struck in her mid-20s and meant time away from classes to focus on her health.
Her oldest daughter, Sarah, was already part of the family at the time while daughter Mariam joined soon after. It was after cancer treatments – six weeks of concurrent chemotherapy and radiation therapy – ended that she received a bit of a shock.
"They had told me I couldn't have any more children," she said. "But we had my son, Adam, afterward. He was my miracle baby."
Other family illnesses also required Fostok's time.
She temporarily relocated to Delaware to assist her parents. Her father's severe back issues meant he underwent nearly 30 surgeries, she said, while her mother suffers from schizophrenia. On top of it all, Fostok suffered a burst appendix and found herself in the hospital.
Still, she left her mark on Delaware before returning to Texas.
During her time there, she worked at a group home for special needs individuals. Although she worked closely with many residents, one woman in particular, whose medical ailments meant she had not spoken in decades, stood out in her mind.
"I started playing the Beatles one day, just because I like them," Fostok said. "And while that was going, she began singing. This woman, who hadn't spoken in 40 years, began singing 'Hey Jude.' It was amazing."
Looking ahead, Fostok said she was excited to finish her coursework and expected to graduate in December with a bachelor's degree in psychology and minor in communications. Still, the work won't end there.
She said she plans to pursue a master's degree, and hopes to see both her party business and volunteer efforts continue to grow.
Hard work or not, she said, it's all worth it.
"No matter what, you've just got to keep going on," she said. "Working for those goals and making somebody's day better. I love what I do."
I am a Jaguar is an online feature highlighting the exceptional students who attend the University of Houston-Victoria. To nominate a student, contact Paula Cobler, UHV interim director of marketing and communications, or call 361-570-4350.
The University of Houston-Victoria, located in the heart of the Coastal Bend region since 1973 in Victoria, Texas, offers courses leading to more than 80 academic programs in the schools of Arts & Sciences; Business Administration; and Education, Health Professions & Human Development. UHV provides face-to-face classes at its Victoria campus, as well as an instructional site in Katy, Texas, and online classes that students can take from anywhere. UHV supports the American Association of State Colleges and Universities Opportunities for All initiative to increase awareness about state colleges and universities and the important role they have in providing a high-quality and accessible education to an increasingly diverse student population, as well as contributing to regional and state economic development.