Close
UHV faculty members earn Bloomberg BusinessWeek teaching, research awards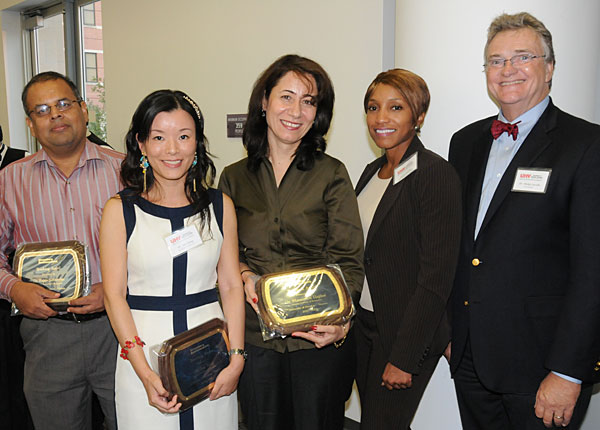 Bloomberg BusinessWeek Teaching and Research Awards winners Rajan Selvarajan, left, Jun Yang and Massomeh Hajilee accept plaques from Shandale Robertson, Bloomberg BusinessWeek regional sales manager, and UHV President Phil Castille, right, on Friday at a School of Business Administration awards reception.
SUGAR LAND – A trio of University of Houston-Victoria business faculty recently was honored by Bloomberg BusinessWeek for incorporating the popular business magazine into their teaching and research.
This year's Bloomberg Teaching and Research Awards went to:
Rajan Selvarajan – Fall 2011 Teaching Award
Jun Yang – Spring 2012 Teaching Award
Massomeh Hajilee  – Research Award
Selvarajan, an associate professor of management, received a check for $2,000. Selvarajan said he was pleased to receive the award. Since 2004, he has taught a number of management and leadership classes at UHV. His research and teaching interests focus primarily on human resource management, organizational behavior and strategic management.
"I have included recent articles published in Bloomberg BusinessWeek as part of the 'Strategic Management' course, which helps students analyze topics of current interest related to the course," he said. "The articles also help students to relate the theory they learned in textbooks to real-world situations."
Yang, an assistant professor of marketing, also was awarded $2,000. Yang often asks her students to find articles discussing key marketing issues, such as e-advertising, supply chain management, customer satisfaction, or the demise of bricks and mortar retailers such as Circuit City and Borders. Bloomberg BusinessWeek has been an outstanding resource for this purpose, she said. Yang has taught courses in the areas of marketing management, marketing research, global marketing and Internet marketing since 2009 at UHV.
"The award is a nice opportunity to show the integration of BusinessWeek to our Master of Business Administration program," Yang said. "I'm really honored to receive this award. I have learned a lot from my colleagues at UHV and really appreciate their support."
Hajilee, an assistant professor of economics, received a check for $2,500. Hajilee joined the UHV faculty in 2010. Her research focuses on topics in applied macroeconomics, international economics and economic development. Her primary teaching interest is global economics.
"I'm honored and grateful to receive a research award and be recognized for the publication of my scholarly works," she said.
Shandale Robertson, Bloomberg BusinessWeek regional sales manager, said she appreciated the positive feedback about BusinessWeek she has received from faculty members. For the last several years, the UHV School of Business Administration and Bloomberg BusinessWeek have provided magazine subscriptions to faculty and graduate students through the BusinessWeek Connection Program.
"We are proud of the partnership with UHV, and we are pleased to give out these awards," she said.
The three faculty members received their awards during a UHV School of Business Administration award reception Friday at UH Sugar Land.
Several student award winners from the past year also were recognized at the reception. The students included the 2011-2012 Bachelor of Business Administration Conference winners, the 2011-2012 MBA Conference case study and simulation winners, and the Master of Science in Economic Development and Entrepreneurship outstanding project winner.
Business, political and education leaders attended the award reception, including John O'Dell, senior vice president for the Willis Group; Himesh Gandhi, a Sugar Land city councilman; David Hagan, a Victoria city councilman and director of recruiting at Regency Nursing & Rehabilitation Centers in Victoria; and Marshall Schott, associate vice chancellor for planning and administration for the UH System. UHV President Phil Castille and Jeffrey Cass, UHV provost and vice president for Academic Affairs, also attended.
"I want to extend a thank you to everyone who attended and helped us celebrate these awards," said Farhang Niroomand, dean of the UHV School of Business Administration. "It's important to recognize our faculty and students for their accomplishments. I am grateful to Bloomberg BusinessWeek for their continuing support of quality in faculty teaching and research and, most of all, student learning."
The University of Houston-Victoria, located in the heart of the Coastal Bend region since 1973 in Victoria, Texas, offers courses leading to more than 80 academic programs in the schools of Arts & Sciences; Business Administration; and Education, Health Professions & Human Development. UHV provides face-to-face classes at its Victoria campus, as well as an instructional site in Katy, Texas, and online classes that students can take from anywhere. UHV supports the American Association of State Colleges and Universities Opportunities for All initiative to increase awareness about state colleges and universities and the important role they have in providing a high-quality and accessible education to an increasingly diverse student population, as well as contributing to regional and state economic development.