Close
Grandmother's healing abilities inspire nursing professor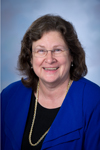 Linda Dune
A handful of roots, some herbs for good measure and a willingness to soak up every bit of knowledge available.
Those were the ingredients that gave Linda Dune, University of Houston-Victoria assistant professor and coordinator of the Second Degree Bachelor of Science in Nursing program, her start in health care.
Dune grew up watching her grandmother, a medicine woman for a Cherokee tribe in the Kentucky hills, gather plants, prepare mixtures and provide relief for whatever the patient's ailment.
"She was the midwife, the medical provider and the go-to lady for their hallows," she explained. "People trusted in what she did, and she did a good job."
That front-row seat to the healing process inspired Dune to find a career where she could help others. When it became time to select a college, she realized nursing was her calling.
Dune earned her Associate Degree in Nursing from The Jewish Hospital School of Nursing in Ohio and her Bachelor of Science in Nursing from the University of the State of New York. It was later, after relocating to the Lone Star State, that she earned both a master's degree and doctorate in nursing from Texas Woman's University.
She joined UHV in fall 2006 with the opening of the School of Nursing. The school has grown by leaps and bounds as time progressed. One reason for the growth is an innovative and close-knit faculty, she said. The educators work to make a variety of classroom experiences available.
The BSN, for instance, is aimed at those who already have a bachelor's degree and hope to complete their nursing course work quickly.
"The students are the best of the best," she said, explaining that not everyone can handle such fast-paced coursework. "They dedicate their lives to the program for a year, but then they're finished. Many of them have gone on to some really interesting jobs."
Dune herself offers a bit of variety to the mix. With her focus in medical circuit nursing, she takes to the classroom to teach an elective course in Chinese therapeutic massage.
"Nurses touch patients all the time," she said. "If they have that knowledge, they can really make a difference in how that patient feels. They can relieve headaches or stomachaches, any number of things."
While her position with UHV takes up much of her time, the mother of two still finds ways to enjoy life away from work.
Her home, with its open floor plan and many windows, was a design project she tackled alongside her husband. Since completion, it has become a favorite place to spend her time.
The creatures she shares that space with offer another source of enjoyment. Chickens, dogs and even a parrot call the place home. An area farmer also keeps cattle on Dune's property.
All in all, the educator said she looks forward to the years to come, both for the nursing program and in life. She said she appreciated her grandmother's many lessons years ago, which gave her that initial push into a field she feels passionately about.
"The nursing profession has been supportive of me through the years," she said. "It helped me raise my family, move to different areas and really explore my potential. It's rewarding, and I love my career."
The Faculty Feature is an online feature highlighting faculty members from each of the University of Houston-Victoria's four schools. To nominate a faculty member, contact Paula Cobler, UHV interim director of marketing and communications, or call 361-570-4350.
The University of Houston-Victoria, located in the heart of the Coastal Bend region since 1973 in Victoria, Texas, offers courses leading to more than 80 academic programs in the schools of Arts & Sciences; Business Administration; and Education, Health Professions & Human Development. UHV provides face-to-face classes at its Victoria campus, as well as an instructional site in Katy, Texas, and online classes that students can take from anywhere. UHV supports the American Association of State Colleges and Universities Opportunities for All initiative to increase awareness about state colleges and universities and the important role they have in providing a high-quality and accessible education to an increasingly diverse student population, as well as contributing to regional and state economic development.