Close
Poet to discuss biracialism during UHV/ABR Fall Reading Series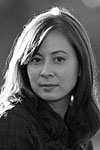 Paisley Rekdal
Born to a Chinese mother and a Norwegian father, award-winning author Paisley Rekdal's mixed heritage often influences her poetry and essay writing.
She will share her insights about biracialism on Sept. 27 as the second speaker in the University of Houston-Victoria/American Book Review Fall Reading Series. Rekdal also will give a reading of her poetry.
The event will begin at noon in the Alcorn Auditorium of UHV University West, 3007 N. Ben Wilson St. It is free and open to the public. Light refreshments will be served.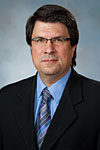 Jeffrey Di Leo
"Rekdal's interesting mix of style and subject matter is a great addition to our reading series," said Jeffrey Di Leo, ABR editor and publisher, and dean of the UHV School of Arts & Sciences. "As an Asian American, she gives a voice to a part of biracialism that is underrepresented and continues that theme to other subjects that are often overlooked."
During the event, Rekdal plans on reading and sharing photographs from her latest book, "Intimate: An American Family Album." The book is a hybrid photo-text memoir that combines poems, fiction and nonfiction with photography from Edward S. Curtis, a famous photographer of the American West and Native American people.
The book explores her father's mixed-race marriage to her mother while paralleling it with stories about Curtis and his Indian guide, Alexander Upshaw. Rekdal found inspiration by looking at photographs from Curtis and imagined his life.
"It's a memoir about my family, but it also talks about representation of mixed-race people or how they are not represented," she said.
Rekdal said her medieval studies background gave her the mindset to look for ideas in different places.
"I often find inspiration in art history journals, books of photographs, church documents, literature and historical documents," she said.
As an associate professor of English at the University of Utah in Salt Lake City, she doesn't have as much time to write as she'd like, but she still makes time to read poetry and find inspiration from other poets.
"Reading poetry helps me keep up with what's going on," she said. "I recently found inspiration in Gjertrud Schnackenberg's 'Heavenly Questions.' The way she interwove poems together made sense to me in a similar piece I was working on."
Rekdal is slowly working on a new project, which includes two core poems. The first is a series of 15 sonnets to Mae West that highlights some of West's famous quotes. The second part of the book will reflect on how location can play a part in illness, focusing on subjects like suicide, anorexia and Lyme disease.
While Rekdal chooses complicated topics to write about, she said she wants people to get something out of her poems no matter their familiarity with the subject or poetry.
"I work hard on the deeper meanings in my poems, and hopefully readers will enjoy it," she said. "But some people are not confident readers of poetry, so I want there to be enough surface pleasure from the poems to feel like the readers got something from it."
Rekdal's other publications include poetry collections "A Crash of Rhinos" (2000), "Six Girls Without Pants" (2002), "The Invention of the Kaleidoscope" (2007) and "Animal Eye" (2012), as well as a book of essays, "The Night My Mother Met Bruce Lee: Observations on Not Fitting In" (2000).
She has won numerous awards, including the Amy Lowell Travelling Fellowship, a Pushcart Prize, National Endowment for the Arts Fellowship and Fulbright Fellowship.
Other writers scheduled for the Fall Reading Series are:
Mat Johnson, Oct. 10 – Johnson is author of the novels "Pym," "Drop" and "Hunting in Harlem;" the nonfiction novella "The Great Negro Plot;" and the comic books "Incognegro" and "Dark Rain." He frequently writes about race and culture issues.




Norma Cantú, Nov. 8 – Cantú publishes pieces about a number of academic subjects as well as poetry and fiction. She specializes in Latina and Latino literatures, Chicana and Chicano literatures, border studies, folklore, women's studies and creative writing.




Jake Adam York, Nov. 29 – York is the author of three books of poems: "Murder Ballads," winner of the 2005 Elixir Press Prize in Poetry; "A Murmuration of Starlings," winner of the 2009 Colorado Book Award in Poetry; and "Persons Unknown."
Authors who are part of the UHV/ABR Reading Series attend roundtable discussions with university faculty and students, make classroom visits to area schools, give lectures open to the community and go to receptions hosted by Friends of ABR patrons while they are in Victoria.
ABR, which started in 1977, is a nonprofit, internationally distributed literary journal that is published six times a year. The journal specializes in reviews of works published by small presses.
For more information about the UHV/ABR Reading Series, contact Jeffrey Sartain, ABR managing editor and a lecturer in the UHV School of Arts & Sciences, at 361-570-4254, or go to www.americanbookreview.org.
The University of Houston-Victoria, located in the heart of the Coastal Bend region since 1973 in Victoria, Texas, offers courses leading to more than 80 academic programs in the schools of Arts & Sciences; Business Administration; and Education, Health Professions & Human Development. UHV provides face-to-face classes at its Victoria campus, as well as an instructional site in Katy, Texas, and online classes that students can take from anywhere. UHV supports the American Association of State Colleges and Universities Opportunities for All initiative to increase awareness about state colleges and universities and the important role they have in providing a high-quality and accessible education to an increasingly diverse student population, as well as contributing to regional and state economic development.