Close
'Choke' author, UHV faculty member to read from new novel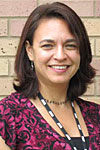 Diana López
When Diana López first encountered the choking game as a middle school teacher in the 1990s, she was disturbed not only by the game, but also by her students' carefree attitude toward it.
"They were laughing about it because they thought it was funny while I was appalled by the whole thing," she said. "There was a big disconnect between their perception and my perception."
Two decades later, López, a University of Houston-Victoria English lecturer and author of the acclaimed novel "Confetti Girl," has penned a cautionary fiction tale aimed at the middle school audience.
She will read from her newest novel, "Choke," at 5:30 p.m. Tuesday at the Victoria College/UHV Library, 2602 N. Ben Jordan St. López plans to talk about why she wrote "Choke," which was released in July, and some of the challenges she faced. The event, which is part of the library's Banned Book Week, is free and open to the public.
López first learned of the choking game when a couple of girls came into her class with bloodshot eyes at Horace Mann Middle School in San Antonio. Game participants self-strangulate in order to achieve a brief high. The game made national headlines in 2008 when the Centers for Disease Control and Prevention released a report stating there had been 82 probable choking-game deaths from 1995 to 2007 among students ages 6 to 19.
"Kids were filming each other playing the game and posting the videos on YouTube," López said. "Fortunately, YouTube caught on and removed the videos, but I just felt like something was needed to address young people. They won't read reports. The beauty of fiction is you let them learn vicariously. Hopefully, they won't make the same mistakes the characters make."
Set in San Antonio, the book's central character is Windy, an eighth-grader who wants to change everything about herself if her parents would let her. She would get highlights in her hair, a new wardrobe and wear makeup. But nothing ever changes. The mean girls at school are still mean, and Windy's best friend, Elena, is still more interested in making up words than talking about boys.
And then one day, Nina – impossibly cool, confident and not afraid of anyone – starts hanging out with Windy. Nina even wants to be "breath sisters." Windy isn't sure what that means exactly, but she knows she wants to find out.
Being a breath sister gains Windy a whole new set of friends, girls she feels closer to and cooler with than anyone else. But her inclusion comes at a dangerous price.
Publishers Weekly called the novel an educational, issue-driven read that could be a useful discussion starter. The publication praised López for weaving facts about the choking game into her story and including a list of online resources. López also has included a list of discussion questions and creative writing activities for teachers on her website, www.dianalopezbooks.com.
López's novel was reviewed Aug. 23 by Alexis Burling in the New York Times Sunday Book Review. It's the first time one of her books was reviewed in the Times.
"Her decision to show all the girls' insecurities about 'proving' their friendship and the parallels she draws between Windy's struggle to be popular and her father's bizarre makeover (dyed hair, blue contact lenses) after flubbing a job interview, provide ample fodder for young minds to mull," Burling wrote.
López has given readings during the past month in Laredo, Corpus Christi and Austin. She will appear at the Texas Book Festival in Austin next month. The response to the book so far has been positive, particularly from school educators.
"Educators have been the ones to recognize the themes and plots from the book," López said. "They aren't just focusing on the actual choking game part, which in my mind is a subplot of the major conflict – friendship, peer pressure and those types of issues."
To prepare for the book, López read other teen issue-related books to learn how other authors went about writing in a way that's dramatic but not preachy.
"Writing the choking-game scenes was difficult because I wanted to show why it was appealing to the characters, but I didn't want to make it attractive to the readers," López said. "It's written in first person, so I realized that I needed to focus on her interior dialogue and the seesawing that goes on in her mind."
López's previous book, "Confetti Girl," won several awards, including one of the 2012 William Allen White Children's Book Awards, which she will receive next week in Kansas. Her book was selected for the award by Kansas middle school students.
López teaches creative writing and composition classes at UHV. She is one of the award-winning authors teaching UHV's new creative writing program. She also is a staff member of UHV's CentroVictoria, a literary arts center that promotes Mexican American culture.
López also has written an adult novella, "Sofia's Saints." Her next book, "Ask My Mood Ring How I Feel," is scheduled to come out in 2013.
The University of Houston-Victoria, located in the heart of the Coastal Bend region since 1973 in Victoria, Texas, offers courses leading to more than 80 academic programs in the schools of Arts & Sciences; Business Administration; and Education, Health Professions & Human Development. UHV provides face-to-face classes at its Victoria campus, as well as an instructional site in Katy, Texas, and online classes that students can take from anywhere. UHV supports the American Association of State Colleges and Universities Opportunities for All initiative to increase awareness about state colleges and universities and the important role they have in providing a high-quality and accessible education to an increasingly diverse student population, as well as contributing to regional and state economic development.