Close
VC/UHV Banned Books Week to focus on censored books
In support of the First Amendment, the Victoria College/University of Houston-Victoria Library is planning 10 events next week highlighting books and films that have been censored in the U.S.
Activities will include a Read Out, presentations by authors and professors, and several movie screenings. All the events are part of national Banned Books Week and are free and open to the public.
Every year, libraries, booksellers, publishers, journalists, teachers and readers across the country celebrate Banned Books Week to bring awareness to censorship, free speech, civil rights and the freedom to read.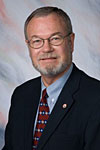 Joe Dahlstrom
"As supporters of the First Amendment, we believe that everyone should have access to materials that present a wide range of viewpoints so each person can decide his own beliefs," said Joe Dahlstrom, VC/UHV senior director of libraries.
The fourth annual Read Out will take place at 10 a.m. Wednesday at the VC/UHV Library, 2602 N. Ben Jordan St. Rosemary Clement-Moore, an author who writes teen books, will give this year's keynote speech. The Victoria native is known for writing smart, funny supernatural mystery novels such as "Texas Gothic" and "Prom Dates From Hell."
The Read Out also will feature UHV and VC students and faculty members reading passages from several banned books.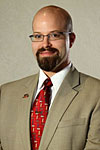 Jeffrey Sartain
Another noteworthy event will be a noon presentation Thursday at the library by Jeffrey Sartain, a UHV humanities lecturer and the American Book Review managing editor. Sartain will talk about the history of censorship and banning books. There's a long history of classic books getting banned in various places, and the most often cited reason is to protect children, he said.
"I think it's important to look at that reason because if we shelter children from certain types of reading or perspectives, how are they able to deal with those perspectives when they encounter them in the real world?" Sartain said.
Sartain is puzzled at how a country that champions the First Amendment justifies banning any sort of literature.
"We have freedom of the press to print and say anything we want," he said. "It seems to me it's counterintuitive for anyone to ban books. There are certainly books that trouble, offend or undermine beliefs, but these books should be read and challenged on their own terms analytically."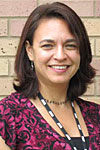 Diana López
Diana López, a UHV English lecturer who will read from her new book "Choke" at 5:30 p.m. Tuesday at the library, said this year's recognition of banned books is especially important given the events this past year in Tucson, Ariz.
Tucson school leaders banned books by Chicano and Native American authors after state politicians shut down the Tucson Unified School District's ethnic studies program. Among the many books banned were those written by Dagoberto Gilb, a UHV professor and executive director of CentroVictoria, a center for Mexican American literature and culture.
"The good part of the ban is it has organized people to fight against it," López said. "Dagoberto and I joined a group called Librotraficantes, which means book smugglers, who went over spring break to Tucson and celebrated the banned books. We had a public discourse about what was happening."
While in Tucson, López held a workshop about poems from authors who were on the Tucson list of banned books.
"My favorite part of that event was hearing from high school kids speaking out against the ban," López said. "They were talking about how specific titles from the list had impacted their lives. It was great to see how this ban had energized young people."
Banned Books Week is a celebrating its 30th anniversary this year. Sartain said the week is more important than ever because the vast majority of banned books go unreported.
"The American Library Association estimates that 85 percent of book banning and book challenging go completely unreported," he said. "Sometimes a community just homogeneously agrees that a book should be banned, and it just is. As a literature professor, it's tragic to me to think about a book being banned rather than being read and critically responded to."
The VC/UHV Library is partnering with the Victoria Public Library, Museum of the Coastal Bend and the American Book Review to hold the Banned Books Week events. For a complete schedule of events, visit the library website at vcuhvlibrary.uhv.edu/.
The University of Houston-Victoria, located in the heart of the Coastal Bend region since 1973 in Victoria, Texas, offers courses leading to more than 80 academic programs in the schools of Arts & Sciences; Business Administration; and Education, Health Professions & Human Development. UHV provides face-to-face classes at its Victoria campus, as well as an instructional site in Katy, Texas, and online classes that students can take from anywhere. UHV supports the American Association of State Colleges and Universities Opportunities for All initiative to increase awareness about state colleges and universities and the important role they have in providing a high-quality and accessible education to an increasingly diverse student population, as well as contributing to regional and state economic development.