Close
UHV assistant professor studies how literature bridges cultural divide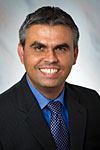 Armando Chávez-Rivera
International relations and decades-old literature are topics that, for many, might not correspond. But, as one University of Houston-Victoria assistant professor recently learned, an open book can make a big difference.
Armando Chávez-Rivera completed a research endeavor in August with the University of Texas at Austin Harry Ransom Center, thanks to support from the Alfred A. and Blanche W. Knopf Fellowship and The Andrew W. Mellon Foundation Research Fellowship Endowment.
There, he spent two months poring over archives, delving into books and searching for the effects the works had on the relationship between the U.S. and Latin America.
He said that access to the archives was enlightening.
"The research center is one of the best archives in the U.S. and even the world," he said. "You can find original papers by Shakespeare, Voltaire, T.S. Eliot, Virginia Woolf. It was an amazing experience."
Through his work, Chávez-Rivera said he learned that one publishing house, Knopf Inc., played a major role in bridging the cultural divide.
The company's decision to publish books by writers such as Alejo Carpentier, Ernesto Sábato and Arturo Uslar Pietri, as well as its correspondence with the nation's movers and shakers, eased tensions and improved relationships between the countries.
"Many of these books were already famous in Latin America and Europe, but they became famous in the U.S. after Knopf published them," Chávez-Rivera said. "It made an incredible impact."
He currently is working on his fifth book, which compiles much of the information he learned from that summer fellowship. New articles and additional research opportunities also are on the horizon.
Chávez-Rivera, a native Cuban, earned his bachelor's degree in journalism from Cuba's Universidad de La Habana and spent 15 years as a news correspondent. Throughout his time in the industry, he traveled to Peru, Argentina, Chile, Colombia, Uruguay and other countries, reporting on Latin American literature and local issues.
The world traveler went on to earn a master's degree in Latin American integration from Argentina's Universidad Nacional de La Plata and a second master's degree in Spanish American literature from New Mexico State University. A doctorate in Hispanic literature from the University of Arizona in Tucson followed in 2011.
UHV started a new Bachelor of Arts in Spanish this fall. Chávez-Rivera, an assistant professor of Spanish, and Spanish instructor Salomé Chavarria teach the classes. Chávez-Rivera teaches the language in ways that students can use worldwide, from Spain to Latin America, and on into Mexico. He incorporates Ibero-American cinema, theater, literature and more into the classroom experience.
"That's the best way to learn a language," he said. "You want to try to understand the culture and enjoy the culture. That's important."
The Faculty Feature is an online feature highlighting faculty members from each of the University of Houston-Victoria's four schools. To nominate a faculty member, contact Paula Cobler, UHV interim director of marketing and communications, or call 361-570-4350.
The University of Houston-Victoria, located in the heart of the Coastal Bend region since 1973 in Victoria, Texas, offers courses leading to more than 80 academic programs in the schools of Arts & Sciences; Business Administration; and Education, Health Professions & Human Development. UHV provides face-to-face classes at its Victoria campus, as well as an instructional site in Katy, Texas, and online classes that students can take from anywhere. UHV supports the American Association of State Colleges and Universities Opportunities for All initiative to increase awareness about state colleges and universities and the important role they have in providing a high-quality and accessible education to an increasingly diverse student population, as well as contributing to regional and state economic development.