Close
UHV student government officers get leadership training at national conference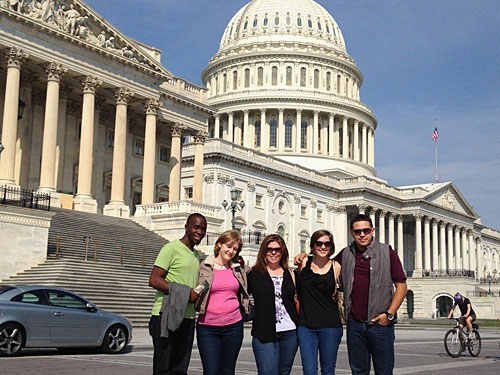 UHV representatives Moses Olukoya, left, Victoria Brieske, Amy Mundy, Lindsey Koch and Benito Salazar visit the U.S. Capitol during a recent trip to Washington, D.C., where they attended the American Student Government Association's National Summit.
University of Houston-Victoria Student Government Association representatives recently returned from a national summit ready to rebrand their organization and get the student body more involved in the university.
The group traveled to Washington, D.C., for the American Student Government Association's National Summit. While there, they got to network with other university students, attend workshops and sightsee.
UHV representatives were Moses Olukoya, the association's vice president; Victoria Brieske, secretary; Benito Salazar, treasurer; Amy Mundy, the association's adviser and interim director of University Advancement; and Lindsey Koch, director of Student Life and Services. President Jena West was unable to join the group on the trip.
The students and advisers attended workshops to prepare for their roles this school year. The students were able to brainstorm ideas with other university students and discuss topics such as budgeting, the specific roles in the organization and how to get students more involved. Advisers learned how to deal with conflict among students and how to develop leaders, and were able to talk with other advisers about ways to improve their student government.
"It was very helpful to talk with other university students to see ways we can improve our student government," Olukoya said. "I was able to speak with other students who hold the same officer role that I have and see different points of views."
The conference also included motivational speakers who spoke to students about topics such as team building and self-marketing. One speaker stressed to students that the more involved they were with their university, the more likely they would be to stay in school, Mundy said.
During the trip, the group visited U.S. Rep. Blake Farenthold's office and took a behind-the-scenes tour of the Capitol. The group also visited the Library of Congress as well as various monuments and museums.
"I really enjoyed spending time with the students in a casual environment," Koch said. "It gave me the opportunity to interact with them in ways that we don't get to at school, such as figuring out which Metro line to take. I was able to learn more about who they are as people and really see them grow as leaders."
Now that the officers have returned, they are planning events for the coming year. In the next few weeks, the association will host a Meet the Leaders event where students can talk with UHV President Phil Castille and other leaders at the university. The group also plans to host a monthly town hall meeting where students will be able to voice any concerns they have about the university.
The group also will be working on rebranding the organization after undergoing a name change from Student Senate to Student Government Association. Olukoya said the officers are available for all UHV students if they need them.
"We want students to know that we are more than a community service organization," he said. "The officers are here to help students and encourage them to start new student organizations. Our adviser, Amy Mundy, has a lot of great ideas about how to help us get more students involved at UHV, and we are looking forward to the coming year."
Mundy said the trip was a good reminder why faculty and staff are at UHV – for the students.
"The students made major strides from the time we arrived in Washington, D.C., to the time we left," she said. "I witnessed their growth as leaders, excitement about the coming year, new ideas and group bonding."
The University of Houston-Victoria, located in the heart of the Coastal Bend region since 1973 in Victoria, Texas, offers courses leading to more than 80 academic programs in the schools of Arts & Sciences; Business Administration; and Education, Health Professions & Human Development. UHV provides face-to-face classes at its Victoria campus, as well as an instructional site in Katy, Texas, and online classes that students can take from anywhere. UHV supports the American Association of State Colleges and Universities Opportunities for All initiative to increase awareness about state colleges and universities and the important role they have in providing a high-quality and accessible education to an increasingly diverse student population, as well as contributing to regional and state economic development.