Close
Next UHV/ABR Reading Series author confronts race, social issues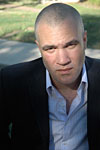 Mat Johnson
Long before writing "Pym," a modern-day sequel to Edgar Allan Poe's only novel, Mat Johnson knew a thing or two about creatures from Antarctica.
The first movie he saw on his own was John Carpenter's "The Thing," in which scientists in Antarctica are confronted by a shape-shifting alien that assumes the appearance of the people it kills. Johnson proceeded to read everything he could about Antarctica, and he watched his fair share of predator movies.
Johnson, the next author in the University of Houston-Victoria/American Book Review Reading Series, will read from his 2011 book, "Pym," at noon Wednesday in the Alcorn Auditorium of UHV University West, 3007 N. Ben Wilson St. The public is invited to attend the free event, and light refreshments will be served.
"Pym," described as a comic re-imagining of America's racial history, follows a book collector's enslavement by giant Antarctic ice creatures after he learns that Poe's novel, "The Narrative of Arthur Gordon Pym," is actually a true story.
"Poe's book ends with a cliffhanger, so over the years, a couple of people have tried to write sequels to it or basically tried to end his book," Johnson said. "No one had done it in awhile, and I was fascinated by the idea of trying."
Johnson, an assistant professor for the University of Houston Creative Writing Program, has won numerous honors for his work. He is a recipient of the U.S. Artist James Baldwin Fellowship, Hurston/Wright Legacy Award, Barnes & Noble Discover Great New Writers selection and John Dos Passos Prize for Literature.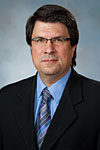 Jeffrey Di Leo
"Mat Johnson has written powerful and compelling works about subjects some authors shy away from," said Jeffrey Di Leo, ABR editor and publisher, and dean of the UHV School of Arts & Sciences. "His latest novel shows off his creative brilliance by incorporating satire and race observations into the adventure. We are looking forward to him visiting and sharing his work."
The main link between Poe's and Johnson's novels is the idea of a "black island" – a place where black people thrive and survive, detached from racism. Like the main character in "Pym," Johnson is biracial. He grew up in Philadelphia with an Irish American father and an African American mother.
"In the African American community, race is always in your consciousness, but the same isn't true if you're white," said Johnson in a recent interview in Tinge magazine, a Temple University literary journal. "The point of distinguishing people as 'black' was used to define 'whiteness.' How else do you explain the idea of being civilized but by contrasting it to being a savage? That dichotomy of black/white is a myth, and they are dependent on one another."
"Pym" has drawn a lot of critical praise in part because of its humor. Johnson said he didn't think the book would be humorous.
"I knew there were funny parts, but it was mostly just to amuse myself," he said. "I write in three- to five-page segments, so when you add it up, sometimes it's different than what you imagined. When the first reviews came out, the element they were noticing the most was humor. That was a surprise because when I'm writing, humor comes easy, so I don't tend to value it that much."
Johnson's first novel, "Drop," was published in 2000. It's a coming-of-age novel about a self-hating Philadelphian who thinks he's found his escape when he takes a job at a London advertising agency.
He later wrote "The Great Negro Plot," which tells the story of how a 16-year-old white indentured servant named Mary Burton uncovers a plot that black men are planning to burn New York City to the ground.
Johnson is also the author of two comic books, "Incognegro SC" and "Dark Rain: A New Orleans Story."   Johnson said he grew up reading comic books, and he still reads them. While his novels took him at least three years to write, the comics take about two months.
"It's a rewarding process," he said. "It lets me flex other muscles. The writing I do in prose tends to be literary fiction. The writing that I do in comics is straight genre work, such as mysteries and thrillers."
Other writers scheduled for the Fall Reading Series are:
Norma Cantú, Nov. 8 – Cantú publishes pieces about a number of academic subjects as well as poetry and fiction. She specializes in Latina and Latino literatures, Chicana and Chicano literatures, border studies, folklore, women's studies and creative writing.
Jake Adam York, Nov. 29 – York is the author of three books of poems: "Murder Ballads," winner of the 2005 Elixir Press Prize in Poetry; "A Murmuration of Starlings," winner of the 2009 Colorado Book Award in Poetry; and "Persons Unknown."
Authors who are part of the UHV/ABR Reading Series attend roundtable discussions with university faculty and students, make classroom visits to area schools, give lectures open to the community and go to receptions hosted by Friends of ABR patrons while they are in Victoria.
ABR is a nonprofit, internationally distributed literary journal that is published six times a year. It began in 1977, moved to UHV in 2007 and has a circulation of about 8,000. The journal specializes in reviews of works published by small presses.
For more information about the UHV/ABR Reading Series, call ABR Managing Editor Jeffrey Sartain at 361-570-4254 or go to www.americanbookreview.org.
The University of Houston-Victoria, located in the heart of the Coastal Bend region since 1973 in Victoria, Texas, offers courses leading to more than 80 academic programs in the schools of Arts & Sciences; Business Administration; and Education, Health Professions & Human Development. UHV provides face-to-face classes at its Victoria campus, as well as an instructional site in Katy, Texas, and online classes that students can take from anywhere. UHV supports the American Association of State Colleges and Universities Opportunities for All initiative to increase awareness about state colleges and universities and the important role they have in providing a high-quality and accessible education to an increasingly diverse student population, as well as contributing to regional and state economic development.