Close
UHV associate professor to receive state counseling award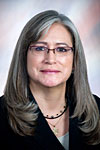 Elsa Soto Leggett
Elsa Soto Leggett, a University of Houston-Victoria associate professor, gladly juggles many responsibilities as a counselor, department chair, mentor and leader because she enjoys helping people create positive change in their lives.
"As a counselor, I get to help people discover their strengths, and it gives them hope to change their lives as they see the need," she said.
Leggett will be honored for her work at UHV and in the counseling community with the 2012 Dr. Jamesanna Kirven Outstanding Counselor Award, which recognizes a Texas counselor who goes above and beyond his or her duties. She will receive the award on Nov. 15 at the Texas Counseling Association's Annual Professional Growth Conference in Galveston.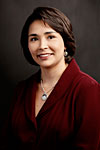 Kathy Ybañez-Llorente
"Leggett's nomination rose above others because her professionalism and passion for the counseling profession is evident in the work she does," said TCA awards committee chair Kathy Ybañez-Llorente, an assistant professor in counseling at Texas State University.
In 2008, Leggett joined the UHV faculty in the School of Education & Human Development and recently earned tenure. As a department chair, she oversees master's programs in counseling; education leadership, administration and supervision; and adult and higher education. She mentors graduate students, actively supporting their educational goals. She also connects students and colleagues in order to facilitate the students' professional goals.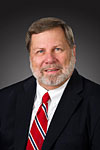 Fred Litton
"Dr. Leggett is a big asset to the School of Education & Human Development," Dean Fred Litton said. "She understands the importance of a strong program. She does all she can to make sure UHV has a presence in the community and prepares students to know the latest techniques in the counseling field."
Earlier this year, Leggett helped finalize a cohort agreement between UHV and the Fort Bend Independent School District. This agreement allows teachers interested in becoming certified school counselors to take special classes and do fieldwork in their own district. The first cohort courses started this semester.
Leggett is a strong proponent for play therapy, a counseling technique that uses sand, toys and art to give therapists a different format to work with their patients. She designed two play therapy courses for UHV so students can meet educational requirements to become registered play therapists and help raise the level of expertise for local counselors.
"Some patients have a hard time articulating their thoughts and feelings, whether that's because they don't have the vocabulary necessary or because they are reluctant to talk," Leggett said. "Play therapy gives them a different means of communicating to the therapist and often makes the patient more comfortable."
Leggett's advocacy for her profession is evident in her commitments. She is a founding board member and president-elect of the Association for Child & Adolescent Counseling, a division of the American Counseling Association. She also is the president of the Texas Association for Counseling Education and Supervision and coordinated the association's mid-winter meeting.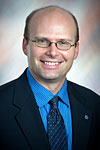 Jeffry Moe
Jeffry Moe, an assistant professor in the School of Education & Human Development, said he nominated Leggett because she models the values that a professional counselor should have including leadership, advocacy, personal and professional boundaries, problem-solving skills and empowering others.
"Dr. Leggett is a consummate and dedicated professional, but she is also a proponent of balance and wellness for herself and others," Moe said. "She is a role model in both her professional and personal life for counselors in training, peer professionals and as a supervisor, mentor and friend."
Leggett said the counseling faculty members at UHV make her job easier and are a great group of people invested in what the program has to offer.
"They make it more exciting at UHV," she said. "We all want the same thing for the counseling program and understand what the value of a counseling degree can do for our students' futures."
The University of Houston-Victoria, located in the heart of the Coastal Bend region since 1973 in Victoria, Texas, offers courses leading to more than 80 academic programs in the schools of Arts & Sciences; Business Administration; and Education, Health Professions & Human Development. UHV provides face-to-face classes at its Victoria campus, as well as an instructional site in Katy, Texas, and online classes that students can take from anywhere. UHV supports the American Association of State Colleges and Universities Opportunities for All initiative to increase awareness about state colleges and universities and the important role they have in providing a high-quality and accessible education to an increasingly diverse student population, as well as contributing to regional and state economic development.