Close
UHV School of Business speaker addresses future of health care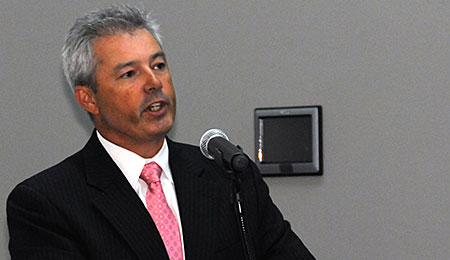 Heber Lacerda, president and CEO of Regency Nursing and Rehabilitation Centers, discusses the health care industry on Monday during the University of Houston-Victoria School of Business Administration Willis Group Distinguished Speaker Series.
SUGAR LAND – Heber Lacerda, president and CEO of Regency Nursing and Rehabilitation Centers based in Victoria, acknowledged that his speech on Monday was long on questions and short on answers.
But when it comes to the future of health care, answers typically are few and far between, Lacerda said.
Lacerda kicked off the second academic year of the University of Houston-Victoria School of Business Administration Willis Group Distinguished Speaker Series. This year's speaker series is focusing on the health care industry.
During a speech at UH Sugar Land, Lacerda talked about skilled nursing care, Medicare funding and how the levels of care have changed during the last two decades. He also spoke about what the future holds in terms of technology and health information exchange.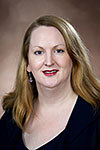 Jane Mims
Jane Mims, assistant dean in the UHV School of Business Administration, said Lacerda provided students with some great insights into health care and what the next two decades are going to look like in that industry.
"In terms of professional development, I believe the students found him inspiring," Mims said. "Some who weren't contemplating careers in health care before are almost certainly considering them now because of his remarks."
Even if they don't eventually work in the industry, Lacerda said it's important for business students to have an understanding of health care. The cost for businesses to provide health care is continuously increasing, and current and future business operators will have to deal with the costs.
"He also made the point that it's a health care business, but they employ people in a lot of different fields," Mims said. "It's not just health care professionals. It's accountants, architects, construction and IT. It's a self-contained industry."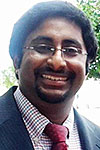 Rohan Thomas
Rohan Tomas, a student in the UHV Strategic Master of Business Administration program, said Lacerda's speech was a valuable information session about the health care industry.
"As an MBA student, it was helpful to get to know the various aspects of operating a health care company," he said. "It was interesting to learn how different things worked and what types of jobs there are within the industry."
Lacerda said he and the other Regency leaders enjoyed interacting with the UHV students.
"The speech was a great opportunity for us to connect with the students and faculty," Lacerda said. "They were very gracious and asked a lot of questions at the end. It was a great evening."
Lacerda also addressed the political climate of health care related to budgets and decision making.
"It's important to continue to have a dialogue," he said. "What are we going to do with elderly patients needing care in light of the budgetary constraints? These are difficult decisions to be made. These are conversations that need to take place, but the discussion tends to be avoided."
Regency is a conglomerate of more than 100 limited corporations and partners. The concentration of Regency's business is long-term health care with 29 nursing facilities. The corporate office in Victoria has about 90 workers who specialize in the clinical and administrative sectors.
Lacerda has been with the company since 1988. He worked in entry-level operations, accounting and financing before being appointed president and CEO in 1996.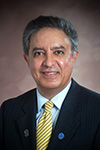 Farhang Niroomand
Lacerda said more than half of the Regency workforce in Victoria earned a degree from UHV.
"The partnership with the university has been extremely important," he said.
Farhang Niroomand, dean of the UHV School of Business Administration, said the university also has benefited from the partnership.
"Through the years, many of our alumni have gone on to great careers with Regency Nursing and Rehabilitation Center," he said. "I want to thank Mr. Lacerda and the staff for making this a memorable evening. The speech was not only enlightening, but also served to inspire many of our students."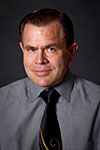 Jeffrey Cass
Jeffrey Cass, UHV provost and vice president for academic affairs, said it was gratifying to see so many students and faculty come together for this event.
"Through this speaker series, the School of Business Administration is getting students engaged with executives, which improves both the quality of their education and their career networking opportunities," he said. "I appreciate the SBA's efforts in this regard, as well as the generosity of the Willis Group and Mr. Lacerda in making this event possible."
The Willis Group Distinguished Speaker Series brings in local executives to discuss contemporary business issues. The Willis Group includes multiple companies that address a variety of business staffing needs and solutions. Through its agreement with the UHV School of Business Administration, the Willis Group creates opportunities by providing business students with professional development and career placement assistance, supports faculty research and classroom instruction, and actively participates in events to promote the success of the business school and its students.
The series began in 2011. Past speakers were John Ragan, executive vice president and regional president of NRG Energy; Farouk Shami, founder and chairman of Farouk Systems; Ron Ledbetter, vice president of Subsea Systems for INTECSEA; Jerry Moreno, manager of human capital performance at Spectra Energy Corp.; and Michael T. Willis, chairman of The Willis Group.
The University of Houston-Victoria, located in the heart of the Coastal Bend region since 1973 in Victoria, Texas, offers courses leading to more than 80 academic programs in the schools of Arts & Sciences; Business Administration; and Education, Health Professions & Human Development. UHV provides face-to-face classes at its Victoria campus, as well as an instructional site in Katy, Texas, and online classes that students can take from anywhere. UHV supports the American Association of State Colleges and Universities Opportunities for All initiative to increase awareness about state colleges and universities and the important role they have in providing a high-quality and accessible education to an increasingly diverse student population, as well as contributing to regional and state economic development.