Close
Muslim blogger, Dominican writer to hold public conversation during conference
A literary reading and discussion featuring a German Muslim journalist and a Dominican American writer is one of the featured events during a transatlantic conference Nov. 15 to 17 at the University of Houston-Victoria. The conference is free and open to the public.
The conference is designed to launch a conversation about the migration, globalization and integration that German Muslims and Mexican Americans have faced.
A number of scholars, teachers and artists from Germany and the U.S. will travel to Victoria for the conference titled "'We Called for Workers but People Came': Muslims in Germany and Mexicans in the United States."
All events will be in the Alcorn Auditorium of UHV University West, 3007 N. Ben Wilson St. For a schedule of events, visit www.uhv.edu/transatlanticconversation.

Kübra Gümüsay
One of the featured events will involve Kübra Gümüsay, a German Muslim blogger and freelance journalist, and Nelly Rosario, a Dominican American writer. Each will present a reading and then lead a conversation. The event will start at 6 p.m. Nov. 16.
As a freelance journalist, Gümüsay works for media outlets such as Die Zeit, a renowned weekly newspaper reporting from Egypt, Turkey, the United Kingdom and Germany. Gümüsay's blog, "Ein Fremdwörterbuch," was nominated for the Grimme Online Award, the most prestigious award for online journalism in Germany. In 2010, she co-founded Zahnräder Network, a network of young and successful Muslim academics, social entrepreneurs, media personalities and artists that has earned several awards for its innovative and sustainable work.

Riem Spielhaus
"Kübra Gümüsay is one of the most fascinating voices from the Turkish Muslim community in Germany," said Riem Spielhaus, a conference organizer and a research fellow at the Erlangen Centre for Islam and Law in Europe of the Friedrich-Alexander University Erlangen-Nuremberg in Germany. "She surprises many readers and audiences at her public events with her appearance as a Muslim woman who combines a frankness and directness that is friendly and warm but not without criticizing what goes wrong in society at large and in Muslim communities."

Nelly Rosario
Rosario is a writer and an assistant professor at Texas State University. She was born in the Dominican Republic and raised in Brooklyn, N.Y. She writes a column for El Diario, the oldest Spanish language newspaper in the country.
Rosario's debut novel, "Song of the Water Saints," which traces the lives of three generations of Dominican women, won a PEN Open Book Award in 2002. She has received numerous other awards, including a 1999 Barbara Deming Memorial Fund Fellowship, The Bronx Writers' Center Van Lier Literary Fellowship for 1999-2000 and two National Arts Club Writing Fellowships.
"What I most look forward to in this exchange is meeting artists, activists, teachers and scholars who are creating new filters through which to view Muslim and Latino communities worldwide," Rosario said. "That such remarkable dialogues will be happening at UHV creates a fresh filter to also view Texas."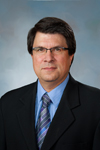 Jeffrey Di Leo
Jeffrey Di Leo, dean of the UHV School of Arts & Sciences, said he's looking forward to this event, and he's glad UHV will be hosting it.
"Part of being a destination university is bringing in events that provide a new prospective for our students, faculty and staff," he said. "I encourage community members to attend these sessions with our distinguished guests, who graciously traveled a long distance to be here."
Hernández said it's important for institutions like UHV to bring people together.

Macarena Hernández
"At these types of events, we can talk about things that we might not talk about because we fear offending people," said Macarena Hernández, a conference organizer and the Victoria Advocate Endowed Professor of the Humanities at UHV. "Sometimes we may feel like we don't know enough to start a conversation. But once these conversations start, it's not uncommon to have people say "Wow, I didn''t realize I had so much in common with them."
Hernández said one of the assignments in the UHV "Intercultural Communication" class she teaches is to have her students listen to NPR interviews with Muslims.
"I've had students who say they didn't realize they had negative perceptions about Muslims until they had to think about it for class," Hernández said. "We talk about how the U.S. is a melting pot and we celebrate our diversity, but the truth is we are, in many ways, a segregated society because we don't always interact with people who aren't like us."
The conference kicks off at 6 p.m. Nov. 15 with a keynote address by Czarina Wilpert, a sociologist with the Berlin University of Technology. Wilpert has been actively involved in interdisciplinary research on a national and international level for more than 25 years. She has focused on issues of citizenship, racism and institutional discrimination, interethnic relations, and social and ethnic identity alternatives among the descendants of immigrants.
"This conference is important because it gives us the opportunity to focus on discourse and the messages relayed and their impact," Wilpert said. "Public discourse about the minorities we address has become extremely negative. In the specific cases of Turks and Muslims in Germany, it is often absolutely defamatory. It seems to me that we have lost the vision and meaning of equal citizenship."
Another session will be led by authors and UHV English faculty members Diana López and Rene Perez. They will be presenting a panel about Latino representation in literature. It begins at 9 a.m. Nov. 16.
The University of Houston-Victoria, located in the heart of the Coastal Bend region since 1973 in Victoria, Texas, offers courses leading to more than 80 academic programs in the schools of Arts & Sciences; Business Administration; and Education, Health Professions & Human Development. UHV provides face-to-face classes at its Victoria campus, as well as an instructional site in Katy, Texas, and online classes that students can take from anywhere. UHV supports the American Association of State Colleges and Universities Opportunities for All initiative to increase awareness about state colleges and universities and the important role they have in providing a high-quality and accessible education to an increasingly diverse student population, as well as contributing to regional and state economic development.