Close
UHV Phi Zeta chapter reaching out to help communities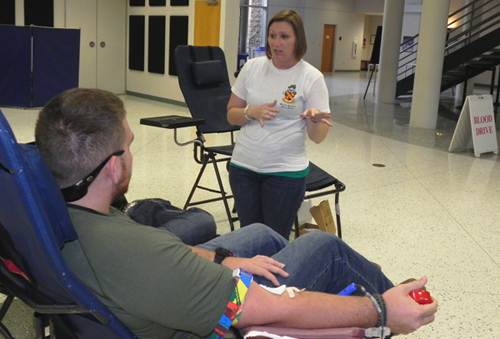 Lynsie Fyke, president of the University of Houston-Victoria chapter of Phi Zeta, talks to a donor at a blood drive Tuesday at the university. The event resulted in 21 bags of donated blood to the South Texas Blood and Tissue Center.
With blood drives, fundraising walks, zombie presentations and other events, members of the University of Houston-Victoria Phi Zeta honor society for the biological sciences have committed a great deal of time to service.
While the fall semester has been busy, Lynsie Fyke, president of the UHV chapter of Phi Zeta, said members are happy to do what they can to help organizations in Victoria and Fort Bend County.
"Service is a big part of being in our honor society," she said. "That's why every member has to commit to 10 service hours while they are in the organization. However, many members go well above and beyond 10 hours."
The UHV chapter of Phi Zeta began in spring 2011. There are 25 active members, and the organization will induct a third class of members this spring. Phi Zeta activities are designed to stimulate interest, scholarly attainment and investigation in the biological sciences, as well as to promote the dissemination of information and new interpretations among life science students.
The group began the semester with a bake sale at Jaguar Hall. In September, members raised $286 for the Alzheimer's Walk in Victoria and $558 for the Alzheimer's Walk in Sugar Land. The walks are designed to raise awareness and funds for Alzheimer's care, support and research. While the walk in Victoria was canceled because of heavy rain, several Phi Zeta members and their families participated in the Sugar Land walk.
A week before Halloween, Phi Zeta presented "Zombie." Some members dressed in costumes, and UHV biology professor Richard Gunasekera presented a chilling lecture.
"He talked about how our DNA could have the form of zombies, allowing them to rise," Fyke said. "He mixed fiction with nonfiction. It was a cool presentation. It was an informal event, so it was fun to interact with Dr. Gunasekera outside the classroom."
On Tuesday, Phi Zeta carried out a blood drive in Victoria. The South Texas Blood and Tissue Center collected 21 bags of blood from the drive.
Those who missed the Victoria blood drive and want to donate blood can visit the South Texas Blood and Tissue Center, 1109 Sam Houston Drive, and inform the center they are contributing on behalf of Phi Zeta. Donation hours are 11 a.m. to 7:30 p.m. Monday through Thursday and 8:30 a.m. to 5 p.m. Friday through Sunday.
Community members also can help with two ongoing projects to collect supplies for animal organizations. In Victoria, donations are being sought for Adopt-A-Pet. The organizations are in need of office supplies and items for dogs and cats, such as pet food, chew toys and pillows. Donations can be left in a box near the west doors on the first floor of the UHV University Center, 3007 N. Ben Wilson St. The deadline for donations is Wednesday.
In Sugar Land and Cinco Ranch, Phi Zeta is collecting goods for the Texas Wildlife Rehabilitation Center in Houston. Boxes at UH Sugar Land and the UH System at Cinco Ranch will remain until Wednesday.
"The center will take raccoons, possums, snakes, birds and squirrels; rehabilitates them; and puts them back in the wild," Fyke said. "This ties in nicely with the animal sciences side of the biology program." A list of items for both Adopt-A-Pet and the rehabilitation center can be found on the Phi Zeta website at www.uhv.edu/student_org/PhiZetaHS.
Beyond events and service projects, Fyke said the group is focusing on ways to help students academically.
"We offer tutoring for UHV biology students or for Victoria College students taking biology classes," she said. "Since most of us already have taken those courses, we are in a position to help."
The organization also is recruiting more members. The honor society is open to biology majors in good academic standing with a 3.0 grade-point average. Students must have completed at least one upper-level biology class before being granted full membership.
"This semester, I've tried to get more Victoria students involved because most of our members live in Fort Bend County," she said. "We've gone from two to eight members in Victoria."
Fyke said the group has applied to be part of Beta Beta Beta, also known as TriBeta, a national society for students dedicated to improving the understanding and appreciation of biological study.
A national representative from TriBeta came on Monday and Tuesday to Victoria and Sugar Land for a visit. If the application is approved, UHV students will be eligible to compete in a research scholarship contest and increase their chances of being published in biology journal called BIOS, Fyke said.
"Our undergraduates can receive grants for research projects, and then they can compete in a regional contest," she said. "If they get in the top three at regionals, they can compete at nationals. This is something that looks great on a resume."
For more information about the society, email phizetahs@uhv.edu or view the group's Facebook page at www.facebook.com/UHV.PhiZeta.
The University of Houston-Victoria, located in the heart of the Coastal Bend region since 1973 in Victoria, Texas, offers courses leading to more than 80 academic programs in the schools of Arts & Sciences; Business Administration; and Education, Health Professions & Human Development. UHV provides face-to-face classes at its Victoria campus, as well as an instructional site in Katy, Texas, and online classes that students can take from anywhere. UHV supports the American Association of State Colleges and Universities Opportunities for All initiative to increase awareness about state colleges and universities and the important role they have in providing a high-quality and accessible education to an increasingly diverse student population, as well as contributing to regional and state economic development.