Close
Flexibility key to success for education outstanding students
The University of Houston-Victoria School of Education & Human Development's outstanding graduates, Kelly Dye and Rosita Kuhar, can agree that even though they went about it different ways, the flexibility of the university made it possible for them to pursue a higher education.  
Dye and Kuhar will receive their degrees during the university's fall commencement ceremony at 11 a.m. Dec. 15 at the Leonard E. Merrell Center, 6301 S. Stadium Lane in Katy.  
Each semester, professors from the four UHV schools select at least one outstanding student from both their graduate and undergraduate programs to be honored during commencement.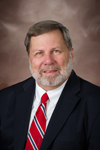 Fred Litton
Teaching is a profession that requires a commitment to give back to others, said Fred Litton, dean of the UHV School of Education & Human Development.  
"Our outstanding graduates have already demonstrated dedication to teaching by conquering many hurdles to get to graduation," he said. "They will do a wonderful job representing our profession's values in their future careers."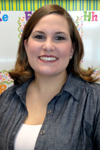 Kelly Dye
Dye, the school's outstanding graduate student, was able to balance a full-time job, school and family life with the support of her husband and parents, as well as the flexibility of online classes. UHV's online classes allowed her more freedom to get her assignments done on her own schedule. Time management was essential for Dye, who often worked on school assignments at night after her two daughters went to sleep or early in the morning.
"All the effort was worth it," she said. "I'm honored to be graduating with a degree from UHV and would recommend the university to others in a heartbeat."  
Dye is graduating with a Master of Education in special education, along with a diagnostician certification. She is a special education teacher at Wolfe Elementary in Katy and plans to eventually leave the classroom to assess children with special needs.  
Dye, a Katy resident, credits her professors with helping her succeed at UHV.  
"My professors' knowledge base and constructive feedback helped me in school," she said. "I learned a lot about the technical side of special education – testing, laws and reports – but I also was reminded that it is important to recognize and praise the things that special needs children do well."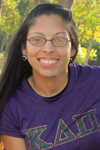 Rosita Kuhar
Kuhar, the school's outstanding undergraduate student, was drawn to UHV because she was able to take classes while her children were in school. The classes also were conveniently located at the UH System at Cinco Ranch near her home in Katy. UHV professors teach many of the classes at the teaching center.
"I liked that my classes fit around my children's schedule, so I didn't have time away from my family," she said.  
Kuhar's UHV experience has been positive in part because of the relationships she's formed with fellow students. As co-president of the UHV chapter of the education honor society Kappa Delta Pi, Kuhar has been active with fellow students outside of the classroom by participating in service projects and fundraisers.  
"This has been a good experience for me," she said. "The UH System at Cinco Ranch is a small campus, so a lot of us have been in the same classes throughout the years. We are like a family now."  
Kuhar is graduating with bachelor's degree in early childhood through sixth-grade education. Her plans are to teach for a few years before going back to school to get a master's degree and become a reading specialist.  
"I have never been a strong reader, but my first student teaching experience was with a reading teacher who opened my eyes," she said. "I was able to see how children get involved with a book. There is this moment where the light bulb goes off in their heads, and the students are able to draw so much information from a book."  
In her literacy courses, Kuhar learned how to create various lesson plans using the same book.  
"You can use the same book to teach children who are at different levels of education. This is important because books are a big part of education for children," she said. "I've learned a lot about literacy at UHV and find myself enjoying it for the first time."
The University of Houston-Victoria, located in the heart of the Coastal Bend region since 1973 in Victoria, Texas, offers courses leading to more than 80 academic programs in the schools of Arts & Sciences; Business Administration; and Education, Health Professions & Human Development. UHV provides face-to-face classes at its Victoria campus, as well as an instructional site in Katy, Texas, and online classes that students can take from anywhere. UHV supports the American Association of State Colleges and Universities Opportunities for All initiative to increase awareness about state colleges and universities and the important role they have in providing a high-quality and accessible education to an increasingly diverse student population, as well as contributing to regional and state economic development.