Close
Caring for others inspires two students to become nurses
The opportunity to help people when they are at their worst is what makes University of Houston-Victoria School of Nursing outstanding graduates Cori Kopecky and Alexandra Lyle want to be nurses.
"When my friends ask me why I want to be a nurse, I explain that I am drawn to the human connection and being able to help someone on his or her worst day," Lyle said.
Kopecky and Lyle will receive their degrees during the university's fall commencement ceremony at 11 a.m. Dec. 15 at the Leonard E. Merrell Center, 6301 S. Stadium Lane in Katy. They also will participate in a 2 p.m. pinning ceremony that same day at the Merrell Center.
Each semester, professors from UHV's four schools select at least one outstanding student from both their graduate and undergraduate programs to be honored during commencement.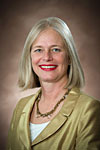 Kathryn Tart
There are 91 talented nursing students graduating this fall, said Kathryn Tart, dean of the UHV School of Nursing.
"Mrs. Kopecky and Ms. Lyle were chosen as outstanding nursing students because they represent the intelligence, dedication to leading and caring nature needed to be a successful nurse," she said.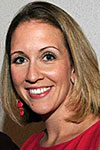 Cori Kopecky
Kopecky works in the Post Anesthesia Care Unit at the University of Texas MD Anderson Cancer Center in Houston. As a nurse in the unit, she helps acute care patients recovering from surgery or transitioning during short-term treatment. She moved into that position in June to get more clinical experience while she was in school.
"I appreciate all the experience and education I've received because it has helped me to grow as a nurse," she said.
Kopecky, a Pearland resident, decided to get her graduate degree so she could become a clinical educator. She will graduate with a Master of Science in Nursing with a concentration in nursing education.
"I want to help new nurses with their transition from school into their role as a caregiver," she said. "I was a new nurse once and remember those who influenced me. I want to do the same for others."
She said UHV's faculty members played a big part in preparing her for this important role as a future mentor.
In the "Practicum in Teaching in Nursing" class, Kopecky shadowed Lisette Barton, assistant professor in the school's Second Degree Bachelor of Science in Nursing program. Kopecky saw a different side of education from the faculty's point of view when she prepared lectures and assisted with two different classes.
"I never realized how many hats faculty members have to wear," she said. "If I can be half the educator that Dr. Barton and the UHV faculty members are, I will consider myself a success."
Thanks to a support system that includes her husband, the nurse manager at MD Anderson and UHV faculty members, Kopecky was able to handle a full-time job, school work and commuting to Sugar Land. Now that she's graduating, her life won't be as hectic. But she soon will have a new kind of busy schedule. She and her husband are expecting their first child in June."
"I will have six months of freedom before my life gets busy again," she said as she laughed.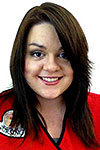 Alexandra Lyle
Lyle's approach to education has always been to get it done as fast as possible. After earning a bachelor's degree in psychology at age 19, the Seattle resident decided to go back to school to become a nurse. UHV's accelerated Second Degree BSN program was a perfect fit for her.
"There were no baby steps when starting this program," she said. "By dropping us into the middle, we were able to learn nursing by doing nursing. We were touring the hospital the first week of classes and shadowing nurses the second week."
While the experience was scary and exhilarating at the time, a year later Lyle thinks she is prepared.
"Patient care comes natural to me now because of the support and experiences I've had at UHV and in the partner hospitals," she said.
Lyle is doing her clinical work at Methodist Sugar Land Hospital. After taking the licensing exam to become a registered nurse in January, she plans to move back to Seattle to become an emergency department nurse or a cardiovascular nurse.
Tart has five rules for success in the Second Degree BSN program: no outside job, no drama, no wedding planning, no pregnancies and students need to have family support.
Those rules really stuck with Lyle from the beginning of the program. She said she still has them written down and thinks of them often.
"Some students had the mentality that they didn't need to follow Dean Tart's rules," she said."Most of those students are not in the program anymore, but I think we have a strong group of graduating students. I'd let most any of them be my nurse."
Lyle's intensive year in the program was not easy for her. She struggled after losing her dad in July to lung cancer. In the months that followed, Lyle learned that when Tart spoke of "supportive family," she wasn't solely referring to biological family. Included in her support system were her professors and colleagues.
"My professors were amazing. They made it possible for me to finish the program," she said. "I wouldn't be graduating if it wasn't for their support and understanding."
The University of Houston-Victoria, located in the heart of the Coastal Bend region since 1973 in Victoria, Texas, offers courses leading to more than 80 academic programs in the schools of Arts & Sciences; Business Administration; and Education, Health Professions & Human Development. UHV provides face-to-face classes at its Victoria campus, as well as an instructional site in Katy, Texas, and online classes that students can take from anywhere. UHV supports the American Association of State Colleges and Universities Opportunities for All initiative to increase awareness about state colleges and universities and the important role they have in providing a high-quality and accessible education to an increasingly diverse student population, as well as contributing to regional and state economic development.