Close
Dedication earns UHV business graduates outstanding student honors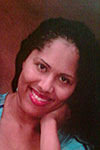 Alexsys Erin Cole
When Alexsys Erin Cole was in the hospital awaiting the birth of her son, she decided to use the time to do homework.
"The nurse saw me with a book and told me a little reading for pleasure was a good idea," she said. "I told her, 'Oh no, you don't understand. I have to get this reading done for class.'"
The dedication displayed by Cole, a Katy resident, and Sugar Land graduate student Rohan Thomas was a major reason why they were chosen as outstanding students for the University of Houston-Victoria School of Business Administration.
Each semester, professors from the four UHV schools select an outstanding student from both their graduate and undergraduate programs to be honored during commencement. UHV will hold fall commencement at 11 a.m. Dec. 15 in the Leonard E. Merrell Center, 6301 Stadium Lane in Katy.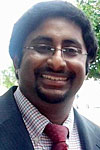 Rohan Thomas
Thomas will graduate with a Master of Business Administration in strategic management and marketing. While he didn't intend to study marketing, Thomas was persuaded to add that component by UHV faculty members.
Thomas said it was a good addition. He enjoyed working on case studies and simulations.
"The marketing simulation is a new learning tool that I was really interested in," he said. "It's an excellent tool because you can try out what you've learned in the classroom and see the results of your decisions. It's great practice because it closely matches the decision making in the real world."
A native of Trivandrum, India, Thomas arrived in 2008 in the U.S. for a job with Hewlett Packard. A year later, he decided to scrap those plans and obtain an MBA.
As a foreign student at a new university, he thought it would be helpful to interact with his classmates outside of the classroom. He was surprised there was not an organization for MBA students, so he set out to create one.
"I brought this idea to the fellow graduate assistants and Associate Dean Jeff Blodgett and they supported the idea of an MBA student association," he said. "In the last two semesters, the association has been active with events and networking opportunities. For students from different countries, the association provides the chance to meet other students and faculty members. I've found that it has been a big help in getting adjusted to UHV."
As graduation nears, Thomas is searching for a management or marketing job in the information technology or oil and gas industries.
"My past experience is in IT, but the reason why I got my MBA is to move from a hardcore technical job to one in upper management," he said. "Since I'm in Houston, I'm going to also explore careers in oil and gas, and health care."
Besides the support from his family, including wife Brite James, who stayed in India to work, Thomas said what helped him succeed at UHV was his dedication toward career goals and relationships with faculty members and fellow business students.
"I have really learned a lot from the professors," Thomas said. "They taught me many things from their own experiences. Earning a degree from UHV will help me professionally and will help grow my career."
The support from professors and UHV staff members also did not go unnoticed by Cole, who will graduate with a Bachelor of Business Administration in health care administration.
"What I enjoyed the most about UHV is that everyone was helpful," she said. "At some universities, it's difficult to get people to answer the phone. That was never a problem at UHV. Since I took online courses, it was important to have interaction with a live person."
When she entered the program in June 2011, Cole made her presence known right away by calling faculty members and business staff to introduce herself and ask what it would take to get her degree in 18 months instead of two years. She had previously earned an Associate of Arts in Houston.
Despite being pregnant and then caring for her son, she finished her degree in 18 months.
"I always take a heavy course load," she said. "I am a very detail-oriented person who is focused on getting a task accomplished. I had the notion that I wanted to execute this and get it done early."
Cole took online classes and did a lot of studying at night.
"I print out my work and sometimes tape it on the mirror," she said. "I'm always reading. I read while I brush my teeth or dry my hair. I get dejected when I miss a test question. I'm very hard on myself."
Cole would like to continue her education with an MBA, but those plans may be on hold for awhile until her son is a little older. Eventually, Cole is interested in a counseling career in the health care industry.
Cole will be attending a family member's funeral on Saturday, but she plans to still to make a BBA presentation via Skype on Friday.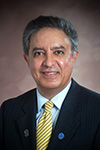 Farhang Niroomand
"I'm looking forward to it," she said. "It's been a difficult time period, but I have the tenacity to finish the work."
Cole' graduation invitation is also doubling as an announcement about her 9-month-old son, Aaron.
"A lot of people still don't know I have a baby," she said. "So my invitation has two pictures of me with my baby. We both have on caps and gowns. It's going to be two celebrations in one."
Farhang Niroomand, dean of the UHV School of Business Administration, said the top business students deserve to celebrate all their accomplishments.
"Mr. Thomas and Ms. Cole are determined and dedicated, and have been wonderful students while they juggled multiple responsibilities," he said. "Our business programs can be demanding, but these outstanding students have devoted the necessary time and effort to succeed. They will be great assets to their future employers."
The University of Houston-Victoria, located in the heart of the Coastal Bend region since 1973 in Victoria, Texas, offers courses leading to more than 80 academic programs in the schools of Arts & Sciences; Business Administration; and Education, Health Professions & Human Development. UHV provides face-to-face classes at its Victoria campus, as well as an instructional site in Katy, Texas, and online classes that students can take from anywhere. UHV supports the American Association of State Colleges and Universities Opportunities for All initiative to increase awareness about state colleges and universities and the important role they have in providing a high-quality and accessible education to an increasingly diverse student population, as well as contributing to regional and state economic development.