Close
UHV student shows importance of education to children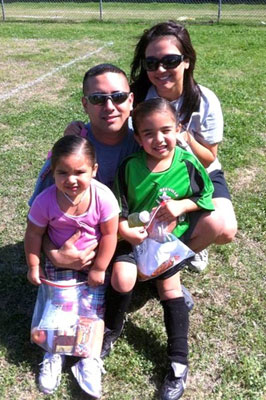 UHV biology student Gabriel Martinez, center, with daughters Abi and Lily, and wife Gina.
University of Houston-Victoria student Gabriel Martinez will walk across the stage at commencement on Saturday after managing a full-time job, 15 hours of course work, an hour commute to Victoria, volunteering at church and spending time with his family.  
Martinez will receive his bachelor's degree in biology at UHV's fall commencement at 11 a.m. in the Leonard E. Merrell Center, 6301 Stadium Lane in Katy.  
Martinez, 29, previously attended other colleges before making his way to UHV in fall 2011. He decided to go back to school after his sister, a UHV alumna, recommended the university because of its affordability and closeness to his hometown of Beeville.  
"It was a great decision to come to UHV," he said. "The UHV campus is very welcoming. There's nothing quite like it."  
He also credits the ease of online classes as a benefit for older students juggling busy schedules.  
"Taking some of my upper-level science classes online sounded daunting to me at first," he said. "But the professors are very open and lay it all out for you. With video lectures and access to campus labs, it was a great way for me to get my school work done when I had time."  
For an independent study, Martinez assisted UHV assistant professor Dmitri Sobolev in his ongoing coral reefs research. Martinez helped research Caedibacter, a bacterium that is a parasite of Paramecium. Generally found only in freshwater, their research was able to detect the parasite in saltwater reefs as well.  
Returning to college as an older student taught Martinez to take school more seriously and set a good example for his two daughters, ages 6 and 4.  

Six-year-old Lily Martinez created this card to celebrate her dad's graduation.
"When I was younger, I was only concerned with passing classes and didn't focus on grades," he said. "Now that I have children, I want to be a good example for them. So I was dedicated to making good grades while I was at UHV."  
His hard work paid off. He is graduating Magna Cum Laude, a designation for students who have grade-point averages of 3.68 to 3.84.  
"Gabriel deserves his honors because he was dedicated to his schoolwork and never once complained about how hard it was for him," his wife, Gina, said. "Our daughter asked what the special yellow cord on his graduation gown was for, and he told her it was for all those late nights of studying he had to do to graduate."  
While the journey hasn't been easy, Gina said her husband always puts family first and is finishing his degree to better their future. The example Martinez set for his daughters already is having positive effects.  
"Our oldest daughter already understands the importance of getting a degree," Gina said. "She wants to be like her daddy and go to college to study science."  
Along with attending school, Martinez has worked as a pharmacy technician for seven years at Schulz & Wroten Pharmacy in Beeville. He's now looking for a job that will utilize his degree either as a pharmacy sales representative or a refinery chemist.
In his limited free time, Martinez likes to hunt, fish and watch sports. He also found time to coach his daughter's soccer team with his wife last year, and he volunteers at church fundraisers.  
He briefly considered not attending Saturday's commencement ceremony because he thought it had taken him too long to finish school. But Gina convinced him that it was important to show their daughters.  
"I want my daughters to know how important it is to finish your education," he said. "I'm doing this for them, and I'm glad they'll get to see me walk across the stage."  
As soon as the commencement ceremony ends, Martinez and his family will drive four hours to attend his brother in-law's wedding in Alice.  
"We will celebrate his marriage and my graduation together," he said.  
The University of Houston-Victoria, located in the heart of the Coastal Bend region since 1973 in Victoria, Texas, offers courses leading to more than 80 academic programs in the schools of Arts & Sciences; Business Administration; and Education, Health Professions & Human Development. UHV provides face-to-face classes at its Victoria campus, as well as an instructional site in Katy, Texas, and online classes that students can take from anywhere. UHV supports the American Association of State Colleges and Universities Opportunities for All initiative to increase awareness about state colleges and universities and the important role they have in providing a high-quality and accessible education to an increasingly diverse student population, as well as contributing to regional and state economic development.