Close
Top UHV Arts & Sciences graduates provide assistance for fellow students
University of Houston-Victoria graduate student Matthew Boyett's biology research about Archaea, a type of microbe found in algae mats off the coast for Hawaii, didn't actually involve a trip to the Aloha state.  
"Some other poor schmuck had to go collect the samples," Boyett said while laughing. "I was perfectly content to sit in the lab and analyze them."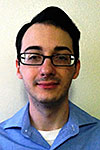 Matthew Boyett
Boyett, a Port Lavaca native, and El Campo's Emily Bergstrom had more than enough school-related activities to keep them busy in Victoria. Their dedication to academics, improving student life and in Bergstrom's case, softball, did not go unnoticed.  
Boyett was chosen as the school's outstanding fall graduate student, while Bergstrom was chosen as the outstanding fall undergraduate. Each semester, professors from the four UHV schools select an outstanding student from both their graduate and undergraduate programs to be honored during commencement.

UHV will hold fall commencement at 11 a.m. Saturday in the Leonard E. Merrell Center, 6301 Stadium Lane in Katy.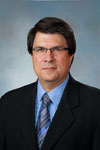 Jeffrey Di Leo
" Mr. Boyett and Ms. Bergstrom are great role models for our students because they got heavily involved in the university and showed a willingness to help others succeed," said Jeffrey Di Leo, dean of the UHV School of Arts & Sciences. "Matthew has done some terrific research, and he has proved to be a knowledgeable and enthusiastic graduate assistant. Emily's record on the field speaks for itself. But her record as a student leader is equally as impressive."  
Boyett will graduate with a Master of Arts in Interdisciplinary Studies with concentrations in biomedical and forensic science. Beyond his own studies, Boyett has taught labs for freshman biology classes, and he was the biology lab technician.  
"The aspect that I enjoyed the most was getting freshmen excited about what goes in a science lab," he said. "If the students snoozed through 'Bill Nye the Science Guy' TV shows when they were younger, they missed out on learning a lot, including that they can actually make money doing this kind of work."  
Boyett graduated in 2006 from Calhoun High School, and in 2010, he earned a bachelor's degree in biology from UHV. He applied lessons from his own education while teaching freshman courses.  
"During my own studies, I learned a lot of things that changed my world view," he said. "UHV greatly improved my knowledge of what the world is made up of, and I was excited to pass that knowledge along to other students."  
After graduation, Boyett would like to teach at UHV awhile longer and then search for a job as a research technician in a private lab.  
One of Boyett's favorite things about UHV is how closely faculty members work with students.   "UHV's graduate program gave me a more close-knit relationship with professors than I would have experienced at other institutions," Boyett said.  
He and assistant professor Dmitri Sobolev presented their research on Archaea at the 2011 American Society for Microbiology national meeting in New Orleans and at the 2012 national meeting in San Francisco.  
"It's a large conference with people from all over the globe presenting work," Boyett said. "That kind of setting is one of the best ways to get feedback from other scientists who can look at my work with a critical eye and some familiarity, and point out places where I may need to improve. It's also helpful to get ideas of where to go next with the research."  
Bergstrom also enjoyed working closely with UHV faculty members.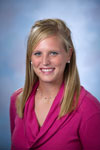 Emily Bergstrom
"Because we aren't a big university, I've had a lot of the same professors teach my classes," she said. "That allowed me the opportunity to build relationships with my professors. I know some students at other universities don't get that chance. Because of these relationships, if I need a reference or have a question later on, I have people in mind who I can contact."   Bergstrom will graduate Saturday with a bachelor's degree in biology and psychology. She originally intended to minor in psychology, but after taking "Abnormal Psychology," she decided to double major.  
"I think psychology is fascinating," she said. "My professor, Catherine Perz, was passionate about it, and I realized just how interesting it was. I like being able to interpret different personalities and different ways of doing things."  
After graduation, Bergstrom is going on a medical mission trip to Mexico in January, and then she will take a semester off to prepare for her future. Down the road, Bergstrom plans to attend medical school to study to become a physician. She's most interested in a career in emergency medicine or as an obstetrician/gynecologist.  
Bergstrom served as president of the Student Senate for the 2011-2012 school year and was secretary for the group the prior year. In addition to leading Student Senate meetings, she served as the student representative on the UHV President's Cabinet and was part of the provost search committee.  
"Serving as Senate president was an eye-opening experience," she said. "It gave me a different perspective on the university and how things are run," she said. "I liked bringing the student perspective to the room during meetings with the administration or staff. I didn't hesitate to voice opinions of UHV students."  
On the softball diamond, Bergstrom holds UHV career pitching records for appearances (83), starts (62), innings pitched (370), victories (48) and is tied in saves with four. She is the school's first 20-game winner and was named UHV's Female Athlete of the Year after the 2011 and 2012 seasons. She won 18 different softball awards during those two seasons.  
Bergstrom said looking back at her senior season, she doesn't fully comprehend how she was able to get everything accomplished with school, softball and the Student Senate.  
"It was difficult," she said. "I had to become more self-disciplined and hold myself accountable to try to keep my head above water. Softball is like a full-time job, but I still had to dedicate time to my studies."
The University of Houston-Victoria, located in the heart of the Coastal Bend region since 1973 in Victoria, Texas, offers courses leading to more than 80 academic programs in the schools of Arts & Sciences; Business Administration; and Education, Health Professions & Human Development. UHV provides face-to-face classes at its Victoria campus, as well as an instructional site in Katy, Texas, and online classes that students can take from anywhere. UHV supports the American Association of State Colleges and Universities Opportunities for All initiative to increase awareness about state colleges and universities and the important role they have in providing a high-quality and accessible education to an increasingly diverse student population, as well as contributing to regional and state economic development.