Close
UHV graduate follows in mother's footsteps to earn nursing degree
Though five years have passed, Kinaye' Weaver has not forgotten the memory of her mother's University of Houston-Victoria graduation ceremony.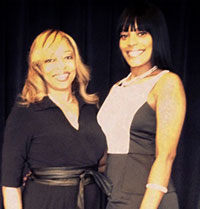 Juno Dickerson, left, poses with her daughter, Kinaye' Weaver, after the University of Houston-Victoria School of Nursing pinning ceremony Saturday at the Leonard J. Merrell Center in Katy.
"She had been out of school for years, but she decided to go back to be part of the first UHV Registered Nurse to Bachelor of Science in Nursing class," Weaver said. "I remember going to Katy for her graduation and recalling how proud I was of her. I still am today."  
On Saturday, their roles were reversed. Juno Dickerson, Weaver's mother, watched as her daughter walked across the same stage at the Leonard J. Merrell Center in Katy, signifying the completion of the same RN to BSN degree. The family became the first multigenerational graduates in the history of the UHV School of Nursing.  
Weaver's decision to attend the same school and earn the same degree had a lot to do with her mother's experiences at UHV.  
"Kinaye' attended UHV because she saw what I went through during the program and how successful it was for me," Dickerson said. "She saw me walking across that stage in 2007, and I think it was something that she wanted to do as well. She made it her goal to get her BSN, and she accomplished it. I am very proud of her."  
After wrapping up her final evaluation Dec. 12, Weaver was talking with Eugenia Blomstrom and Vivian Nowazek, assistant clinical professors in the School of Nursing, about graduation. Weaver mentioned her mother would be attending commencement and that she was a UHV nursing graduate. That's when Blomstrom and Nowazek realized Weaver would be the school's first second-generation graduate.  
The youngest of UHV's four schools, the nursing program is in its seventh year.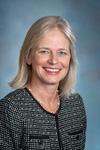 Kathryn Tart
"Having a second-generation RN to BSN student graduate says a tremendous amount about our very young nursing program, the outstanding faculty and the dedication of our students," said Kathryn Tart, founding dean of the UHV School of Nursing. "It's really cool to see a mother and daughter share this accomplishment together. We are glad that both Juno and Kinaye' had valuable and memorable experiences while attending UHV."  
A Rosenberg resident, Weaver works at Westbury Community Hospital, a psychiatric hospital in Houston. Dickerson lives in Wharton and works in the Ambulatory Surgery Department at Methodist Sugar Land Hospital. Both liked that they could continue to work while earning their BSN degrees.
"Most of us work full-time jobs," Weaver said of her classmates. "Having classes one day a week worked out really well. We had time to maintain our daily lives while improving our nursing abilities considerably."  
Dickerson said her BSN degree opened more doors of opportunity for her and enhanced her critical-thinking skills on the job. She is thrilled her daughter also will reap those benefits.  
"I've always wanted her to follow in my footsteps," Dickerson said. "I was super excited when she was accepted at UHV because it is one of the best nursing schools. She experienced some of the same classes and was taught by some of the same professors as I was."  
 During her time in the RN to BSN program, Weaver frequently kept her mother informed about papers, rotations and research projects.  
"I would call her to tell her what I was working on, and she would tell me about her experiences in that area," Weaver said. "She understood the demands of the program and the sacrifices I had to make."  
Dickerson said she tried to be a resource for her daughter when she needed advice. The conversations brought back reminiscences of her own time at UHV.  
"It brought back fond memories because I was going through a lot of the same situations five years ago," Dickerson said. "I remember how helpful the faculty members were and how eager they were for the students to learn. Based on talking with Kinaye', that helpfulness hasn't wavered at all."  
Weaver and her older brother try to get back to Wharton frequently to spend time with their family. Attending church also is an important family activity.  
"We are a very close family," Weaver said. "Our faith is really strong, and it's a big part of our lives."  
As for the future, Dickerson is contemplating her own return to school in a family nurse practitioner program. In the future, she would love the opportunity to work with her daughter. They have talked about starting their own business.  
Weaver said she's learned so much as a bachelor-prepared nurse about community health nursing, nursing theory and research, and evidence-based nursing practices. However, some of her most valuable lessons came from Dickerson.  
"My mom is my backbone," Weaver said. "She's an awesome nurse, and I'm proud to follow in her footsteps."
The University of Houston-Victoria, located in the heart of the Coastal Bend region since 1973 in Victoria, Texas, offers courses leading to more than 80 academic programs in the schools of Arts & Sciences; Business Administration; and Education, Health Professions & Human Development. UHV provides face-to-face classes at its Victoria campus, as well as an instructional site in Katy, Texas, and online classes that students can take from anywhere. UHV supports the American Association of State Colleges and Universities Opportunities for All initiative to increase awareness about state colleges and universities and the important role they have in providing a high-quality and accessible education to an increasingly diverse student population, as well as contributing to regional and state economic development.