Close
UHV education students get rare opportunity to take pictures of moon, win science books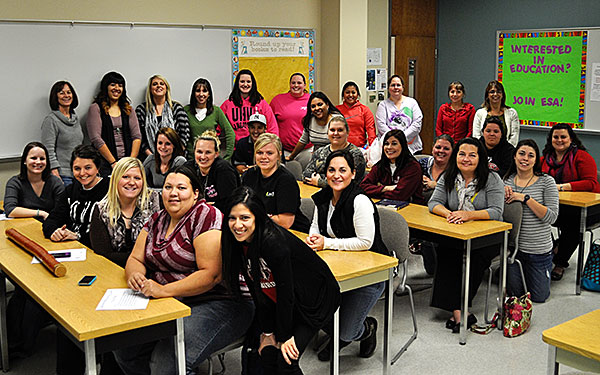 Students in Teresa LeSage Clements' "Elementary Science Methods" class recently won 30 science books after participating in MoonKAM, a NASA program that let students from around the world take pictures of the moon.
University of Houston-Victoria School of Education & Human Development students won books for their classroom while finding out that the best way to learn science is to experience it firsthand.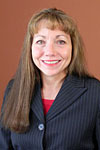 Teresa
LeSage Clements
During the fall semester, UHV assistant professor Teresa LeSage Clements's "Elementary Science Methods" class participated in MoonKAM (Moon Knowledge Acquired by Middle school students), a National Aeronautics and Space Administration project geared toward middle school students but perfect for college students learning to become teachers.  
LeSage Clements's previous classes have participated in a similar project called EarthKAM, which takes pictures of the Earth from the International Space Station.  
"Since they're training to become educators, it's a cool experience for them to participate in a science project like this," she said.  
The MoonKAM was part of NASA's Gravity Recovery and Interior Laboratory mission, which placed twin satellites in orbit around the moon to measure its gravity. The satellites, named Ebb and Flow, have orbited the moon since January.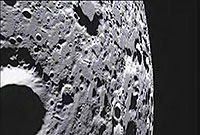 MoonKAM photo
The project allowed science students from around the world to log on to a website, pick coordinates of the moon and have one of NASA's two probes orbiting the moon take a picture for the student. The students then used the photos to study lunar features, such as craters and mountains. Students were able to print out the photos as keepsakes.  
The 32 students in the class took nearly 150 photos of the moon. For every 25 pictures, the class was entered into a drawing for the Shoot the Moon! MoonKAM Sweepstakes, hosted by the science education company Sally Ride Science. The class was one of six from around the world that won "The Mystery of Mars" classroom set and "The Inside Story of the Moon" classroom set. Le Sage-Clements said she will use the 30 books for future classes.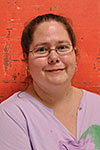 Carin Drozd
Carin Drozd, a student in LeSage Clements's class and a teacher at Head Start Trinity in Victoria, said she spread out taking pictures throughout the semester so that she could have photos from different stages of the project. "As time went on, the probes got closer to the moon," she said. "I wanted photos that reflected the probes' journey. My earlier photos show the moon from far away, while my later photos are closer and have more details of the moon's craters and mountains."  
As it turns out, the MoonKAM project was a once-in-a-lifetime experience for the students. The two lunar-orbiting spacecraft were purposely crashed into a mountain on the moon's north pole.  
"The probes' low fuel levels hinder any further scientific research, so NASA crashed them for one final study to learn more about the surface of the moon," LeSage Clements said. "Our class had so much fun with this MoonKAM project, so it makes me sad that they won't be orbiting the moon anymore."  
The class participated in other hands-on projects throughout the semester, such as lab experiments, making rockets and building a model dream science classroom. Drozd said she has kept all the resources from class.   "Science is not a strong subject for me, so I liked that Dr. LeSage Clements taught me so many activities and lab experiments that I can use in my future classroom," she said. "I've also learned how to adapt activities for different grade levels."  
Passing on fun and creative ways to teach science is exactly what LeSage Clements wants for her students.  
 "Learning about science through natural curiosity is what often leads to those 'aha' and 'eureka' moments," she said. "I like to engage my students in an enjoyable environment to learn science so that they can one day do the same in their own classroom."  
Drozd agrees that using experiments and hands-on projects allows children to retain the information better.  
"Using different lab experiments puts the concept into perspective and makes it easier for them to remember the information when they are tested," she said. "Plus, when they see the teacher excited about science, they get excited too."
The University of Houston-Victoria, located in the heart of the Coastal Bend region since 1973 in Victoria, Texas, offers courses leading to more than 80 academic programs in the schools of Arts & Sciences; Business Administration; and Education, Health Professions & Human Development. UHV provides face-to-face classes at its Victoria campus, as well as an instructional site in Katy, Texas, and online classes that students can take from anywhere. UHV supports the American Association of State Colleges and Universities Opportunities for All initiative to increase awareness about state colleges and universities and the important role they have in providing a high-quality and accessible education to an increasingly diverse student population, as well as contributing to regional and state economic development.