Close
UHV nursing educator advocates quality health care for all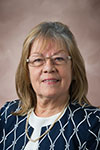 Ginger Blomstrom
Every person, regardless of background, deserves to have the opportunity to receive quality health care. It was that belief that led Ginger Blomstrom to a career in nursing.
The University of Houston-Victoria School of Nursing assistant clinical professor saw the prejudice some people faced in the Texas town where she grew up. A person's skin tone sometimes dictated the type of medical treatment received.
"They needed someone to talk with them and teach them how to take care of themselves," she said of the underserved population. "In medicine, there's always some illiteracy just because people don't understand the lingo, but I wanted to help."
The George West native obtained her bachelor's degree in nursing from the University of Texas Medical Branch in Galveston. She later earned a master's degree from the University of Texas Health Science Center at Houston and a doctorate from the University of Texas Medical Branch.
Blomstrom joined the UHV School of Nursing in 2008. Today she not only teaches courses, but also works in a clinic as a psychiatric nurse practitioner.
Her work doesn't end there. As a board member with Mental Health America and board chairwoman of Shape Up Sugar Land – a nonprofit organization aimed at maintaining a healthy community – she does her part to make a difference in people's lives.
Missionary work is another passion.
"I guess my hobby is working," Blomstrom said as she laughed. "I like to be busy."
The mother and grandmother said she also enjoys watching live theater and traveling when possible. She visits Hawaii annually and has ventured as far away as Germany, Australia and Sweden.
Even halfway around the world, she isn't far from her love of nursing. She said she finds herself taking in the region around her and analyzing the differences in overall health and medical practices.
"In other countries, you'll see older people without walkers or wheelchairs, and you wonder what they're doing differently," she said. "When you're a nurse, you're always processing the situation, assessing things and seeing what you can do to fix them."
Blomstrom said she's found her work to be rewarding, and she hopes to continue down that same path for years to come. It feels good to make a difference in someone's life, she said.
"People want to be safe, and they want to be healthy," she said. "But sometimes they just need some motivation or a bit of instruction. They need to know people care."
The Faculty Feature is an online feature highlighting faculty members from each of the University of Houston-Victoria's four schools. To nominate a faculty member, contact Paula Cobler, UHV interim director of marketing and communications, or call 361-570-4350.
The University of Houston-Victoria, located in the heart of the Coastal Bend region since 1973 in Victoria, Texas, offers courses leading to more than 80 academic programs in the schools of Arts & Sciences; Business Administration; and Education, Health Professions & Human Development. UHV provides face-to-face classes at its Victoria campus, as well as an instructional site in Katy, Texas, and online classes that students can take from anywhere. UHV supports the American Association of State Colleges and Universities Opportunities for All initiative to increase awareness about state colleges and universities and the important role they have in providing a high-quality and accessible education to an increasingly diverse student population, as well as contributing to regional and state economic development.