Close
UHV School of Business Administration adds two new positions
The University of Houston-Victoria School of Business Administration recently named its first endowed professor and it first executive in residence.  
Massoud Metghalchi, a longtime UHV finance professor, was selected for the Ron Sardessai Endowed Professorship. Sardessai was a management professor and faculty leader at UHV for 25 years before he died in 2011.  
Steve Ferguson, a Houston banking executive and consultant with 30 years of business experience, was hired as the UHV School of Business Administration's executive in residence, a new position that involves teaching, internship development and community relations.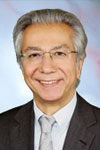 Massoud Metghalchi
A committee evaluated candidates for the Sardessai Endowed Professorship and recommended Metghalchi based on his record in research, teaching and service to the school and university during the past 21 years. Farhang Niroomand, dean of the UHV School of Business Administration, appointed Metghalchi.  
"Receiving the endowed professorship in memory of my late friend and colleague is an honor for me, and it encourages me to propel my research with greater determination," Metghalchi said. "I could not be happier with this endowment. I would like to thank Raj Sardessai, the son of my late friend, and Dean Niroomand. Both of them worked so hard to establish the first endowed professorship in the School of Business Administration."  
Metghalchi earned his undergraduate degree in France before moving to Oklahoma, where he obtained a Master of Business Administration in 1976 from Oklahoma City University and a doctorate in 1981 from Oklahoma State University in Stillwater.  
He began his teaching career at the University of Hawaii-Hilo. Metghalchi later started a consulting firm in Houston before joining the UHV faculty as an assistant professor in 1991. He was promoted to associate professor in 1994 and professor in 2000. In 2002, he took over as chair of the Department of Accounting, Economics, Finance and Quantitative Management Science, a post he held until 2010.  
Metghalchi said working for a university fit his personality because it gave him flexibility in teaching and research.  
"I love to do research during odd times, such as late at night," he said. "The environment at the university is conducive to enhancing research and improving teaching. Those factors have kept me energized for 21 years."  
Metghalchi's research primarily deals with the world's equity markets. His latest project is researching the behavior of stock markets in the U.S., Europe and Asia. Metghalchi has published numerous articles. His work has appeared in the Corporate Finance Review, International Review of Financial Analysis, Journal of Applied Business Research and many other journals. He was the recipient of the 2008-2009 UHV Research and Scholarly Activity Excellence Award.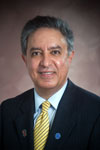 Farhang Niroomand
The Ron Sardessai Endowed Professorship was initiated by Niroomand as a memorial to a gifted professional, respected colleague and valued friend. Through a $50,000 donation by the Sardessai family and the support of UHV business faculty and staff, funding for the professorship exceeded the target of $250,000.  
"This endowed professorship was established through the generous contributions of Dr. Sardessai's family, friends and colleagues to honor his more than 25 years of service to the university and the school," Niroomand said. "It gives me great pleasure to bestow this professorship on Dr. Metghalchi. He has been an integral part of this school for many years."  
Metghalchi said he worked with Sardessai for more than 18 years.  
"Dr. Sardessai and I helped launch the business programs that UHV offers at UH Sugar Land," Metghalchi said. "We worked tirelessly to get the programs off the ground there."  
As the new executive in residence, Ferguson will work to make Greater Houston businesses more aware of those programs and, in the process, assist in the creation of student internships and class projects.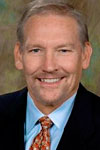 Steve Ferguson
"UHV Master of Business Administration students could provide businesses with research, thinking and innovation," Ferguson said. "We'd like to develop an education program that is responsive to the needs of those businesses so that our graduates come better prepared. In turn, we'd like for business owners, managers and executive to get in front of students in the classrooms, so we can build relationships between students and businesses."  
Ferguson also will help coordinate speakers for School of Business Administration conferences and the Willis Group Distinguished Speaker Series.  
 "We are pleased to have Ferguson as our first executive in residence," Niroomand said. "He and I will work together to build an advisory board for the school made up of Houston area business leaders. Given his vast network and business experiences, I have no doubt Mr. Ferguson will accelerate relationship building."  
Ferguson earned a bachelor's degree in history in 1973 from The Citadel in Charleston, S.C. He obtained a Master of Science in management information systems from Tarleton State University in Killeen three years later. In 1981, he earned a doctorate in philosophy from the University of Washington in Seattle.  
Ferguson began his bank executive career in 1982. After working in Seattle and Tampa, he moved in 1996 to Houston where he became president, CEO and board director of River Oaks Trust Co. In 2006, he became the managing director of Endeavor Management in Houston, where he advises and works with executives and client companies to determine business strategy and the actions required to successfully execute that strategy.  
Ferguson has been a board member for numerous philanthropic, artistic, public affairs and health care nonprofit organizations.  
In 2010, Ferguson also began serving as an adjunct faculty member at Houston Community College. He already has begun teaching a leadership class at UHV this semester.  
"I look forward to sharing my business experiences with students," Ferguson said. "I hope to bring a different perspective to the classroom – a practical hands-on perspective of what goes on in business."
The University of Houston-Victoria, located in the heart of the Coastal Bend region since 1973 in Victoria, Texas, offers courses leading to more than 80 academic programs in the schools of Arts & Sciences; Business Administration; and Education, Health Professions & Human Development. UHV provides face-to-face classes at its Victoria campus, as well as an instructional site in Katy, Texas, and online classes that students can take from anywhere. UHV supports the American Association of State Colleges and Universities Opportunities for All initiative to increase awareness about state colleges and universities and the important role they have in providing a high-quality and accessible education to an increasingly diverse student population, as well as contributing to regional and state economic development.