Close
UHV freshman uses tennis to relax
Sibling relationships can take on interesting dynamics. Some brothers and sisters get along best when plotting against their parents. Others never get along at all.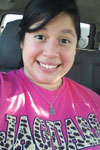 Kristen Salazar
For University of Houston-Victoria freshman Kristen Salazar, it was on the tennis courts that she and her older sister Gabby truly found their stride.  
The duo served as doubles partners growing up and, whether through genetics or simply hard work, formed a nearly unstoppable team.  
"We were district champs for three years and won third place at regionals," she said, explaining that hours of practice contributed to the wins. "Gabby graduated my junior year, but we were pretty good for three years."  
Salazar first hit the courts at age 7, when her mother got her involved with the sport. It was a family pastime, she said, and one she took to naturally.  
Today, the game not only serves as a chance for some exercise, but it provides mental release, too.  
"It's my way to relax," she said, noting she always played with a purpose growing up, and never as a hobby. "It's kind of nice to just play for fun once in a while."  
The 18-year-old graduated from Stockdale High School in 2012 before moving on to UHV to study elementary education. With a background in babysitting and taking care of children, she said the career path seemed a natural fit.  
"I've always been good at it and, when you're working with that age group, you really get to have an impact," she said. "You can shape how they act. You're there from the beginning."  
Salazar said she's happy with her decision to become a Jaguar. She enjoys the community and Victoria's smaller size made the transition less intimidating. She said having support from friends helps.  
Salazar advised others just starting out in school to step outside their comfort zones and meet new people. It might be intimidating, she said, but it's worth it in the end.  
Playing pool was popular in Jaguar Hall at the start of the school year and it helped her meet people, since she was the only one from her high school to attend UHV.  
"I'd never played before I got here, but I learned," she said. "Join groups and get to know other people. If you don't, you're going to be stuck in your own little space. And you don't want that."  
As for tennis, she hasn't found any Jaguars yet who play the sport, but that could soon change.  
"At some point I might teach them," she said.  
I am a Jaguar is an online feature highlighting the exceptional students who attend the University of Houston-Victoria. To nominate a student, contact Paula Cobler, UHV interim director of marketing and communications, or call 361-570-4350.  
The University of Houston-Victoria, located in the heart of the Coastal Bend region since 1973 in Victoria, Texas, offers courses leading to more than 80 academic programs in the schools of Arts & Sciences; Business Administration; and Education, Health Professions & Human Development. UHV provides face-to-face classes at its Victoria campus, as well as an instructional site in Katy, Texas, and online classes that students can take from anywhere. UHV supports the American Association of State Colleges and Universities Opportunities for All initiative to increase awareness about state colleges and universities and the important role they have in providing a high-quality and accessible education to an increasingly diverse student population, as well as contributing to regional and state economic development.