Close
UHV preliminary spring enrollment shows undergraduate growth
Preliminary spring 2013 enrollment at the University of Houston-Victoria shows that undergraduate numbers are growing in the university's third year as a four-year institution.
UHV released a preliminary spring enrollment figure of 4,179 students, an increase from the university's final spring 2012 enrollment of 4,149 students. In the past five years, spring enrollment figures have grown by 44 percent, starting at 2,896 in spring 2008.  
The university's undergraduate figures saw an increase of 4 percent from spring 2012 to spring 2013. The freshman class made the largest gains, increasing 27 percent during that time.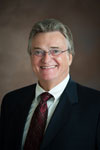 Phil Castille
UHV President Phil Castille said much of UHV's growth can be attributed to its downward expansion in 2010, when the university first offered classes to freshmen and sophomores.  
"UHV's first freshmen in 2010 are now juniors and rising seniors. So we are seeing the effects of the university's downward expansion as freshmen and sophomores move up through the undergraduate ranks," he said.  
In fact, the number of juniors increased 13 percent from spring 2012 to spring 2013. Castille said he expected enrollment figures to continue to increase now that more freshmen and sophomores are attending UHV.  
The university is working to accommodate its growth by building a new sophomore residence hall that will open in the fall. Jaguar Suites is located at 2703 Houston Highway, between the university's two existing residence halls. UHV also will break ground on a new academic and economic development building in 2013.  
"Our faculty, student affairs and student life personnel, and all our UHV staff, have worked tirelessly to make UHV a destination university for the Gulf Coast region and beyond," Castille said. "Student life on the Victoria campus has changed dramatically for the better since freshmen and sophomores joined UHV. Dorm life, campus organizations, student life activities and sports teams all have contributed to attracting more students to UHV."
UHV opened in 1973 with about 350 students. The university first exceeded 3,000 students in fall 2008 and then crossed over the 4,000 student mark in fall 2010. The university now offers face-to-face, online and Interactive Television courses at its Victoria campus and at several teaching centers in the Greater Houston area.  
Final spring enrollment figures and a breakdown of student demographics will be released later this semester after certification from the Texas Higher Education Coordinating Board.
The University of Houston-Victoria, located in the heart of the Coastal Bend region since 1973 in Victoria, Texas, offers courses leading to more than 80 academic programs in the schools of Arts & Sciences; Business Administration; and Education, Health Professions & Human Development. UHV provides face-to-face classes at its Victoria campus, as well as an instructional site in Katy, Texas, and online classes that students can take from anywhere. UHV supports the American Association of State Colleges and Universities Opportunities for All initiative to increase awareness about state colleges and universities and the important role they have in providing a high-quality and accessible education to an increasingly diverse student population, as well as contributing to regional and state economic development.