Close
UHV business school to offer study abroad to China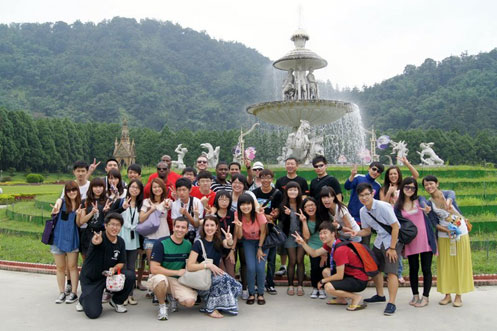 UHV School of Business Administration 2012 study abroad students visit Sun Moon Lake, Taiwan with Taiwanese students from National Chin-Yi University and Ming-Chi University.
The University of Houston-Victoria School of Business Administration is hosting a new study abroad program in China this summer in addition to the program the school already offers in Taiwan.  
"The Taiwan study abroad program became such a success the past four years that we have decided to expand it to offer more global experiences for our business students," said Farhang Niroomand, dean of the UHV School of Business Administration.  
Tyrone Smith, UHV Master of Business Administration student, traveled to Taiwan with the UHV group in 2012 and said he plans on participating in the new Chinese program.  
"UHV's study abroad program offers a modern education in a diverse global economy," he said. "The world is too big to be in one corner of it, so I want to get as much global business experience as possible, and I encourage others to do the same."  
The two study abroad programs are open to undergraduate and graduate UHV students in any major. Students will earn three class credits by taking the "Competitive Advantage and Global Strategy" course during the trip. The class will focus on leadership management and the differences between Western and Eastern cultures. Each trip includes a mix of classroom and project experience with local business students, sightseeing and visits with corporations.  
The opportunity to observe real-world examples of how businesses work in Taiwan was a highlight of Smith's study abroad experience.  
"I enjoyed the company tours because I saw first-hand how Taiwanese companies interact and influence U.S. companies," he said. "The plant managers talked about how they operate in a global manner with employees from various countries. This insight will influence me when I become a business manager."  
The new study abroad program in China is July 13 to 29 with UHV associate professor Jifu Wang leading the group. Students will attend classes at Central University of Finance and Economics in Beijing before traveling to Shanzu Holiday Resort in Jinan for the remainder of the classes.  
The Taiwan program is July 13 to 31 with UHV associate professor Chien-Ping Chen leading the group. It is run in conjunction with National Chin-Yi University in Taichung City and Ming-Chi University in New Taipei City.  
The business school is hosting information sessions about the two trips this summer. The sessions are 6 to 7 p.m. Feb. 26 at the UH System at Cinco Ranch in Room 125 and 6 to 7 p.m. March 6 at UH Sugar Land in Room 207 of the George Building.
Anyone thinking about participating in the study abroad program can attend one of the information sessions to learn more about the advantages of the program, Niroomand said.  
"With exposure to other cultures and business practices, our students will gain an advantage in the business world because they have real-world experience and can build relationships with other global business professionals," he said. "This is a unique experience that will have long lasting benefits well beyond the trip."  
Smith can attest to the lasting positive effects of the international program.  
"Everyone is going to have a different experience," he said. "But keeping an open mind about traveling to a foreign country will allow students to gain more from the study abroad program. For me, it was a priceless experience that I continue to embrace in my personal life and professional career."  
For more information about the study abroad programs, contact Rosie McCusker, UHV School of Business Administration manager of student recruitment and marketing, at 832-842-2858 or mccuskerr@uhv.edu.
The University of Houston-Victoria, located in the heart of the Coastal Bend region since 1973 in Victoria, Texas, offers courses leading to more than 80 academic programs in the schools of Arts & Sciences; Business Administration; and Education, Health Professions & Human Development. UHV provides face-to-face classes at its Victoria campus, as well as an instructional site in Katy, Texas, and online classes that students can take from anywhere. UHV supports the American Association of State Colleges and Universities Opportunities for All initiative to increase awareness about state colleges and universities and the important role they have in providing a high-quality and accessible education to an increasingly diverse student population, as well as contributing to regional and state economic development.