Close
Elementary school students win awards for Black History Month posters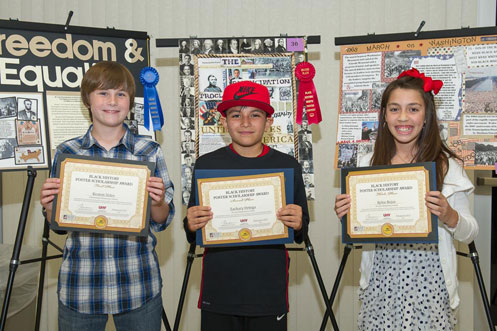 Winners of the Black History Month Poster Contest stand with their entries during a Friday night reception at the University of Houston-Victoria. From left are Keaton Sides, first place; Zachary Ortega, second place; and Kylee Rojas, third place.
Victoria fifth-graders were honored Friday at the University of Houston-Victoria for posters they created illustrating the 150th anniversary of the Emancipation Proclamation and the 50th anniversary of the March on Washington.  
Keaton Sides, a Schorlemmer Elementary School student, received first place during the Black History Month Poster Contest Reception for his poster displaying facts about both events. He won a $2,000 scholarship to the University of Houston-Victoria and a summer camp waiver from Victoria College.  
He said the poster project was something he looked forward to ever since a school friend won the contest in 2010.  
"I saw Yazen Hamoudah win a few years ago and wanted to win myself," he said. "This project was fun because I learned a lot about family history and how my family was linked to the historical events."  
Sides and other winners were honored at the reception hosted by the Black History Steering Committee, UHV and Victoria College. Each year, the steering committee uses the national theme for Black History Month and asks area fifth-graders to submit posters illustrating their interpretation of it. This year's theme was "At the Crossroads of Freedom and Equality: The Emancipation Proclamation and the March on Washington."  
"This year, the poster contest honors those who believed the concepts of freedom and equality could be more than a dream," said Margaret Rice, UHV chief of staff and one of the speakers at the reception. "These posters inspire us to learn more about those who have gone before us and those still actively engaged in bringing freedom for all. I am really proud that we have the privilege of displaying these lovely, artistic and educational posters here at UHV."  
Zachary Ortega, a student at DeLeon Elementary, won second prize for his poster about the Emancipation Proclamation. He won a $1,000 UHV scholarship and a summer camp waiver from Victoria College.  
Kylee Rojas, also of DeLeon Elementary, won third place for her poster on the March on Washington. She won a $500 UHV scholarship and a summer camp waiver from Victoria College.  
Honorable mention winners were Rama Hamoudah and Teagan Wertman, both of Schorlemmer Elementary; and Tiffany Le and Madison McIntosh, both of DeLeon Elementary.  
The posters were judged by community members. The judges based their decision on creative use of the theme, neatness, impact and accuracy.
Community members were invited to vote for the People's Choice Awards by picking their top three favorites. Winners of the People's Choice Awards and their schools were Patrick Byers, Aloe Elementary; Grace Hunt, Areanna Ozuna and Jarod Tipton, all of DeLeon Elementary; Nessa Poncio, Dudley Elementary; Jared Hoffer and Alexandria Marroquin, both of Mission Valley Elementary; Kaleb Vega and Jasmine McGuire, both of Shields Magnet Elementary; and Zakari Perry, Torres Elementary.  
All posters submitted to the contest will be on display in the UHV University Center, 3007 N. Ben Wilson St., throughout February during regular business hours.
The University of Houston-Victoria, located in the heart of the Coastal Bend region since 1973 in Victoria, Texas, offers courses leading to more than 80 academic programs in the schools of Arts & Sciences; Business Administration; and Education, Health Professions & Human Development. UHV provides face-to-face classes at its Victoria campus, as well as an instructional site in Katy, Texas, and online classes that students can take from anywhere. UHV supports the American Association of State Colleges and Universities Opportunities for All initiative to increase awareness about state colleges and universities and the important role they have in providing a high-quality and accessible education to an increasingly diverse student population, as well as contributing to regional and state economic development.