Close
UHV students meet with legislators at state Capitol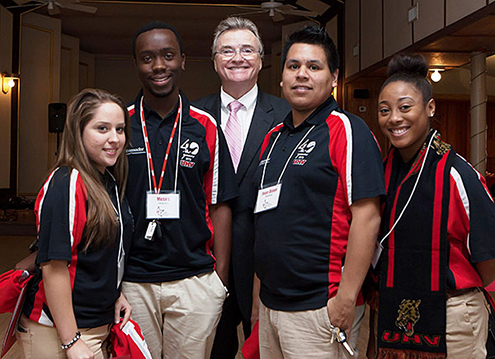 University of Houston-Victoria students Michelle Looza, left, Moses Olukoya, Juan Diego Martinez and Destiny Mayfield have their photo taken with UHV President Phil Castile during UH Day at the Texas Capitol. Students and administrators from all UH System universities met with state senators and representatives in Austin Feb. 13.
A quartet of University of Houston-Victoria students recently traveled to Austin to meet with area lawmakers and tour the Texas Capitol.
On Feb. 13, Juan Diego Martinez, Moses Olukoya, Destiny Mayfield and Michelle Looza joined fellow students and administrators from the other UH System universities for UH Day at the Capitol. In addition to learning more about how the state government is operated, students discussed higher education issues with legislators.
"My favorite part was getting to meet the Texas senators and representatives," Looza said. "The legislators appeared to already be knowledgeable about UHV, and they seemed interested in helping the university expand in the future."
Looza and Mayfield are senators in the UHV Student Government Association and Olukoya is the organization's vice president. Martinez is a former UHV student senator. He now is a graduate student and the university's student life coordinator.
UHV President Phil Castille was happy to see the students participate in the UH Day events.
"Student involvement is an important component of UH Day," Castille said. "It's always great to see UHV students get involved in the conversation about the future of Texas higher education for their classmates and future Jaguars. As a result of this event, I think the students have a better feel for the higher education issues state lawmakers are facing."
Undergraduates from the four UH System universities met for lunch near the Capitol and heard from Renu Khator, UH System chancellor and UH president. She encouraged them to stay active in the political process. The students then broke into small groups to prepare speaking points to deliver to assigned legislators.
"It was worthwhile to learn about what campus issues were important to members of other UH System student governments," Looza said. "It turned out their agendas were similar to ours."
The UH System legislative agenda included conversations about equitable funding, truth and transparency in tuition and building Texas' future.
Looza, a sophomore from Houston, said many of the state legislators and staff members at the Capitol were wearing red for UH Day.
"It was really nice to know several of the area senators and representatives came from UH System schools," she said. "They told us about their college experience and what the university was like back when they attended."
The students toured the Capitol building and watched part of a House session. They received a round of applause from the state representatives in the House chamber.
"I would recommend making the trip for UH Day to my classmates next time because it was really a fun learning experience," Looza said.
The University of Houston-Victoria, located in the heart of the Coastal Bend region since 1973 in Victoria, Texas, offers courses leading to more than 80 academic programs in the schools of Arts & Sciences; Business Administration; and Education, Health Professions & Human Development. UHV provides face-to-face classes at its Victoria campus, as well as an instructional site in Katy, Texas, and online classes that students can take from anywhere. UHV supports the American Association of State Colleges and Universities Opportunities for All initiative to increase awareness about state colleges and universities and the important role they have in providing a high-quality and accessible education to an increasingly diverse student population, as well as contributing to regional and state economic development.