Close
High school students to compete at math, computer science event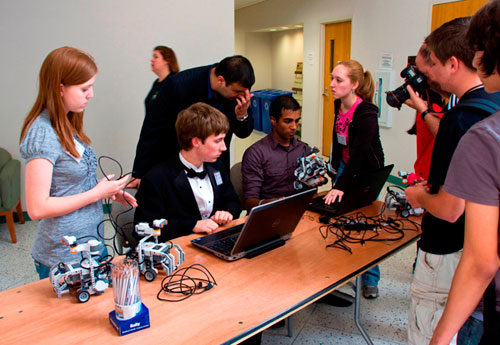 High school students participate in the 2012 Math & Computer Science Awareness Day. This year's event will take place April 9 at the University of Houston-Victoria and Victoria College.
Area high school students soon will gather for competition and companionship at the 18th annual Math & Computer Science Awareness Day at the University of Houston-Victoria and Victoria College.  
The April 9 event is made possible by a grant from Alcoa Foundation. It will take place on the UHV and VC campuses, starting in the Multi-Purpose Room of the UHV University Center, 3007 N. Ben Wilson St. The event coincides with April's national Math Awareness Month and Robotics Awareness Month. This year's theme is "Mathematics of Sustainability."  
The event will allow students from different high schools to interact with others interested in math and computer science, said Alireza Tavakkoli, UHV assistant professor of computer science and organizer of the event.  
"There are not a lot of opportunities in the area for students involved in math and computer science to explore their interests," he said. "This event gives participating students the chance to use their skills in various competitions and meet other students and area professionals."  
Students must be a member of a team of up to four students. High school teachers can bring more than one team, and each team can have students from any grade level on it. Teachers can register teams at mathcs.aiatuhv.com. Teachers must register teams by March 29 but are encouraged to register by March 22.  
During the UHV/VC Math & Computer Science Awareness Day, student teams can compete in up to two of three competitions – math, computer science and a game show. The math and computer science tests assess the critical thinking skills of the students, while the game show gives teams the opportunity to showcase the knowledge of their members in a fun setting.  
The event gives students the rare opportunity to talk with area professionals interested in promoting math and computer science.  
"Education and innovation are critical to our region's continued growth," said Ben Kahrs, the location manager at Alcoa Point Comfort Operations. "We're pleased to be part of this event and to encourage the students to pursue careers that will make our manufacturing processes greener and more efficient in all respects."  
Alcoa employees will discuss real-world engineering situations and answer students' questions during a panel session.  
"I am always impressed with the thoughtful questions that students ask the panel," Tavakkoli said. "This session is a great addition to the day because it partners future engineers with people they might one day work with in engineering and manufacturing."  
Various breakout sessions will include demonstrations on gaming simulations, math, science and robotics. Ten local high school students will demonstrate robots they built and programmed as part of a year-long robotics and simulations research course, also funded by the grant from Alcoa Foundation. These students have met with Tavakkoli, who is the director of UHV's digital gaming and simulation program, every Monday throughout the school year to learn more about robotics.  
The day will conclude with an awards ceremony. The top-scoring teams in the math and computer science tests will receive trophies and certificates. Top-scoring individuals will receive either a laptop, iPad or electrical engineering kit. Game show winners will each win a robotics kit.  
For more information or to register high school students, visit mathcs.aiatuhv.com or contact Tavakkoli at 361-570-4204 or tavakkolia@uhv.edu.  
The University of Houston-Victoria, located in the heart of the Coastal Bend region since 1973 in Victoria, Texas, offers courses leading to more than 80 academic programs in the schools of Arts & Sciences; Business Administration; and Education, Health Professions & Human Development. UHV provides face-to-face classes at its Victoria campus, as well as an instructional site in Katy, Texas, and online classes that students can take from anywhere. UHV supports the American Association of State Colleges and Universities Opportunities for All initiative to increase awareness about state colleges and universities and the important role they have in providing a high-quality and accessible education to an increasingly diverse student population, as well as contributing to regional and state economic development.