Close
UHV/ABR author examines difficult situations in new short fiction book
Jess Walter has written literary fiction, satire, crime fiction, nonfiction and what he describes as loosely defined poetry.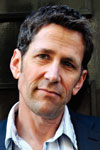 Jess Walter
The next speaker in the University of Houston-Victoria/American Book Review Spring Reading Series recently added short fiction to that diverse list with his new book, "We Live in Water."  
"One of the things I pride myself on is that all of my books are very different from one another," Walter said. "I think 'We Live in Water' has benefited from a moment in our culture when people are interested in short fiction again, which is a great thing for writers and readers."  
Walter has written eight books, and his fiction, journalism and criticism have appeared in Best American Short Stories, Harper's Magazine, McSweeney's and The New York Times, among others.  
He will talk about "We Live in Water" and his latest novel, "Beautiful Ruins," at noon March 21 in the Alcorn Auditorium of UHV University West, 3007 N. Ben Wilson St. The public is invited to attend the free event, and light refreshments will be served.  
Released in February, "We Live in Water" chronicles a world of lost fathers and redemptive con men, of personal struggles and diminished dreams.  
"I chose to tell the stories of the people we drive past – panhandlers and meth addicts and the chronically poor," Walter said. "These people exist everywhere – short story writers are especially drawn to conflict and difficult situations; they are the country music writers of literature."  
In the title story, a lawyer returns to his corrupt hometown to find his father, who disappeared 30 years earlier. In "Thief," a blue-collar worker turned unlikely detective finds out which of his children is stealing from the family fund. "Anything Helps" sees a homeless man try to raise money to buy his son the new Harry Potter book; and in "Virgo," a newspaper editor attempts to get back at his superstitious ex-girlfriend by messing with her horoscope.  
Walter said sometimes his short story ideas are conceptual.  
"I'll be sitting, reading the newspaper and think, 'Boy, horoscopes are stupid, or why are people so obsessed with post-apocalyptic stories,'" he said. "Then a voice pops into my head, and I toy with it until I find the characters to animate that idea. With 'Virgo,' I was writing specifically for a collection of noir stories, so I knew it would be dark and a little twisted. But most of all, I just thought the conceit – a man messing with his ex-girlfriend by changing her horoscope every day – was terribly funny."  
"We Live in Water" has quickly drawn praise from critics across the country.  
"The feedback has been wonderful," Walter said. "It's a very different book than 'Beautiful Ruins' but no less close to my heart."  
"Beautiful Ruins" was a New York Times bestseller and Esquire's Best book of 2012.  
"Beautiful Ruins" opens in 1962 in a remote seaside Italian village. Pasquale Tursi, a sensitive, melancholy soul who has abandoned his studies in Florence to look after his newly widowed mother, meets towering blond American actress Dee Moray after she is barred from the set of "Cleopatra" for having an affair with leading man Richard Burton. Through a scrambled chronology and introduction of several characters along the way, Tursi arrives in Hollywood 50 years later to find out what became of Moray.  
"Walter has always been more intuitive than linear, a believer in capricious destiny with a fine, freewheeling sense of humor," wrote Janet Maslin in a New York Times book review. "The deeply romantic heart of 'Beautiful Ruins' is better expressed by constant circling than it would by any head-on approach."  
Walter's first book, "Every Knee Shall Bow," was a finalist for the 1996 PEN USA library nonfiction award. The book was re-released in 2002 with the title "Ruby Ridge," which was the site of a deadly confrontation and siege in northern Idaho in 1992 between the family of Randy Weaver and agents of the U.S. Marshals Service and FBI.  
His 2005 book, "Citizen Vince," is about a two-bit thief from New York who has been witness-relocated to Walter's hometown of Spokane, Wash. The book won the Edgar Allen Poe Award for best novel.  
In 2006, Walter's wrote "The Zero," a novel about a New York City police officer who has become unhinged after the Sept.11 terrorist attacks. The book was a finalist for the 2006 National Book Award.  
Walter also has written several magazine pieces, including "Bleacher Couch Man" for ESPN The Magazine.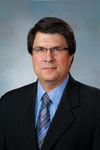 Jeffrey Di Leo
"The story in ESPN was a short story about a recreation league basketball team, part of a series I've been writing, which is really more about the diminished state of aging males," Walter said. "I've written four of them so far and hope they'll sort of anchor the next book of short stories a few years down the line."  
Jeffrey Di Leo, ABR editor and publisher, and dean of the UHV School of Arts & Sciences, said Walter's versatility as a writer is impressive.  
"Mr. Walter is a talented writer who excels in so many different forms of writing," Di Leo said. "As an author, he is a master craftsman. We are honored he will join us for the Spring Reading Series."  
Other writers scheduled for the series are:  
Cristina García, April 11 – García is a distinguished journalist and fiction writer who has served as an important Cuban American voice in American literature. She left Time magazine in the early 1990s to write her first book, "Dreaming in Cuba," which was a finalist for the National Book Award.  
 Tim Z. Hernandez, April 25 – Hernandez was the winner of the 2006 American Book Award for "Skin Tax," his debut collection of poetry. In addition to his writing and teaching, he has collaborated with a Grammy award-winning classical composer and recorded a poem that was released on an album of a Latin hip-hop band.  
While they are in Victoria, authors who are part of the UHV/ABR Reading Series attend roundtable discussions with university faculty and students, make classroom visits to area schools, give lectures open to the community and go to receptions hosted by Friends of ABR patrons.
ABR is a nonprofit, internationally distributed literary journal that is published six times a year. It began in 1977, moved to UHV in 2007 and has a circulation of about 8,000. The journal specializes in reviews of works published by small presses.  
For more information about the UHV/ABR Reading Series, call Managing Editor Jeffrey Sartain at 361-570-4254 or go to www.americanbookreview.org.
The University of Houston-Victoria, located in the heart of the Coastal Bend region since 1973 in Victoria, Texas, offers courses leading to more than 80 academic programs in the schools of Arts & Sciences; Business Administration; and Education, Health Professions & Human Development. UHV provides face-to-face classes at its Victoria campus, as well as an instructional site in Katy, Texas, and online classes that students can take from anywhere. UHV supports the American Association of State Colleges and Universities Opportunities for All initiative to increase awareness about state colleges and universities and the important role they have in providing a high-quality and accessible education to an increasingly diverse student population, as well as contributing to regional and state economic development.