Close
Nursing faculty member moves from Canada to join fledgling nursing program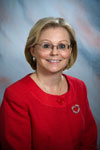 Vivian Nowazek
Change can be a good thing. It offers perspective, introduces new experiences and often deepens a person's appreciation for certain aspects of life.  
Perhaps that was why Vivian Nowazek, an assistant clinical professor for the University of Houston-Victoria School of Nursing, made the move from Canada's northern cold to the South Texas heat.  
Whatever the case, the transition was a welcome one.  
"I came down in October, so it was fabulous," she said as she laughed of her move in the late 1980s. "I was tired of the snow and the cold - the hotter the better for me, so I loved it."  
Nowazek was born and raised in northern Manitoba and earned her bachelor's degree in nursing from the University of Manitoba in Winnipeg. It was a love of science that initially led her to the field.  
Uncertain what she wanted to do, she started out with a wider study tract. She entered into science, a subject that had always held her interest, and got a feel for the different paths she could follow.  
It was when she encountered students focusing specifically on health sciences that it clicked.  
"In my mind, I liked the idea of utilizing the sciences and combining that with caring and service," she explained. "I realized it would be a good fit for me, and so that's when I made my decision."  
Later came the transition to Texas and a master's degree with a focus on critical care from the University of Texas Health Science Center at Houston School of Nursing.  
When it came to earning a doctorate, however, Nowazek ventured into newer territory. Instead of enrolling in a nursing program, she enrolled in epidemiology – or the study of disease - at the University of Texas Health Science Center at Houston School of Public Health.  
"I ended up wanting to get a different perspective on health," she said. "I had seen the health effects of people's poor life choices for years, and it frustrated me. I needed a shot of 'health' - looking at health promotion and disease prevention - and this was a great option."  
Nowazek joined UHV in 2007 at a time the nursing program was just getting started. It was exciting to have a hand in developing the nursing program from the ground up.  
"I'd never had the opportunity to be involved in shaping a program like I could here," she said. "Developing programs from the ground up is really neat – and also challenging."  
She said she's proud not only of the growth the school has seen in such a short period of time, but of the university's commitment toward innovative education and community outreach.  
Much of Nowazek's time might go toward teaching, but that doesn't mean she can't learn something herself. The educator is part of the post-master's Family Nurse Practitioner program at the University of Texas Medical Center School of Nursing.  
The goal after her December graduation is to have a clinical practice where she can help patients and provide future nurse practitioners a place for hands-on learning.   Looking ahead, Nowazek said she's excited about the chance to make a difference and continue on with UHV.  
"I've found the university and the School of Nursing to be very supportive. They really do promote lifelong learning," she said. "I feel like I can continue to grow while I'm helping my students. I find it an honor to work with my colleagues."  
The Faculty Feature is an online feature highlighting faculty members from each of the University of Houston-Victoria's four schools. To nominate a faculty member, contact Paula Cobler. UHV interim director of marketing and communications, or call 361-570-4350.
The University of Houston-Victoria, located in the heart of the Coastal Bend region since 1973 in Victoria, Texas, offers courses leading to more than 80 academic programs in the schools of Arts & Sciences; Business Administration; and Education, Health Professions & Human Development. UHV provides face-to-face classes at its Victoria campus, as well as an instructional site in Katy, Texas, and online classes that students can take from anywhere. UHV supports the American Association of State Colleges and Universities Opportunities for All initiative to increase awareness about state colleges and universities and the important role they have in providing a high-quality and accessible education to an increasingly diverse student population, as well as contributing to regional and state economic development.