Close
New associate vice president to direct UHV student affairs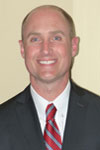 Jay Lambert
University of Houston-Victoria administrators hired a new leader Monday to oversee the division of Student Affairs.
Jay Lambert, assistant vice president for student engagement at Lamar University in Beaumont, was hired as UHV's new associate vice president for student affairs. His first day will be May 1. He replaces Chari Norgard, who retired from the university in November.
Lambert has been a housing and student life leader for several universities during the past 19 years. He has worked in his current job at Lamar University since 2004.
"The UHV community welcomes the new leadership in Student Affairs, which comes at a crucial time during the university's rapid emergence as a full-service, four-year institution that offers residential living to area students," UHV President Phil Castille said.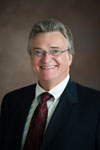 Phil Castille
Lambert said one of the enticing aspects about the UHV job was the rare opportunity to help build and shape a destination university that is in its early years of development. In 2010, UHV enrolled freshmen and sophomores for the first time.
"In higher education, you don't usually get an opportunity like this to help build something," Lambert said. "Typically, you have a chance to lead what's already in place. That's great, but this is a chance to add new programs and experiences for students. To be part of that is a great opportunity for me."
Lambert will be the chief student services officer for the university. He will provide administrative direction to meet enrollment targets, expand student life programs, promote transfer success, and increase student retention and graduation rates. He will supervise the directors of financial aid, enrollment management, records, student life, student success and the counseling center.
Lambert said the job will have more of a supervisory role than his position at Lamar University. While the exact day-to-day responsibilities in Student Affairs will vary, a top priority will be developing recruiting pipelines to Houston, San Antonio, Austin and beyond.
"We're going to continue to strive to get the best quality students who will succeed at UHV," Lambert said. "A number of first generation college students have chosen UHV. That's a positive because we are having a major effect on their lives by providing access to higher education."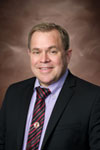 Jeffrey Cass
Jeffrey Cass, provost and vice president for academic affairs, said Lambert will be a welcome addition to the provost's office and the university's leadership team.
"We are thrilled to have Dr. Lambert join our university," Cass said. "He has an impressive track record of success in student involvement and housing. He arrives at an important time as we get ready to open a new residence hall and continue to grow our student life opportunities."
A New Orleans area native, Lambert earned a bachelor's degree in economics in 1992 from Southeastern Louisiana in Hammond. He went on to attain a master's degree two years later in counseling and personal services from the University of Southern Mississippi in Hattiesburg. In 2008, he earned a doctorate in educational leadership with a concentration in higher education from Lamar University.
Lambert served as assistant dean of students at the University of Evansville in Indiana from 1998 to 2001. He also held the title of director of residence life, where he supervised residence hall staff.
In 2001, Lambert took a job as director of campus life at Mount Saint Mary's University in Emmitsburg, Md. A year later, he was named director of housing at Christopher Newport University in Newport News, Va. He was responsible for managing and administrating housing for 2,400 students.
At Lamar, Lambert supervised staff in a number of areas, including student activities, residence life, recreational sports and community services. He also served as an adviser to the Student Government Association and acted as the judicial officer for policy infractions.
Lambert said his past leadership skills should help when he starts his new position at UHV.
"My experience in student activities, student involvement and housing should help enhance UHV's student life pretty quickly," he said. Lambert also would like to get faculty members more involved with academic-related student organizations. "There are professional societies that line up exactly with some of UHV's degree programs," Lambert said. "If we get more faculty involved, the number of student organizations on campus will increase, which will enhance student engagement."
Lambert also served as an adjunct instructor in Lamar University's Department of Educational Leadership. He taught graduate classes in student development theory and teaching in higher education. He also hopes to teach in the UHV School of Education & Human Development.
While it's not for everyone, Lambert said the experience of getting involved in college outside the classroom helps a lot of students.
"I was a student who succeeded because I got involved," he said. "I think the education value outside of the classroom is huge compared to someone who just goes to class and drives off. That is what brought me into the field of student life and residential living, and what continues to drive me today."
The University of Houston-Victoria, located in the heart of the Coastal Bend region since 1973 in Victoria, Texas, offers courses leading to more than 80 academic programs in the schools of Arts & Sciences; Business Administration; and Education, Health Professions & Human Development. UHV provides face-to-face classes at its Victoria campus, as well as an instructional site in Katy, Texas, and online classes that students can take from anywhere. UHV supports the American Association of State Colleges and Universities Opportunities for All initiative to increase awareness about state colleges and universities and the important role they have in providing a high-quality and accessible education to an increasingly diverse student population, as well as contributing to regional and state economic development.