Close
San Antonio news anchor to speak at UHV spring commencement
University of Houston-Victoria alumnus Ernie Zuniga, a news anchor for KABB FOX 29 in San Antonio, will give the keynote address May 11 during the university's two spring commencement ceremonies.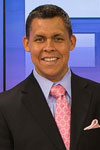 Ernie Zuniga
Zuniga is a morning news anchor and co-host of FOX San Antonio's morning show "FOX News First." Zuniga also serves as the play-by-play announcer during live high school football telecasts of "Thursday Night Lights" on San Antonio's CW 35. He previously spent nine years as a sports anchor and reporter, including more than four years in San Antonio and two years in Phoenix.  
A Victoria native, Zuniga graduated from St. Joseph High School and earned a Bachelor of Arts in communication from UHV in 1998.  
Zuniga became interested in broadcasting during a career day in high school. He contacted the general manager at KAVU-TV Newscenter 25 in Victoria and offered to do any job open at the station. His first job was as a weekend audio operator during the news broadcasts. While working at the TV station, Zuniga met Don Brubaker, who still is the sports director at KAVU-TV.  
"Don became my mentor," Zuniga said. "He taught me so much because I knew I wanted to go into sports broadcasting. I followed his advice and kept at it."  
After his sophomore year at Texas A&M University, Zuniga was offered a job as an on-air sports anchor with KAVU-TV.  
"It was an opportunity I couldn't pass up," he said. "So I shocked my parents by saying I was leaving Texas A&M and moving back home with them."  
Soon after, Zuniga decided that he needed to finish his college degree. He transferred his school credits and started attending UHV.  
"I did go through a short period of time where I thought 'OK, I have a full-time job doing what I want to do, so why would I need to finish college?' but I knew deep in my heart that I needed to get my degree," he said. "I was able to get into UHV and take classes in the morning and do the sports broadcasts at night, so it worked out great."  
Zuniga also credits his late mother for inspiring him to finish his degree. A graduate of UHV with a bachelor's and master's degree, she was a longtime educator for Victoria Independent School District. While working, she continued her education and commuted to Corpus Christi and Kingsville once a week to complete her doctoral degree.  
Zuniga clearly remembers his UHV graduation as a day full of anticipation and accomplishment.  
"It was one of the highlights of my life," he said. "I remember my family being there and supporting me. I felt like my UHV degree was my ticket to a great career. I also remember alphabetically being the last person to graduate. It's always torture to have to wait until the end."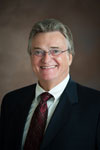 Phil Castille
UHV President Phil Castille said Zuniga will be a speaker students will be able to relate to.  
"Mr. Zuniga has been where our students are," he said. "I think he'll be an inspiration for our graduates to go and live their dreams."  
When Zuniga returned to UHV last year to do a news story about the UHV Guarantee financial aid opportunity, he noticed a change in the campus because of the addition of freshmen and sophomores.  
"I haven't been able to come back to Victoria as much as I would like," he said. "So when I visited UHV last year, I was surprised at how much bigger the university is now."  
Zuniga said he is honored to be the commencement speaker and plans to keep everything in perspective during his speech.  
"I wasn't a straight-A student," he said. "I didn't have scholarships to college. I wasn't going to blow anyone away with my intellect. But I believed that if you had a support system around you, you applied yourself and you made good decisions, then good things would happen for you. That's what I want the students to learn from me."  
UHV will hold two graduation ceremonies in Victoria. Both will take place in Faith Family Church, 2002 E. Mockingbird Lane, the largest indoor facility available in Victoria. The 9 a.m. ceremony will be for graduates of the schools of Arts & Sciences and Education & Human Development. The 1 p.m. ceremony will be for the schools of Business Administration and Nursing.  
For more information about UHV commencement, contact special events coordinator Nancy Gresham at 361-570-4351 or greshamn@uhv.edu.
The University of Houston-Victoria, located in the heart of the Coastal Bend region since 1973 in Victoria, Texas, offers courses leading to more than 80 academic programs in the schools of Arts & Sciences; Business Administration; and Education, Health Professions & Human Development. UHV provides face-to-face classes at its Victoria campus, as well as an instructional site in Katy, Texas, and online classes that students can take from anywhere. UHV supports the American Association of State Colleges and Universities Opportunities for All initiative to increase awareness about state colleges and universities and the important role they have in providing a high-quality and accessible education to an increasingly diverse student population, as well as contributing to regional and state economic development.