Close
UHV assistant professor brings communication to whole new level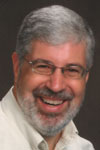 Mark Ward
If everyone lived on islands, communication would be irrelevant. But because people live in groups and societies, communication is everything.  
That's the fascination for Mark Ward Sr., assistant professor of communication for the University of Houston-Victoria.  
"Everything we do is based on communication, from building our identities, to interpreting others and the world around us," he said. "Communication constructs meaning."  
Ward's own research focuses on organizational and religious communication. He has studied how religious groups create cultures through their language, rhetoric and media, and his latest publication explored the problem of divine speech.  
"In communication theory and research, how do you account for the possibility of God speaking?" Ward asked. "Or should you?"  
Ward regularly presents his research at national and regional conferences, and he has written two books due for release this year. One book examines the bureaucratic culture of the Holocaust, and the other is a coauthored textbook on organizational communication.  
The Arlington, Va., native earned a bachelor's degree from the University of Virginia in Charlottesville, and master's degree from Spring Arbor University in Michigan. He served as communication director for several national nonprofits and later, after his children graduated, he returned to school for a doctorate from Clemson University in South Carolina.  
He joined the UHV faculty in the fall of 2010 as the university added freshmen and sophomores. The job came at an interesting time, he said, as he organized the freshman core course in public speaking and helped develop the four-year communication major.  
"We asked ourselves, 'If someone's going to get a degree in communication, what should they know?'" he said, explaining that before, students completed their lower-level courses at other colleges. "It was a challenge but an interesting one."  
Ward said one advantage to joining UHV is the school's dual commitment to teaching and research. Some universities emphasize one over the other, he said, but UHV encourages both.  
It's a mindset that benefits everyone.  
"As I stay on top of my field and contribute to my field, I can bring more into the classroom," he said. "And when I see communication going on in my classroom, I have a wonderful laboratory that generates new questions I can go research."  
Ward and his wife, Donna, have two children and three grandchildren. But family and academics aren't all that occupy his time.  
He is president of The Lakes and Village of Colony Creek Homeowners Association, and he recently served as announcer for the annual Knowledge Bowl sponsored by Victoria Rotary Clubs for the benefit of Victoria Adult Literacy Council.  
Ward enjoys disc golf at Victoria's Riverside Park, swimming at Gulf beaches, and cheering on his hometown Washington Nationals and Washington Redskins. A widely published freelance writer, Ward is also a longtime musician who plays jazz and gospel piano, once worked as a radio DJ, and has sung in quartets ranging from barbershop, to doo wop and gospel styles.  
These pastimes are a side of him that students don't always see. "Yes," he said as he chuckled. "Professors are human beings."    
The University of Houston-Victoria, located in the heart of the Coastal Bend region since 1973 in Victoria, Texas, offers courses leading to more than 80 academic programs in the schools of Arts & Sciences; Business Administration; and Education, Health Professions & Human Development. UHV provides face-to-face classes at its Victoria campus, as well as an instructional site in Katy, Texas, and online classes that students can take from anywhere. UHV supports the American Association of State Colleges and Universities Opportunities for All initiative to increase awareness about state colleges and universities and the important role they have in providing a high-quality and accessible education to an increasingly diverse student population, as well as contributing to regional and state economic development.